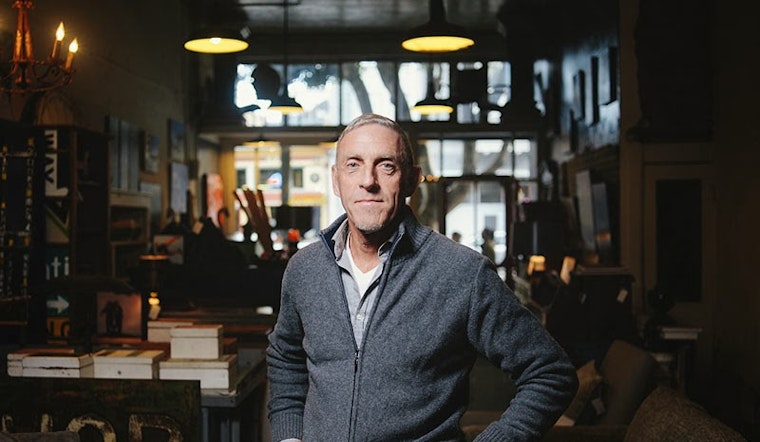 Published on November 26, 2013
There's no one better to connect with about the neighborhood than Russell Pritchard, owner of
Zonal Home Interiors
(568 Hayes Street).
The indefatigable co-founder of the Merchants Association, board member of The Hayes Valley Neighborhood Association, and co-founder (with Madeline Behrens-Brigham) of the Hayes Valley Art Coalition (responsible for the art installations at Patricia's Green and outdoor exhibits around the neighborhood), Pritchard lives, works, eats and shops in Hayes Valley. His artistic vision and business savvy has been helping to shape the landscape of Hayes Valley for more than two decades.
Hayeswire: When did the store open?
Russell Pritchard: December 1, 1990.
H: We love your "One Man, One Store, One Passion" tagline. Where did that come from?
RP: It actually came up within the last few years because between 1997 and 2002 I had taken a business partner. We were up to six locations in the Bay Area and the dot-com crash happened and those stores went away so I came back to my original one store. It's a combination of me knowing there were more stores, and now there is only one, and so many people ask, "Oh, who does your buying? Who does your this...?" and it's like, "Well, me." I'm the only person and it's my passion so one man, one store, one passion.
H: How does your background play into some of the furniture that you collect, find and sell?
RP: Well, for me, it's basically inbred in my soul because I grew up on a farm in northern Saskatchewan Canada so I grew up sleeping on iron beds. There was furniture that was built by my grandparents—this is all rustic farm furniture, layers of paint, character, patina, that's what I am selling. That's who I am.
H: Do you specialize in certain types of pieces?
RP: For me, the first focus of the store is the primitive painted American furniture, and that would include iron beds from a period of about 1900, which will usually have layers of paint, patina, because of the age, and then I integrate into that Industrial furniture, which is more 1920s to 1940s. Typically I do not have anything in the store newer than 1945. The main thing with the focus of the store, which was even from the beginning, but has even a more finely-tuned focus [now], is working with local artisans who build new, using all recycled/reclaimed. So basically everything in here, with the exception of the sofas, has a strong component or is mostly recycled/reclaimed, already existing material.
H: Can you tell us a little about the art in the store?
RP: Since I've opened the store I have showcased art by local artists and I choose art that speaks to me, just as I do with my furniture. I wouldn't have anything in the store that I wouldn't have in my own home.
H: And what made you come to Hayes Valley? How did you come across this location?
RP: It was pure chance. I was living in New York (my background is advertising and I worked in set design and propping for still-life photography) but I signed on with an agent here and I was going back and forth. I came to Hayes Street to look at an apartment, just down the street, which wasn't suitable, and there were only a few shops open at that time -- Modernology was next door, Victorian Interiors across the street, and this store space. I came in and looked around and I actually bought this gold mining pan and stand from the owner [now on the counter of Zonal] and through our conversation, I explained who I was, what I was doing here and he said, "Oh, I have an apartment above the old Marlena's for rent." He closed the shop and we went down there and I looked at it and I rented it from him. He asked me to look after the store for him for a weekend because he was going to Dallas. He came back and decided he was going to move to Dallas, and I blurted out, "What are you going to do with the store? Maybe I should buy it from you."
H: What was the neighborhood like when you started?
RP: The main thing that I try to impart to people is just realizing that in 1990, when I opened here, there was nothing here. A lot of people talk about gentrification, and that's not the correct term for what happened in Hayes Valley. It's revitalization because basically all of the storefronts were empty, so nobody was displaced. We just brought a neighborhood back to life. The first thing that the few of us that were here, residents and merchants, tackled was getting the freeway torn down and that was sort of the first major step. In 1992 it came off the 400 block. That sort of showed people, "Wow, there's something going on on the other side of the freeway."
H: Any favorite Hayes Valley spots?
RP: Friday is Domo Sushi day for lunch, which is one of my absolute favorite things. Bar Jules. Amy, who runs the place, and Jessica [owner/chef] -- they're just so terrific. Biergarten, Wednesday Night Burger night. Wednesdays at Noir Lounge. They have Lunchpad, and they do a fried chicken sandwich. Fig & Thistle, the new wine bar that opened on Ivy. It's a great place to hang out. Muka. A beautiful place to hang out. Great little plates of food. Two Sisters Bar and Books. A jewel in our neighborhood. For men's clothing, Nomads, and Sean. They keep me clothed.
Thanks to Russell for chatting with us. You can visit him (and Zonal) at 568 Hayes Street Tuesday through Saturday from 11am to 6pm, and Sunday from noon until 5pm.