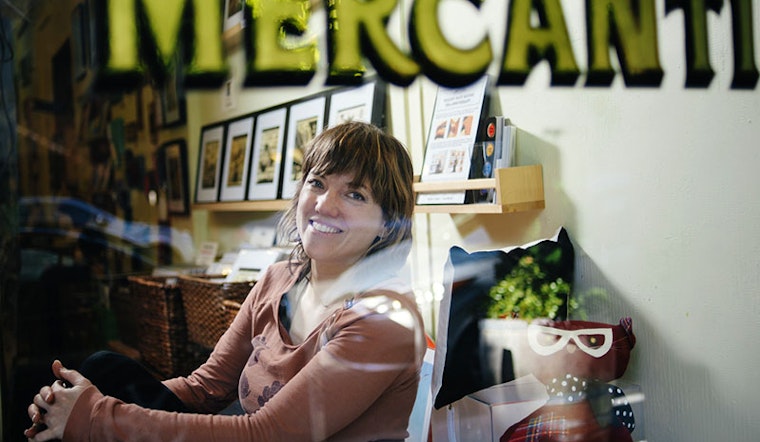 Published on December 26, 2013
A tireless supporter of local artists and crafters, Blakely Bass, founder of
California Made Mercantile
(541 Octavia Street), is closing up shop after more than a decade of business in Hayes Valley.
Bass started the collective space as Residents Apparel Gallery (RAG) in 2002, and over the years expanded the store/gallery -- which is also now a certified green business. She helped shape the now-bustling block of Octavia, and has fostered local talent, carrying locally made and manufactured clothing, jewelry, unique household items and art. Bass's keen eye and laid-back, friendly approach made for a beloved spot in the neighborhood that will close its doors on January 15.
Hayeswire:
Can you tell us how/why you got started?
Blakely Bass:
I always wanted to run a business with a sustainable community business model. It's something that I learned about in my college days as an ecology/ environmental studies student. I had met so many local crafters at craft shows and through other friends, and when I pitched this idea to them the rents were low, and a lot of the other crafters were really interested in the idea, too. I started with about fifteen artists and designers. Over the years, I've carried over 900 different artists that create locally designed and manufactured goods only. That's what I wanted to stick to truly, and I noticed that there weren't any other stores like that at that time, but since then, things have changed. It's really on trend now to carry locally and naturally produced goods. When I opened, there wasn't Etsy yet. The artists and designers I carried eventually had more places than here to sell. A lot of them have come back to me and said I was their first store [to sell their work] so it makes me feel really good that I helped incubate somewhat. A lot of them have become much bigger, national lines.
H:
Who are some of the designers/artists you've carried?
BB:
One of my first designers in my collective, Paulina Berczynski from the Mission, created
FluffyCo
. FluffyCo is now in hundreds of shops across the world. Her line consists of accessories including vegan wallets and tees, and locally printed fabric dresses and bags. Another SF line I'd like to honor is
Animal Instincts Apparel
by Jamai Lowell. I have been so impressed watching Jamai, who is an illustrator who has his designs screened on to baby products and adult tees, go from just a couple designs and a full-time job, to a large assortment of successful designs and making his passion and his own company become his full-time job. Another artist is
Michael Murphy
, who switched to doing his graphic design work as his primary career after a long stint as an architect. Michael was born and raised here in SF, and as a child, watched the modern architecture of the mid-century being erected and was inspired from it to become an architect. His latest series of work, "Forgotten Modernism," was created to highlight the much overlooked and unappreciated modern architecture of the city. There are twenty-five (and counting) SF buildings in the series, including the Hyatt Embarcadero and the Jack Tar Hotel building on Van Ness Ave., which is being demolished this Fall to make room for the new California Pacific Medical Center.
H:
Why did you choose to set up shop in Hayes Valley?
BB:
I noticed that it was sort of a high-design neighborhood, and the side street stores were boarded up and people were like, "Are you sure you want to be a hundred feet away from the main street?" I said, "Why not? That's still close enough -- put a sign out, people are going to see." People didn't believe in it but then there were tons of people coming down here and eventually the other storefront [owners] saw that I was here and they opened up stores next to me. I was here by myself for two and a half years.
H:
Can you talk about being a certified green business? What prompted you to do that?
BB:
In 2005, I decided to do a remodel and I wanted it to be a green model and follow LEED standards so everything I used was reclaimed redwood, VOC paints. Also, we were already using recycled papers for everything we did with the artists and we had a sustainable community business model -- supporting local entrepreneurs, people who are not shipping but are traveling or sending packages from very close by and not using a lot of fossil fuels. Also, a lot of people were using reclaimed and repurposed fabrics and materials to create their goods so a lot of things we were already doing were very green. I worked very hard to pass the certification to become an SF Green business member. REI and our shop, RAG SF, were the first two retail businesses.
H:
You met your husband, Hockkee Yeo (owner of Oxenrose, 448 Grove Street), in the neighborhood?
BB:
Oh, yeah. It's a neighborhood love story. We were brought together by Santiago [Rodriguez], who owned Frjtz, and I had gone to my husband's salon. I'd see him passing in the street, and I'd seen him at Santiago's parties, and we were there at the beginning of Santiago's restaurants, and the beginning of his bar in the Mission. We were always there helping him out and then we eventually got to a point where we saw that we weren't dating other people and his staff started telling him, "Hey, she's single." He asked me out and after that, we were inseparable. We have been able to commiserate and be there to help each other through everything with our businesses. Now I'll be there to help him with his more.
H:
Why are you closing? What's next for you?
BB:
The building was sold and they are going to be repurposing the space in a couple of years. We decided to get out now. It's going to happen later anyway … I have decided to move on to pursue other adventures in crafting and in spending valuable time with my preschooler son and family. I have also watched -- since 2002 -- as Hayes Valley has had a revitalization and blossomed and grown and truly taking on new wings, but on the downside, I have watched as housing and retail rents have soared making it is no longer affordable for small business and local artists.
H:
What are the closing plans for the shop?
BB:
I will do a 15%-off sale January 1 until I close January 15. Also, I am selling off the fixtures at the shop Jan 16 until the end of the month by appointment -- they will be featured on my site
camademtl.com
and
ragsf.com
.