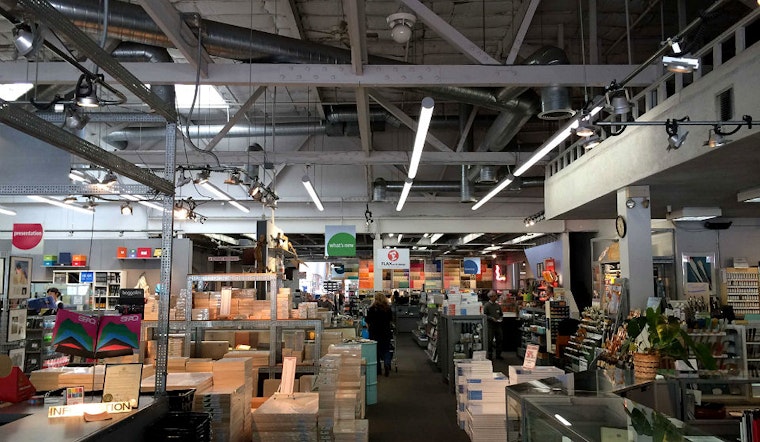 Published on June 18, 2014
Last month, we
broke the news
that
Flax Art & Design
could get demolished to make way for a new mixed-use building on the corner of Market and Valencia.
In our last post, we noted that the Preliminary Project Assessment had begun. The assessment was completed at the end of last month, and we've learned some new details from a
report
by the San Francisco Planning Department:
The initial project proposal was filed by Mark Conroe of Urban Communities, LLC (Presidio Development Partners, LLC)

The plan is to demolish the existing 22,170 square-foot commercial building (originally constructed in 1954)
The new building would be a 9-story, 85-foot tall building with 160 residential units, 4,500 square feet of commercial space along Market Street, and 123 below-grade parking spaces
Excavation would take place 5-10 feet below ground to accommodate a proposed basement parking level
A permit for construction has been filed, which we found via building permit tracking site
Buildingeye
, and an architect has been attached to the project. The total cost of the project is $38 million, according to the document.
Solomon Cordwell Buenz is the Chicago-based firm that's designing the new site. Most of their work is in Illinois, but you might be familiar their work on San Francisco's
One Rincon Hill
.
The proposed project falls within the boundaries of the
Market and Octavia Area Plan
, a 2007 document detailing improvements and allocated funding for the Market Street corridor between Van Ness and Church. Some specific goals include making Market Street "a residential and retail spine," creating "a new residential center in SoMa West/South Van Ness area," and encouraging "high density housing and supporting uses close to the transit services on Van Ness and Market Streets."
The review of the assessment includes suggestions to "consider less parking (due to proximity to transit and bike facilities), avoid trash collection along Market Street, and (relocate) bike parking to the ground floor." The groups behind the new building also must conduct a shadow study, since the building is greater than 50 feet and could cast shadows "on public plazas and other publicly accessed spaces."
A
s a reminder, the assessment states that "this determination does not constitute an application for development with the
Planning Department ... it also does not represent a complete review of the proposed project, (or) a project
approval of any kind."
We'll keep you updated once we find out if the assessment turns into an application, and if these (or any other) plans move forward.