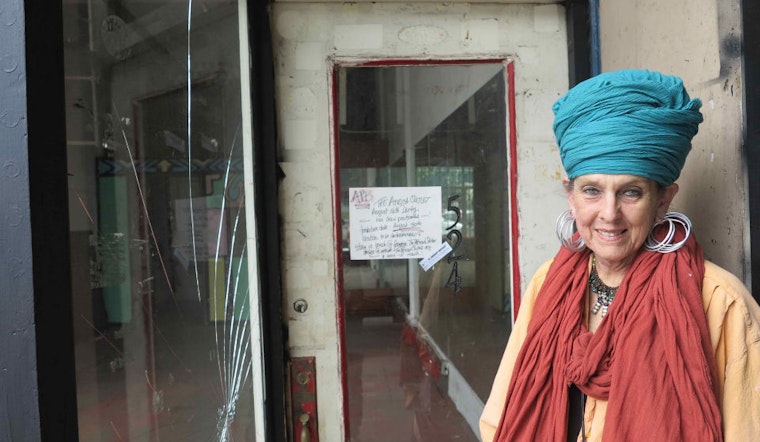 Published on August 26, 2014
Back in January,
we reported
that the African Outlet was seeking community support after facing a $500 per month rent increase. Now, after months of attempted negotiation, the owners have officially vacated their location in Hayes Valley. They had occupied the space since 1994.
Shop owners Judah Dwyer and Horgan Edet had never had a formal lease agreement with the building owner until Makras Real Estate took over managing the property at the end of last year. Once this happened, the company imposed the rent hike which would effectively put the shop out of business.
Judah told us that before the switch, paying rent had never been an issue and they would simply pay the building owner directly. But once the new management took over, "[the owner] didn't seem to be a player in the situation. Something was different, way different."
In addition to the $500 per month increase, Judah told us the new proposed agreement included a $150 increase in monthly rent each year thereafter.
At the end of July, Judah and Horgan were offered a lease that included the same terms as the initial rent increase. The store was officially vacated on August 11th, and, according to Judah, their attorneys are now handling the matter.
There is, however, a silver lining—of sorts.
Aware of the impending reality of the move, Judah and Horgan had been scouting out new locations since March, and are proud to report that they have found one.
Starting mid to late September, the African Outlet will once again open its doors at a new location at 4942 3rd Street in Bayview. There, Judah and Horgan hope to once again create a community corner akin to the one they have been fostering for the past 19 years.
But despite the security of a new location, they are extremely sad to go. "There wasn't anything like this here," she told us. "This corner is where everyone came through. It didn't matter who you were, you were always welcome. There was camaraderie, information, music. It had a good heart. It was unique."
This sentiment was also shared by longtime neighborhood resident, Josepha. "They brought the African diaspora to a neighborhood that is rapidly losing its flavor…this used to be a dangerous neighborhood, but it was still a neighborhood. Most of those people have been pushed out by now. The African Outlet was the last place that gave the neighborhood flavor. Now everything's the same."
For Judah, the ousting is indicative of larger changes taking place in San Francisco.
"Over the years, everyone that has come to San Francisco has brought something and stirred it in the pot. This time, the only thing being brought is money, and it's taking from the pot, soulfully, but nothing is being put back in. But I gotta give props though, there are individuals in the tech industries that are doing their best to reach out and make a difference in positive, relevant ways."
But despite her balanced view, she shared a shorter, more poignant opinion of the situation:
"Another one bites the dust."
In order to help fund the costs of transitioning their business to their new space down in Bayview, the African Outlet has started an Indiegogo campaign with a goal to raise $25,000. If you'd like to donate, click here.