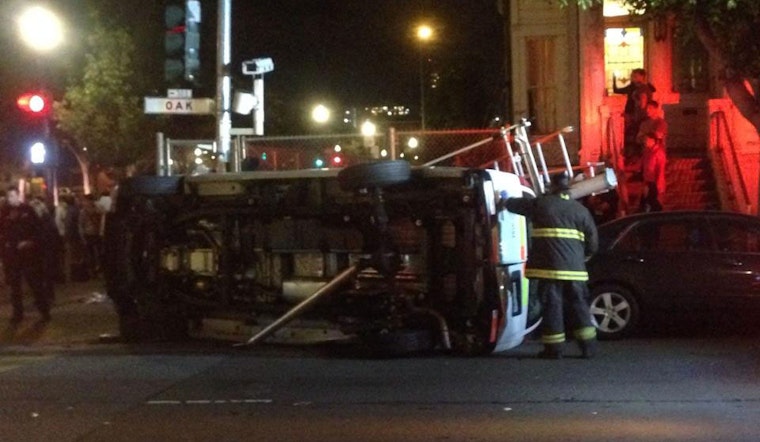 Published on August 20, 2014
A car ran a red light at Oak and Octavia last night, resulting in a collision that sent three people to the hospital.
Police tell us that some time around 9:30pm, a blue 2-door Infiniti traveling north on Octavia ran a red light and broadsided a white van that was traveling east on Oak Street. The van ended up on its side, while the Infiniti suffered significant damage as well.
Three people were transported to San Francisco General Hospital with complaints of pain; the driver of the Infiniti was cited for running a red light.
Images from the scene soon appeared on Twitter:
Jesus. Terrible accident at Oak and Octavia. AT&T truck is flipped on its side, another car crushed. Wow. pic.twitter.com/drhMBrh1RA

— Matt Graves (@mgrooves) August 20, 2014
Big accident at Oak and Octavia. Van on its side against a pole :-/ pic.twitter.com/bipLIRi3wk

— Amish Shah (@amishshah) August 20, 2014
Tonight was another ex. of the danger of Oak & Octavia. When will @sfgov make this int better. Please slow down cars! pic.twitter.com/gzg8Nu3ypD

— A Kittiyachavalit (@angelk) August 20, 2014
Just last month, Supervisor London Breed
told us
that a reconfiguration of the intersection is currently being studied. The results of that study are scheduled to be shared in September.