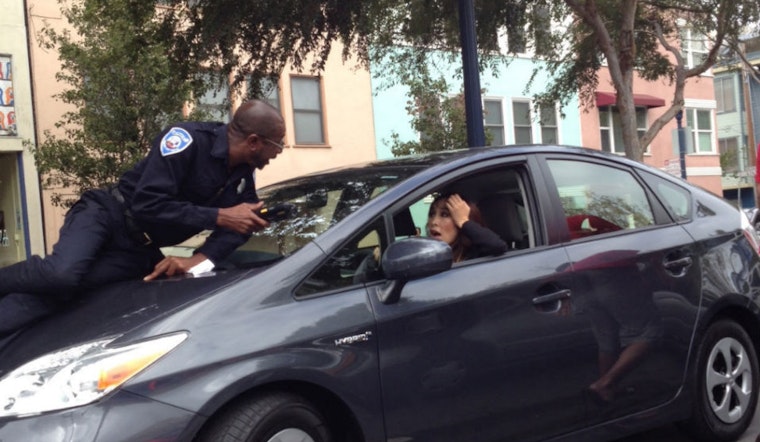 Published on September 19, 2014
Last night, tipster Allison Y. alerted us to an incident that occurred yesterday morning—an incident so strange, we just had to tell you about it.
It all started at about 10:15am Thursday morning, when our tipster was in the right-hand turn lane on Oak Street, waiting to turn onto Octavia.
"I first spotted her zooming down Oak in the far left lane," she writes.
"I saw her go by and realized there was a guy on the hood on his back, hanging on kind of spread-eagled. She turned right from that far left lane across all lanes of traffic onto Octavia. We caught up to her around Market—she was screaming, he was screaming, it was insane."
As you can see from Allison's photo, it does appear that there was a lot of screaming going on, with what she describes as a "metermaid guy" clearly shown atop the hood of the vehicle. The account continues:
"I have no idea what started her on this drive of terror, and no idea why this dude did not get off her car, but I was pretty relieved the cop showed up as the light turned green. I'm positive she would have driven onto the freeway on-ramp with this guy on her hood."
We checked in with the SFPD, but they didn't have any record of the incident on file, and couldn't confirm what had happened (updated, see below). Does anyone else have an eyewitness account of the incident or have any theories? We simply must know more.
Update, 2:15pm:
We heard back from the SFPD and got a full report from Officer Albie Esparza, who confirmed that the man on the hood of the car was indeed a DPT parking control officer. According to Esparza, the incident began yesterday at 10:10am on the 1300 block of Hayes.
The parking control officer was in the process of issuing a parking citation when the female driver of the vehicle got into it and attempted to run him down. According to Esparza, the officer had to jump onto the vehicle in order to avoid being run over.
In the process of fleeing, and with the man still on the car's hood, the driver struck a motorcycle and continued to flee (the motorcyclist was not injured). According to commenter Ferbrando, she drove south on Scott Street and took a left on Oak, with the man still clinging to the hood of the car.
"The suspect was finally stopped by SFPD at Market and Octavia Streets," Esparza confirmed, noting that the traffic enforcement officer was (miraculously) uninjured. The driver, a 33-year-old San Francisco resident, was taken into custody and charged with assault with a deadly weapon (vehicle) and misdemeanor hit and run. The suspect vehicle was towed for evidence.
Update, Sept. 23rd
: Though we reached out to the woman involved in the incident, who has been identified as Bo Mounsombath, KRON 4
got her commentary
on what happened.
According to Mounsombath, she did not intend to run over the parking enforcement officer, but that she felt she was being sexually harassed when the man asked her to "do things instead of getting a parking citation which led me to believe he was posing as a meter maid."
"I am still shaken up by the whole situation," she told KRON. "I was sexually harassed then had a man jump on my car."
According to
the Examiner's Rob Nagle
, Mounsombath is expected in court for an arraignment tomorrow afternoon. We'll update this post when and if more details about exactly what might have happened come to light. In the meantime, stay safe out there, folks.