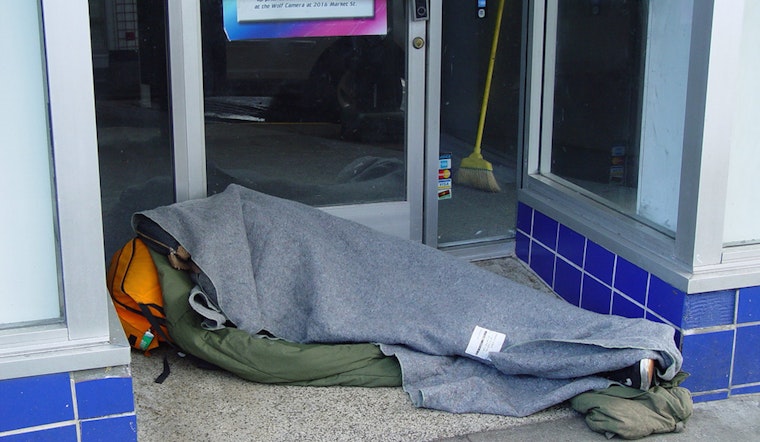 Published on December 20, 2014
Castro area residents, neighborhood groups, and businesses have come together to do something about the quality of life issues plaguing the Castro through a program called
Castro Cares
, debuting this month.
Castro Cares hopes to fill the gap left by inadequate distribution of public services from City Hall by increasing the scant police presence and meager attention to at-risk people living in the streets. It's a collaboration between local residents and merchants and the City of San Francisco, SF Police Department, Patrol Special Police, and the Department of Public Health.
The two-year pilot program is being funded with a $100,000-a-year grant from the City of San Francisco secured by Supervisor Scott Wiener, plus a $15,000 year-one startup grant. The Castro Community Benefit District is pitching in an additional $15,000 for the first year, with the remaining $220,000 a year cost being made up with private and public sector grants and annual subscription fees from merchants, residents, and community groups.
The funding will pay for 95 hours a week of enforcement and outreach services.
Enforcement services
will include 51 hours a week of on-foot and bicycle cops patrolling the area focusing on quality of life issues such as public drunkenness, aggressive panhandling, late-night rowdiness, bike riding and skateboarding on sidewalks, public urination, trespassing and more.
Outreach services
will include 44 hours a week of consistent, one-on-one attention to people living on the streets. As Castro Cares puts it, "studies show that when at-risk populations experience consistent engagement with people who demonstrate genuine caring and interest in their well-being over a period of time, they are more likely to accept assistance and referrals to appropriate care and services."
When fully funded, services will be concentrated along Castro, Upper Market and Church Streets, plus heavily impacted adjacent streets.
Castro Cares' managers have received assurances from City Hall and SFPD that the communities' efforts in providing this program will be additive services to existing Police and SFDPH service levels, not substitutes for them.
The program is already starting to have an impact. This past Wednesday, the Castro Community Benefit District made a $8,875 contribution for the month of December to distribute $1,400 worth of care packages to those at risk living on the street and fund 72 hours of overtime police (known as
10B
) on foot patrol throughout the district. Outreach workers will be distributing the care packages to people on the street throughout the Castro. Meanwhile, overtime police officers have been assigned evening and late night shifts to limit trouble in the neighborhood caused by late night partiers and to create an increased feeling of safety during the evening holiday shopping hours.
If you'd like to find out more about the program or sign up for subscription to help pay for the service, check out the
Castro Cares website
.