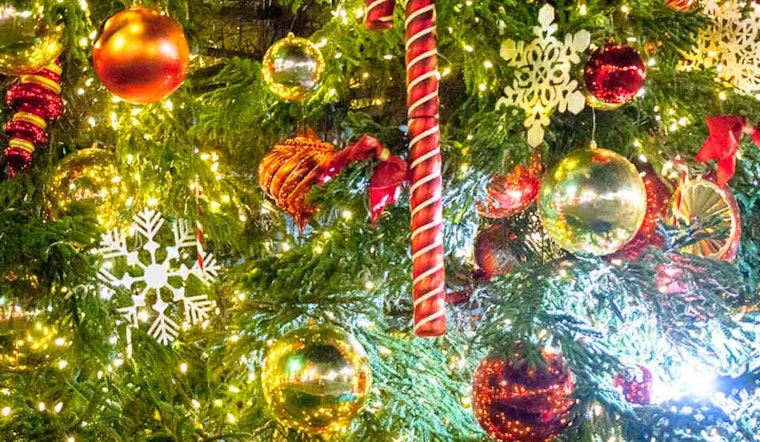 Published on December 21, 2014
For this, the shortest day of the year, we've put together the ultimate list of San Francisco holiday light displays that are helping to brighten up our long winter nights.
In some areas, holiday lights are a spectacle that shine so brightly, NASA can literally
see them from space
. But
, we've got to be honest — it's slim pickings here in S.F. It's been raining almost every day since Thanksgiving, and as much as we need every drop, it also means that only the die-hard displays are out this year. You can venture through many quiet, unlit blocks before basking in the glow of an over-the-top holiday display — but we think that makes them all the more special.
So don a holiday sweater (and possibly some rain gear), heat up some hot cocoa or hot buttered rum, gather some friends and check out the best that San Francisco has to offer.
1) Castro Street between 14th and Duboce
Our first stop is in the Castro, where this 3-story Edwardian is dressed from hedge to gable in gaudy garland, red ribbons and beautiful bells and balls.
2) 45 Upper Terrace, at Buena Vista Park
Le Petit Chateau Des Cavaliers, a beautiful 1917 brick home near Buena Vista Park, never fails to impress with its simple and classic Christmas scenes, oversized presents and animatronic drummer boys. How many gnomes can you count?
3) Tom & Jerry House, 3650 21st Street between Church & Sanchez
You can see the glow of the three-story Christmas tree from blocks away. Piled atop a gingerbread Victorian that's perched on the steep slant of 21st is the most elaborate holiday display in all of San Francisco.
We stopped by the day after Thanksgiving to find Tom and his gang of elves, who are all covered by worker's compensation insurance, decorating the 65' tree and reinforcing it with steel beams.
For the last 25 years, Tom Taylor and Jerry Goldstein have been transforming their home into a mesmerizing Christmas village.
The tree started as a houseplant that outgrew the living room and was replanted in the front yard. As the tree grew larger, so did the size of the giant presents, stockings and stuffed animals to make it appear as if it might only be your average 5-1/2 foot tall Christmas tree.
Each year, Tom and Jerry acquire a building permit for the project and rent a boom lift from November through January.
Santa visits every day from 7-9pm until December 24th (unless it's raining). The lights go off at 10:30pm, so be sure to visit before then.
4) The Wishing Tree, Eureka & 22nd Streets
Our favorite discovery on our holiday lights tour this year was
The Wishing Tree
.
Vanessa, the Wishing Tree's creator, was inspired by the book "The Wishing Year" to create "a place in the neighborhood for wishes, intentions and gratitude to be made" during the dark fall and winter months.
Children's humble wishes hang from the tree requesting life's simple pleasures like… "I wish that I had every power in the world." or "I which [sic] to have a dog."
Two mason jars sit at its base, one with blank cards, and one for depositing your intentions.
5) Larry's window, 245 Diamond Street
Though they may not have needed a boom lift to install it and you can't see its glow from blocks away, Larry's Window is a very thoughtful and well-designed neighborhood holiday window display that's worth a visit.
6) Pier 39 Christmas Tree
Pier 39 has a stunningly-lit tree that is traditional in every sense of the word, with the exception of the enormous flashing lights that appear to be designed to prevent airplanes from mistaking the tree for SFO. We affectionately nicknamed the tree Paparazzi, as the flashes give you the impression that you've been spotted by a fleet of photographers.
While you're there, be sure to check out the adorably decorated ship masts in the marina.
7) McLaren Lodge Christmas Tree, 501 Stanyan and Fell
The largest decorated tree in San Francisco (that we know of) can be found near the Golden Gate Park Panhandle. The tree is over 130 years old, and is nicknamed "Uncle John's Tree" after superintendent John McLaren. One of McLaren's final wishes was for the tree to be lit with Christmas lights. It is considered by many the "official Christmas tree of San Francisco."
Have any holiday light displays that we should add to our list? Or any fond memories of going out to see holiday bedazzlements with your friends and family? We'd love to hear about them in the comments.