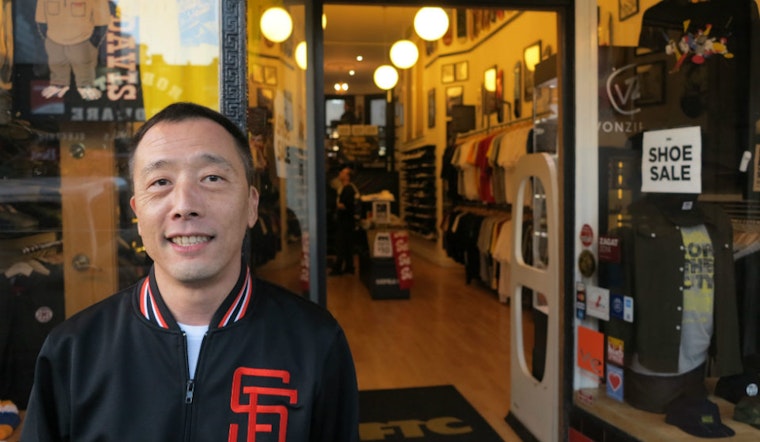 Published on February 02, 2015
FTC has been a San Francisco skateboarding institution since its early origins within Kent Uyehara's father's sporting goods store, FTC Ski and Sports.
Since then, Uyehara has built somewhat of a skate empire here in San Francisco and across the globe. We stopped by his store on Haight Street to talk shop with the man who's been involved in the burgeoning skateboarding industry since the 1980s.
FTC's wall of skateboards / Photo: Stephen Jackson
Where are you from?
"I'm fourth-generation San Franciscan. I came from about as far as UCSF, where I was born."
How did you first get into skateboarding?
"I was about ten, and my older brother was skateboarding and I followed in his footsteps. When you're young, you want to do what your older brother does! That was in 1978."
Did you ever skate professionally?
"No, none of that. Trust me, I wouldn't be slinging skateboards if I could skate professionally."
Tell us how you got into selling skateboards.
"So when I was in high school at Lowell, I started selling skateboards to my friends. My dad has a sporting goods store called FTC (Free Trade Center), but back then it was FTC Ski and Sports. So we did skis and cycling and other stuff, and then in the late '70s we started doing skateboards for the first time. That store was over on Bush Street, and that store actually started in the late '60s.
"Basically, I made a catalog with all the different boards, and people would just choose what they wanted. At a certain point I was making weekly orders, and my dad let me start selling skateboards in the store. That was 1986."
Kent at the Bush St. location in 1993 / Photo courtesy FTC
So when did it fully become a skate shop?
"Well that was when I was a senior in high school, then when I went to college I was coming back every week or so to manage the skateboard portion of the store and eventually the skate and snowboard part took over the whole store.
"It exploded because of the timing. In the early '90s, San Francisco also became the mecca of skateboarding with the EMB [The Embarcadero]. Then in '94, we moved to the Shrader location, because there had been a history of other core skate shops there and we wanted to keep the tradition going. In 2003, we moved to the Haight Street location."
The EMB (Embarcadero) / Photo: Lance Dawes
How has skating changed over the years?
"Street skating really originated in San Francisco in the '80s and then in the early '90s, as technical skateboarding became more popular, Justin Herman plaza became the world's epicenter for skateboarding. In the '80s, skating was largely popular to the masses because of vert and half pipe skating, you know, getting 'big air'. Then, primarily due to insurance, skateparks and ramps disappeared and the sport got reinvented due to street skating. Ever since that time, San Francisco has been considered a famous skate town."
"It convened for six years during the Gavin Newsom administration. It basically was created to examine existing skateboard laws and create policy recommendations for skateboarding. Skateboarding had existed here for so long, but nobody seemed to understand it. I was part of the task force…the reality is that San Francisco is renowned for its street skating. I think that at the same time, the youth deserve skateparks and it's just not fair to ticket skateboarders if there's no alternative."
Why do you think skateboarding has always been connected to counter-culture?
"Because I think skateboarding is counter-culture. Being in San Francisco, we have a unique perspective on skating because street skating essentially started in California, in San Francisco and LA. We are some of the originators, so it's always been part of the culture here, whether it's been accepted or not."
What's the relationship between fashion and skateboarding?
"I would say that to me, skateboarding has always been at the forefront of streetwear fashion. In the early '90s, skaters introduced wide, baggy pants. No one was dressing like that at the time. When skaters started wearing skinnier pants, people started wearing skinnier jeans. Basically, they're trendsetters."
Why do you think Haight Street has become such a streetwear destination?
"It's not that it's something new, but now people are noticing it. What's happening now is that brand retail is popping up even though stores like FTC and True have had multiple brands for a long time. I think companies see having a store on Haight Street is something important for their image."
What makes Haight Street so special?
"It's symbolic of independence, as is San Francisco in general. Also, because of the success of other streetwear corridors, like Fairfax in LA. Businesses want to mimic that here."
"We have stores in Tokyo, and Sendai in Japan, and Barcelona. Those are all franchises. We hope to continue growing the stores and growing the brand. Here in the Haight, we are going to continue to support and advocate for skateboarding."
What's next for skateboarding in general?
"Skateboarding has grown to be possibly the most popular youth sport in the world. I'm confident that it will continue to grow in popularity. I don't see any major shifts in the sport itself anymore because for the first time, all forms of skateboarding are accepted. Longboards, street skating, even those plastic '60s-style 'penny boards'. I mean, it's not a real skateboard, but everyone has one and hey, at least they're on a skateboard."