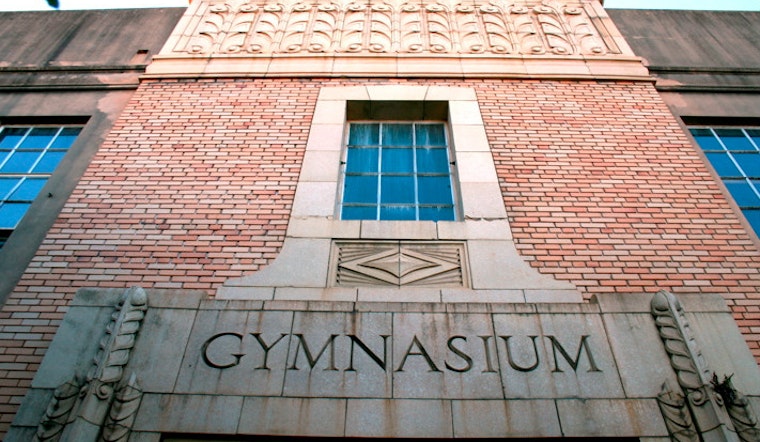 Published on February 24, 2015
If you've ever strolled down Frederick and noticed the twin Art Deco buildings near Kezar Stadium, you may have wondered what they were, and where they came from.
The two buildings are remnants of a city school called ​San Francisco Polytechnic High School. Originally opened on Powell Street, between Clay and Sacramento, in 1884, the school moved Stockton and Bush, where it became known as Polytechnic (or Poly, as its commonly referred to). Following the 1906 earthquake, construction began on a new campus at 701 Frederick St., which opened in 1915 and remained open until 1973.
Over those years, the school created a reputation for a ​"​cosmopolitan, diverse and talented student body, inspirational teachers and administrators, and exceptional football teams.​"
Emphasis on that last point. Kezar Stadium was originally a part of Poly's athletic facilities, and over 50,000 people attended Poly's football game against Lowell High School in 1928. That game set the record for the largest attendance for a high school football came in Northern California, and the record remains in place today.
The only two buildings that remain of the school were also part of the school's athletic facilities, and once housed the boys' and girls' gyms. Built in 1929 and 1936, the buildings are now used by The Circus Center and Acro Sports.
Today, you can see a commemorative plaque added to the site by alumni in 2014:
​The Polytechnic Memorial website HailPoly, which is well worth a perusal, boasts one of the most thorough histories not only of the school itself, but of the surrounding area at the time. ​
On it, you can admire track uniforms from 1915, read essays about the opening of the N-Judah line in 1928 and its impact on the school, ​see a complete list of graduates who went on to fight in WWII, read about the changing atmosphere of the city in the 1950s, and admire countless other historical tidbits that will keep you occupied for the rest of your afternoon.
But perhaps most impressive is the catalog of photos throughout the decades of the school's history. Here's a chronological selection of images from the school, but there are many more.
A Biology class in 1894:
A literary magazine from 1924:
A cafeteria illustration from 1932:
A yearbook page from 1939:
Track and field, 1946 (the mascot was The Parrot):
Prom photos from 1951:
The band in 1962:
Demolition of the campus in 1987:
(All images via HailPoly.com)
In 1987, the school property was re-zoned for condominiums, and the building was razed, leaving the two gym buildings standing at each end of the property.
Housing has risen in its place, but next time you're on Frederick, take a second and imagine a thriving high school, and 50,000 people cheering for the Parrots at a Kezar Stadium football game.