For years, there has been steady turnover at the northeast corner of 18th and Castro. The changes from camera store to historical society center to soup joint to Korean spot created the impression that the corner was somehow jinxed. Perhaps the curse is over, as the current tenant, Gyro Xpress, has recently celebrated its first year in business and is excited about the months and years ahead.
We sat down with owner, Cem (pronounced "Jem") Bulutoglu, to hear about first year obstacles and how the family-run Mediterranean restaurant is striving to become a neighborhood establishment in a competitive area.
Before opening in February of last year, Cem knew the corner and neighborhood well. "I used to work for my uncle, who owned Ararat, which is now Poesia. There was always something different on the corner space." As time went by, Cem saw an opportunity to fill a gap in food offerings in the Castro. He eventually opened Gyro Xpress with his uncle and cousin, and remembers that it was a slow start bogged down by construction. "There were barriers and fences all over, so many didn't even know if we were open. There was no parking, it was dusty, and there was a lot of constant noise and work."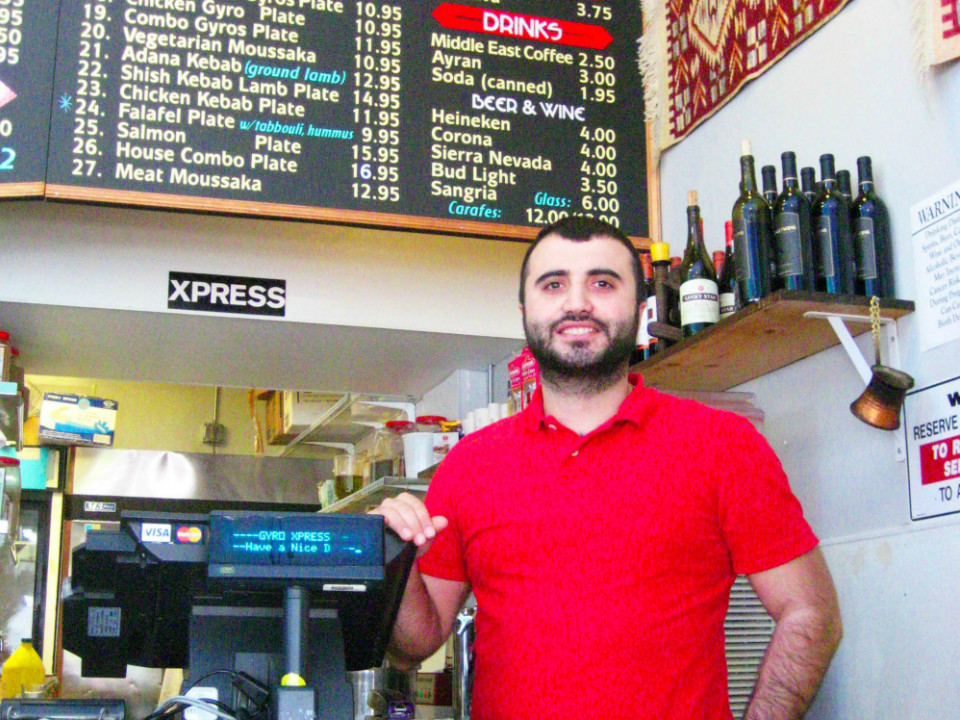 Another obstacle that Gyro Xpress faced was a surprising amount of pessimism. Cem recalls a lot of people coming in and saying that the restaurant would fail within a year – many with a generally bad attitude. Once people began to try the food and get to know the staff, however, Gyro Xpress began to develop a steadily growing base of loyal customers. "We suddenly had all sorts of neighborhood regulars coming in. During construction, they really helped us stay in business."
Cem places a lot of value on the neighborhood crowd over the tourist one. "Tourists will come and go regardless of who we are, but repeating customers will come again and again to enjoy consistent food, service, and atmosphere. We're establishing great groups of regulars during our lunch, dinner, and late night crowds." As a result, Gyro Xpress has made some changes to its menu based on feedback from regulars, such as adjusting sauces, switching from lavash to pita as a main bread, and providing a variety of daily specials.
All of these efforts are part of Cem's overall goal of becoming a trusted establishment in the Castro. "With so many other options available to people, we want to focus on gaining trust by increasing our quality of food and service based on the needs of our regulars, and providing a consistent and welcoming experience." Gyro Xpress is indeed very friendly with visitors. "Catching up with local friends, welcoming first-timers with a friendly attitude, and keeping our place safe and respectful are all very important to us," Cem says.
Looking forward, Cem wants people who may have been scared away during construction return to the Castro and try out Gyro Xpress. He hopes that events like Pride and Castro Street Fair bring more people to the area, and that the Castro community organizes more events like Sunday Streets or other opportunities to get residents walking around and seeing what offerings there are. "We need neighbors to support local businesses so the entire area can thrive and continue to get better."
On his end, Cem strives to focus more on the food now that the first year's hurdles are past. "We want to add more quality to our flavors to create an identity that people can recognize at once. We learn from everyone and really value their feedback. It gives us the opportunity to improve and gain their business."
Stop by Gyro Xpress for a wide variety of Greek and Mediterranean food and beverages. It's open Sunday through Thursday from 11am to midnight, and Friday and Saturday from 11am to 2am, and they also offer delivery and takeout from their website.