Eleven years ago, Beau Beausoleil named his used bookstore, The Great Overland Book Co., after Gold Rush merchants who brought goods to San Francisco from eastern cities. "Any two-bit, fly-by-night operation would call themselves the 'great overland fill in the blank'" he said. "We picked the burro [for our logo] to keep ourselves humble."
Customers browse vintage newspapers and $1 titles on the store's sidewalk rack near Judah and 9th Avenue before being drawn inside. "We have a wide spectrum of customers from their 20s to 70s who all, for their own personal reasons, want to hold a book and want to turn a page," said Beausoleil. "Part of the fun of used book-selling is you never know who's walking in the front door, what story it's going to lead to. It's an unexpected wonderfulness."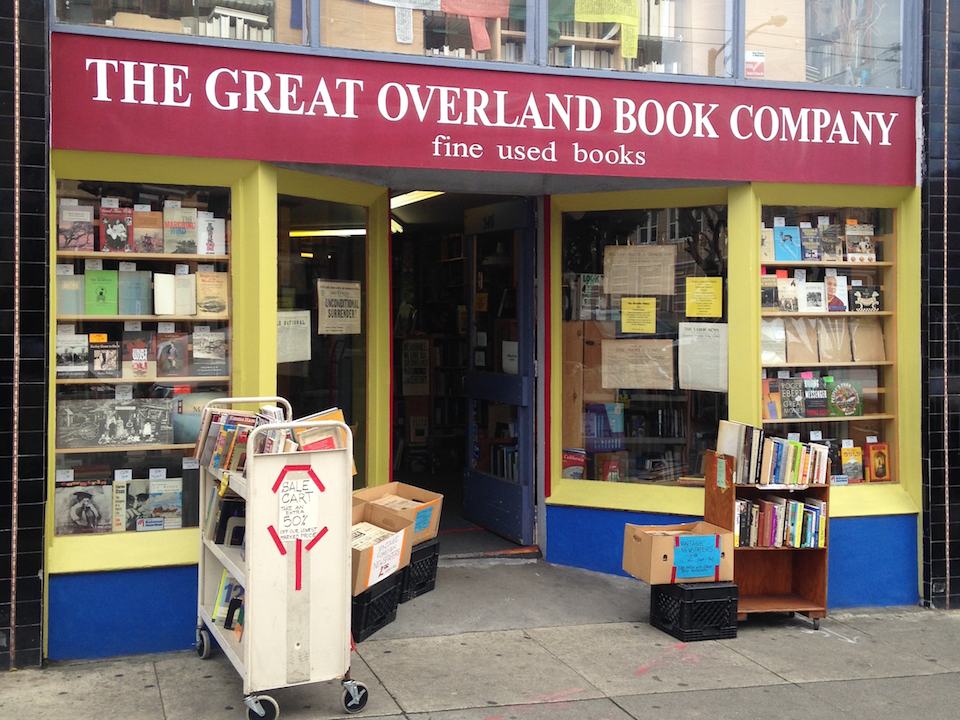 Competing with online retailers is a struggle, said Beausoleil, recalling at least four book stores within a few blocks that have closed. Now that UCSF's Mission Bay campus is open, there are even fewer customers, he said, but the store persists because of its unique inventory. "You try to build a store around ... things that reflect your own taste and then you try to find the people who are your people."

The store has two levels, with books stacked on shelves from floor to ceiling and in piles according to author and genre. Customers are welcome to take a chair or stool for extended browsing sessions, and staff have left handwritten notes to guide them along.
Walls are decorated with all types of ephemera and masks made by students of Andrea Hassiba, Beau's wife. Aside from being an artist, a university professor and a "maestro of organization," she also works in the store two days each week, he said.
Beausoleil acquires books and memorabilia from estate sales, garage sales, book scouts, storage lockers and private collections. "There are two types of books, those that people are looking for and those that are looking for you," he said. "We specialize in the latter."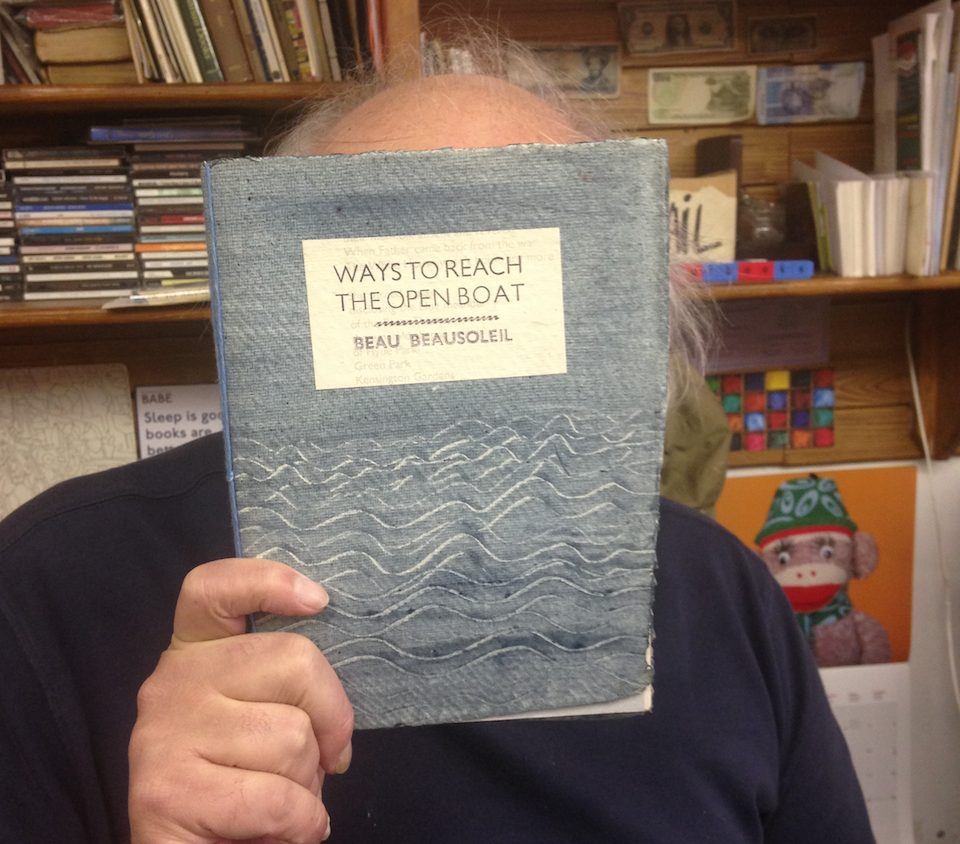 Overland Book Co. owner Beau Beausoleil
Originally from the Bronx, Beausoleil is a former Army sergeant who worked in cryptography and missile tracking. In the 1960s, his politics changed and he started protesting the Vietnam war. "I became a poet and a lefty and everything else that went with it."
Around that time, he was working aboard a ship whose home port was Honolulu. "My dream was to buy into a bookstore and learn the trade," Beausoleil said, recalling that his first investment was a poor choice. "I went into debt, lost everything I had saved on the ship. I always still trust people. I haven't learned that lesson. That's just the way I am ... The best you can do is to see the train wreck coming and be able to step aside."
Eventually, he left Hawaii to pursue his writing. "Trying to be a writer in Hawaii is really hard," said Beausoleil. "All I wanted to do was go to the beach, go dancing and lay on the sand. Writing was a really low priority. So I needed a more abrasive climate that would keep me indoors. Here, we have just the right mix of bad weather and sunshine."
Thanks to the Beats, "there was a whole mystique to being an SF poet," said Beausoleil. "I came in the late '60s when Haight Street was partially boarded up and the Hells Angels ruled. But it was an affordable time for artists and writers in the city."
"If the climate was worse in Hawaii, I'd probably still be there," he said.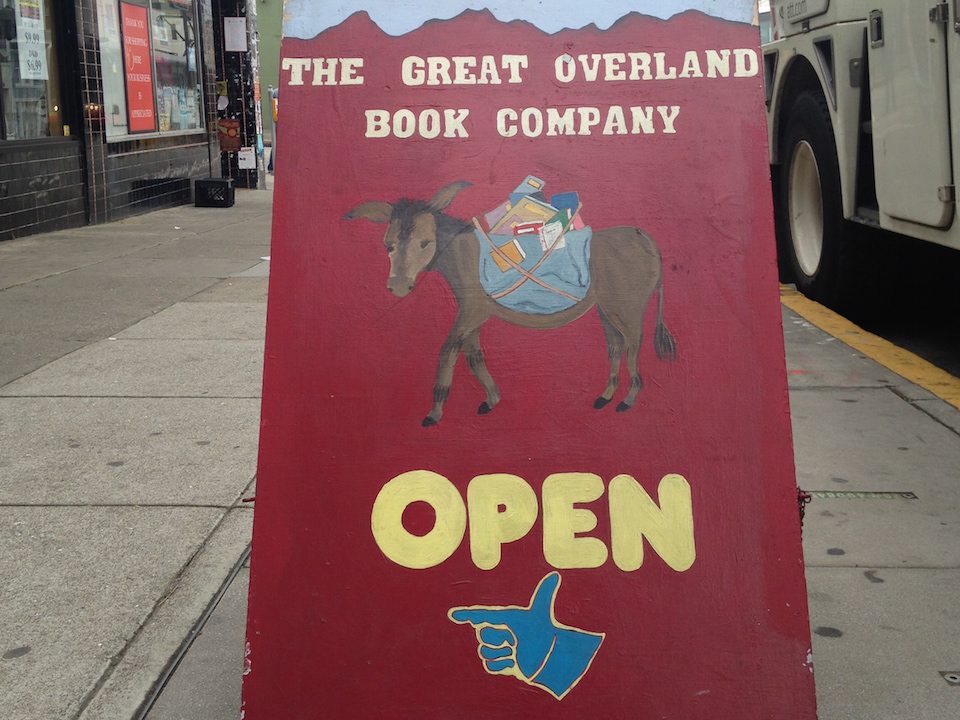 Since then, Beausoleil has written ten books of poetry, but he doesn't stock them in his store. "Writing is not a way to be rich, but to enrich your life. I always say poets are among my most favorite damaged people."

In Baghdad on March 5th, 2007, a car bomb destroyed much of Al-Mutanabbi Street, the street of the booksellers. "The idea of any group trying to take a cultural space and reducing it to zero was anathema to me," said Beausoleil. "So I started a project in response."
Now in its eighth year, Al-Mutanabbi Street Starts Here has incorporated 600 different artists in 20 countries, as well as exhibits across the US, Canada and the UK. Recent shows were at the American University in Cairo and the Arab American Museum in Dearborn, Michigan. In January and March of 2016, Beau is gearing up to take the project on tour in Washington, DC.
"This is what bonds us together," said Beausoleil. "That street was and is a place that welcomes all cultures and ideas. We use this metaphor: wherever someone sits down to write towards the truth, that's where Al-Mutunabbi Street starts."
The Great Overland Book Co. is located at 345 Judah Street and is open seven days a week from 11 am to 7 pm.