Imagine a giant glass gazebo housing a circus tent smack in the heart of the Embarcadero at Broadway street. Inside, a comical yet professional dinner theater show is staged with actors, trapeze artists, singers, jugglers, comics and more.
Now connect that with a boutique hotel that includes a lobby restaurant and bar and on-site housing for some of the performers. Add to that a public park and an educational component—when shows aren't running, the performers will teach theater arts to Bay Area children. Oh, and developers want to the exclusive right to build it on Port land without it going out to bid.
It may sound like a pipe dream fit for some fantastic futuristic San Francisco novel where all of the community forces in the northeast waterfront—notorious for their skepticism toward development—get together, hold hands, sing Kumbaya and rally to support it.
That's exactly what's happening with Teatro ZinZanni, which is one step away from getting the thumbs-up to return to the Embarcadero and build a permanent home. It says that in order to be financially feasible to come back, it needs a "sole source" waiver, meaning no other bids will be considered for the land. Also to make it work, it's partnering with Kenwood Investments to build a small (180– to 200–room) hotel with a restaurant and lounge on the site, with revenue to help keep the artsy side afloat. It's model that's been done in many other major cities, from Chicago to New York to Melbourne, Australia.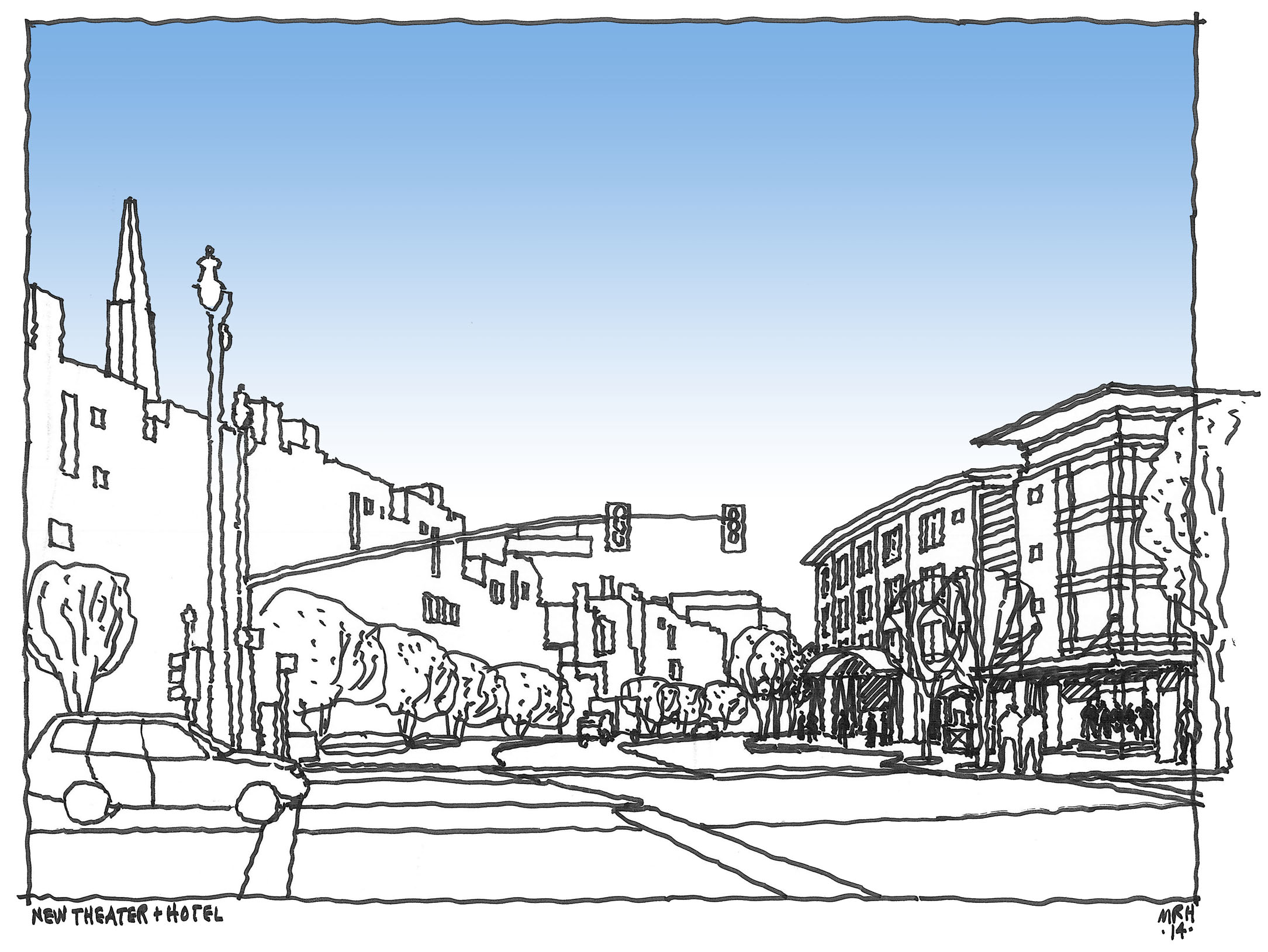 Graphic: Courtesy of Hornberger + Worstell
The Port Commission already approved Teatro ZinZanni's sole-source waiver, and the next step was to get the thumbs-up from the Board of Supervisors' Land Use and Transportation Committee, consisting of Supervisors Malia Cohen, Jane Kim and Scott Wiener. They voted 2–1 on Monday afternoon to move it forward to the full board with a positive recommendation. (Kim was the lone "no" vote.) The full board will vote on it at its meeting on May 5th. (Update, 5/5: Teatro ZinZanni's request for a sole source waiver was unanimously approved by the Board of Supervisors today. As the story states, this was the final approval needed to begin the design and construction process. Teatro ZinZanni promises to hold more meetings to get further input from the community as that begins.)
After the public comments, Wiener said, "The fact that we would not have a single dissenting voice here today is pretty extraordinary."
Dozens of people showed up at the meeting wearing stickers Teatro ZinZanni provided to show their support, and about two dozen former employees, community advocates, labor leaders and businesspeople took the podium to plead for the company's return. Some of the groups lending full support for the sole-source waiver included the Barbary Coast Neighborhood Association, North Beach Neighbors, SoTel Neighbors, Telegraph Hill Dwellers and the Top of Broadway Community Benefit District. Cohen at one point had to remind attendees of the "no clapping" rule.
Supporters gave myriad reasons why Teatro ZinZanni should be the only project considered for the two Port parcels on Seawall Lots 323 and 324: It employs artists and entertainers as well as the likes of servers, kitchen staff and hotel employees, who will be unionized. The group has a history of giving back to the community and supporting nonprofit groups by donating the use of its facilities. It provides an artistic and cultural experience rather than simply commerce. It will be the gateway to North Beach and Chinatown. The testimonials went on and on.
Before the meeting, Joseph Ratner of Richmond said, "I would love to see ZinZanni back. They really capture a lot of the essence about what has made San Francisco special; a bohemian kind of city. I look forward to their circus tent. My oldest attended the [youth theater] school and loved it, and I have younger daughters who I'm hoping can attend the classes when they're old enough."
From all of the cheerleading in the chambers, some might wonder why Kim was a naysayer. "I think there has to be a real legitimate reason for us not to do an RFP," she said. It all boiled down to that sole-source waiver.
Some history: Teatro ZinZanni ran from 2000 to 2011 at Pier 29, hosting more than 800,000 guests, and was nudged out when the Port of San Francisco decided to host the America's Cup and subsequently build the James R. Herman Cruise Terminal at Pier 27. The city at the time promised it would find a new home for it. "By state law, the Port is required to relocate tenants, including Teatro," Ricky Tijani, Development Project Manager for the Port, told the committee. 
But it's not that simple. When Teatro ZinZanni started planning to return, the Port agreed to give it a 10-year lease. It came up with a temporary building with temporary aesthetics, and neighbors pooh-poohed the design. That presented a problem: The theater company couldn't get financing to build a permanent structure for a temporary use.
That's when it got the idea to get in cahoots with a developer to put a hotel on the site, too, and ask for a long-term lease so the investment would pencil out. It met extensively in 2014 with community groups and rounded up strong support, and gave a presentation to the Port in November of 2014 with some initial plans. The Port Commission OK'd the sole-source waiver and now it needs the Board of Supervisors' rubber stamp.  
Cohen and Wiener were sold on the idea, but Kim asked the Port if it could "guarantee" that the city was going to get the "best deal" by allowing the project to move forward with no other bids, which it could not. In past meetings, Port staff has pointed to the Exploratorium as another sole-source project that worked out well. Kim said she wanted more information, and twice said her vote on Monday didn't mean she would necessarily vote against the sole-source waiver at the full Board of Supervisors meeting on May 5th.
Wiener summed up by saying, "I think this is a fairly unique situation ... Maximizing value is not just about dollars and cents."
After the meeting, Norm Langill, founder and artistic director for Teatro ZinZanni, said he hopes it will pass next week "so we can get moving and do the work of the design process, construction, everything we have to do to prepare for construction, including going back to the community groups."

For more background, see the Barbary Coast News report from October, 2014.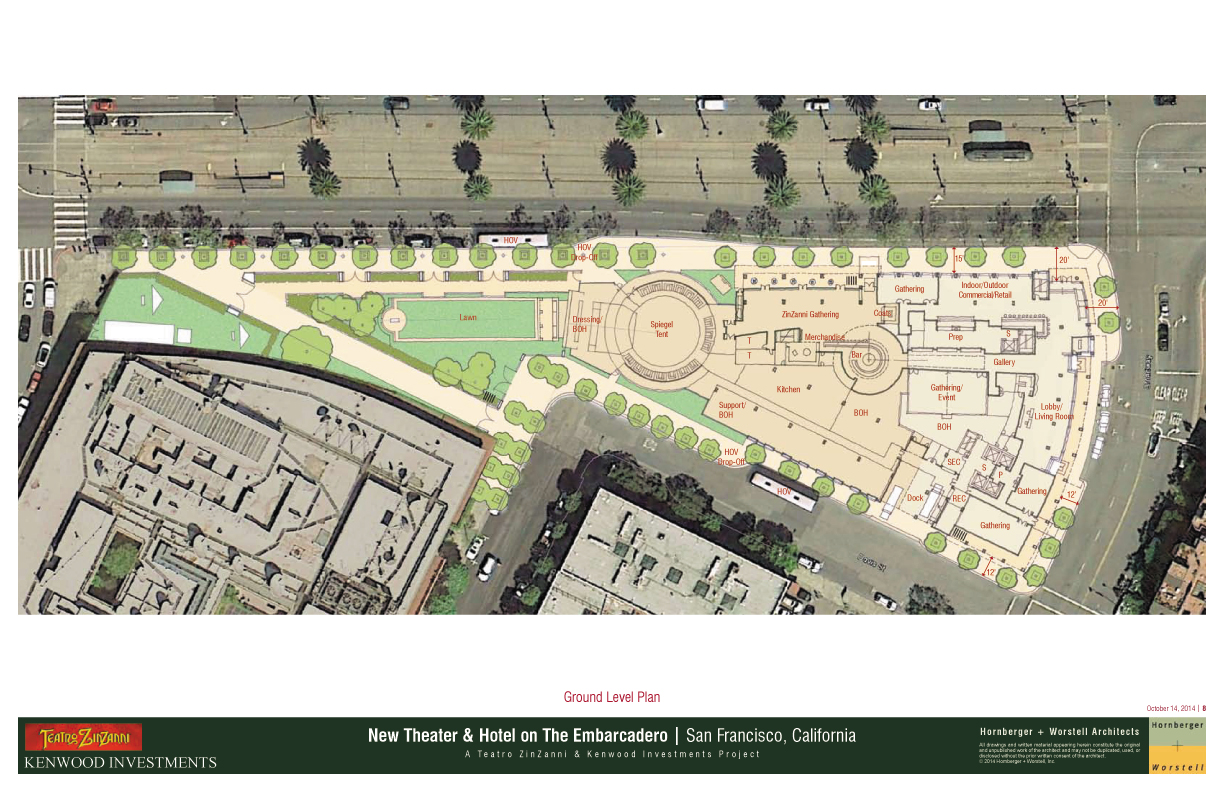 Site plan for Teatro ZinZanni. Graphic: Courtesy of Hornberger + Worstell