Published on June 06, 2015
Can the year-long $87,000 Castro & Upper Market Retail Strategy study help fill the dozens of empty storefronts in the neighborhood?
That debate intensified this week, with the unveiling of five main study recommendations and a plethora of demographic data about the district, its merchants and shoppers and their preferences for future businesses.
Five study recommendations:
Establish vision and retail positioning
Market the district by showcasing exemplary businesses, developing branded collateral, and enhancing collaboration amongst merchants
Create a more appealing, walkable district by addressing quality of life issues, implementing streetscape upgrades and improved signaling at intersections, and improve district connectivity through retail maps, signage and public art

"Curate" the district's retail by convening property owner/broker meetings to coordinate retail attraction efforts, inform potential new businesses what the community will and won't support and identify new leasing opportunities and recruit complementary businesses



Sustain retail strategy collaboration by seeking funding for dedicated staff and developing and monitoring annual benchmark indicators of district improvements
The study is a collaborative effort administered by the neighborhood's Community Benefits District (CBD) and guided by merchants, community leaders, property owners, city officials, and technical consultants. It includes interviews and focus groups with local businesses and retail brokers, merchant surveys, and over 1,200 online and in-person customer surveys.
Citywide, small businesses face serious survival challenges, given astronomical rents and a byzantine system of government permits and regulations.
But the Castro faces additional challenges, with a commercial vacancy rate at least three times higher than other neighborhoods, thousands of additional square feet coming online in new buildings and many of the available spaces in aging buildings requiring extensive updating, which many landlords aren't willing to do.
Over the past year, Hoodline has reported on its preliminary findings on the district's customer base and retail landscape. Among other things, we reported that it appears that the Castro has become less gay and that almost three quarters of customers either walk or take public transit to shop in the Castro.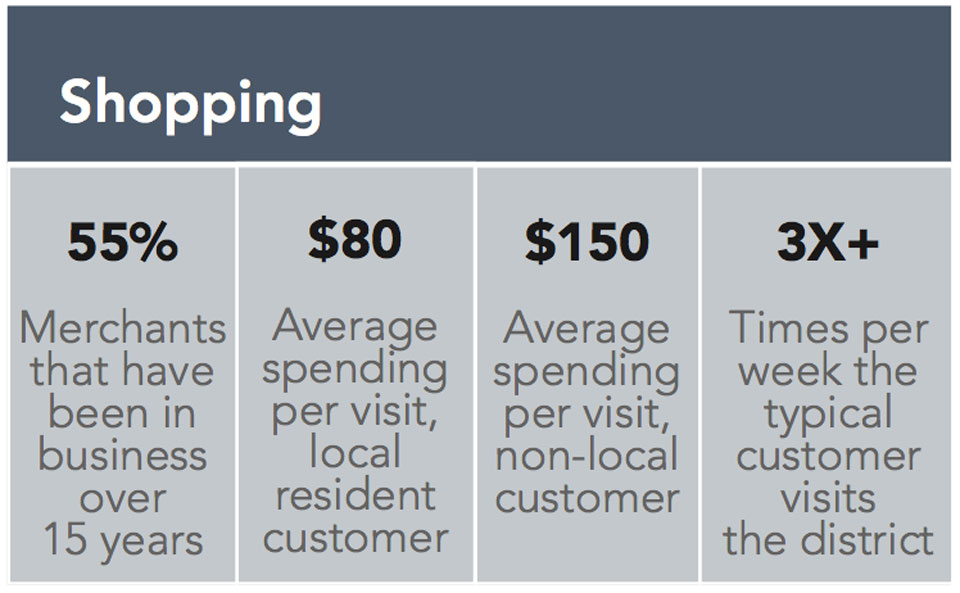 Statistics from the survey of Castro merchants and customers. Graphics by Castro & Upper Market Retail Strategy.
Officials say that the study has already prompted changes, while skeptics take a wait-and-see attiude.
"It's happening now in real time," study coordinator Danny Yadegar told Hoodline during the group's open house on Thursday, in response to a question about specific changes. Yadegar cited the availability of study data to guide someone who recently bought commercial property with the hopes of opening a bank in the Castro. "We were able to tell him that the community was not going to support new banks," he said.

Business categories that were least supported by survey respondents. Graphic by Castro & Upper Market Retail Strategy.
Some of the positive results are harder to quantify, Yadegar conceded.
"We have developed a strong collaboration amongst community stakeholders," he said.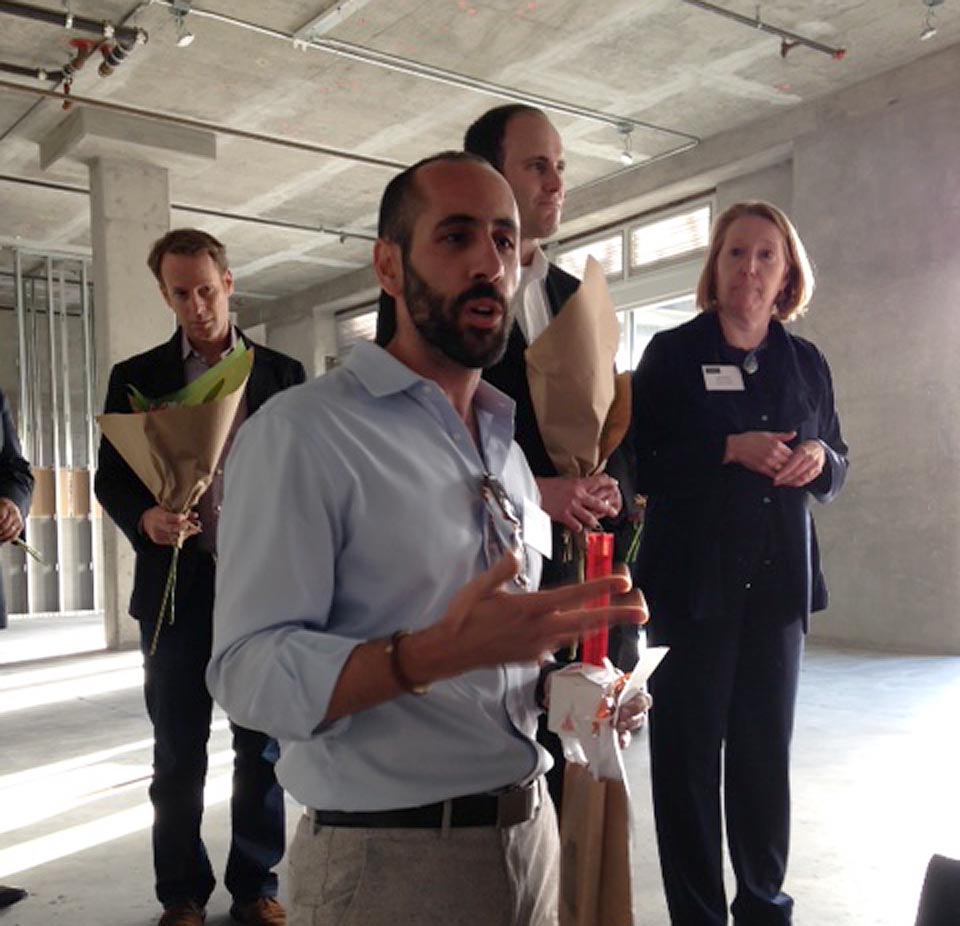 Yadegar speaks at the open house, June 4th, 2015. Photo: Sari Staver / Hoodline.
Others we spoke to at the open house were skeptical. Jane Lloyd, the owner of the Viking Barber Shop on Sanchez and 17th Street, told Hoodline at the open house that the empty storefronts "seem to be an intractable problem."
"It's been this way for 20 years or more," Lloyd added. "I suppose acknowledging and trying to analyze it can't hurt. Probably won't help, to be realistic."
Patrick Batt, owner of the 20-year-old Castro business Auto Erotica (4077A 18th St.) and co-owner of Eureka coffee and ice cream shop (451 Castro St.) has been an outspoken opponent of the study from the get go. Batt, who served as president of the Castro Merchants group for eight years in the late 1990s, told Hoodline that "all the studies in the world aren't going to fill the storefronts. I have thought from the beginning and still believe now that I've seen the recommendations that the study has been a massive waste of money."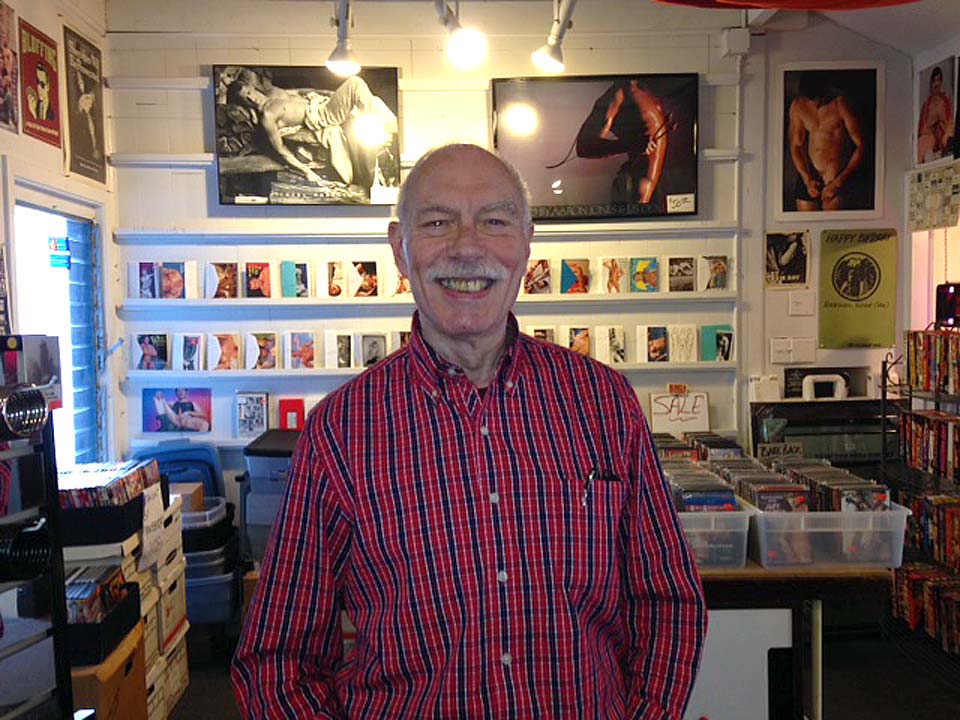 Patrick Batt. Photo: Sari Staver / Hoodline.
Batt concedes that there is at least one recommendation—branding of the neighborhood—that he believes could bring more customers to the Castro. But that idea, he notes, "is nothing new" and didn't require an $87,000 study.
Specifically, Batt questions the accuracy of the data collected.
"There's been a lot of talk about the overwhelming number of shoppers who walk or take public transit," he noted. "But at my business my customers largely drive and continue to tell me the lack of parking is a problem for them. If you stop people walking down the street are you really getting an accurate cross section of shoppers?" he asked.
Not surprisingly, study officials are optimistic about the potential for change.
Libby Seifel, one of the study consultants, believes the Castro's retail district should be "curated" to bring about the right mix of businesses. She told Hoodline that "it makes a lot of sense" to bring property owners and brokers together "by node" to coordinate their attempts to attract new businesses. Such an effort is now underway at the Church and Market St. "node" where four large spaces are empty.
The idea of curating neighborhoods has already been successful elsewhere, said consultant Michael J. Berne, a member of the study's technical advisory board. Berne told Hoodline that he is working on similar efforts in Berkeley to take a proactive approach to try to select the types of businesses that are considered desirable. Berne said curating efforts are also underway in Brooklyn, NY and Pasadena, CA.
Yadegar, who will join the staff of Supervisor Jane Kim when his job with the study ends on June 30th, told Hoodline that the information gathered for the study "has helped reframe everyone's understanding" of the Castro and Upper Market neighborhood.
Since 2010, he points out, over 500 units of new housing and roughly 1,000 new residents have been added. In addition, more than 100 new housing units are planned in mixed use projects, with retail on the ground floor.
As the retail corridor continues to evolve, retail offerings will similarly need to evolve to accomodate the increasingly diverse needs of the local neighborhood while simultaneously catering to the national and international tourists who visit its historic gay landmarks, a summary of the report concludes.
Survey respondents said "walkability" was the "single best attribute" of the retail corridor, Yadegar added. Further improvements in the pedestrian "environment" through sidewalk expansions, more visible street markings, and safer pedestrian crosswalks are needed, he said.
In the next two weeks, the study's 100-plus page report will be published. It will include data from the interviews with commercial brokers about why the Castro has the dubious distinction of a 7-9% commercial vacancy rate, estimated to be at least two to three times higher than other commercial corridors in the city.
In addition, the CBD is pursuing a grant with the city's Office of Economic and Workforce Development to continue its efforts and get dedicated staff to implement the study's recommendations, Yadegar told Hoodline.
He said that additional sources of funding may also come from particular projects rather than a continuation of the Retail Strategy per se, such as efforts to do creative lighting up and down Market St. or for merchants to come together around a marketing campaign.
"Uncertainty exists," Yadegar concluded, " but there are too many people invested in this process at this point for it to dissolve."