The Lower Haight is known as a neighborhood sprinkled with colorful murals that lend the neighborhood its eccentric spirit. And if you've lived in the area for a while, you'll likely recognize the work of Max Ehrman, a Lower Haight resident and artist behind many cartoonish, surreal and outright absurd local murals of years past.
Ehrman signs his work as EON75, which stands for "Extermination of Normality" ('75 is the year he was born). You may remember his work most recently in the collaboration with local artist Ian Ross which resulted in a recently-departed mural at Fillmore and Duboce. "It was just an expression of our two styles," Ehrman said. "We painted that wall four times over four years." The artists eventually cut up the mural and gave away the pieces at an exhibition. 


The most recent mural at 435 Duboce.
Ehrman never went to art school. In fact, he studied to be an architect. After grad school in Florida, Ehrman landed a job in an architecture firm. But his boss sensed that he was more into painting than drafting buildings and urged him to pursue his passion, so Ehrman left after five years on the job.
Attracted to the vibrant art scene, Ehrman relocated to the Bay Area in 2007, and has lived in the Lower Haight for three years. He started out by going door-to-door, asking property owners if they wanted their walls painted. A few agreed, but offered little or no pay. "They've got 500 other people asking to use their wall," Ehrman said. "It's kind of a nightmare. People want your art but they don't want to pay you for it."
Much of his work came from collaborating with city and community non-profits like StreetSmARTS, SF Clean City Coalition and Public Works. That's largely a thing of the past, Ehrman said, as much of the city's public arts budget has been cut.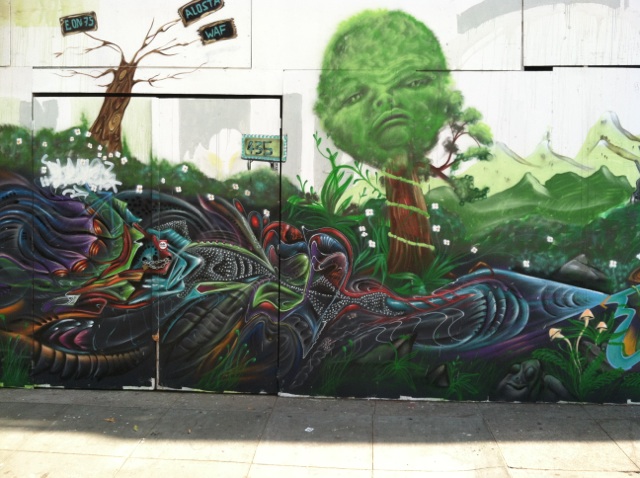 Another former mural at Fillmore and Duboce, this time in collaboration with Waf Alosta. "It's a commentary on mother nature and keeping her healthy and happy," Ehrman said.
Although he still does street art, Ehrman makes most of his living from painting murals inside tech and start-up offices. He's done work at the headquarters of Facebook, Google, Autodesk and StartupHouse, among others. "They want that street factor to make their business look edgy," Ehrman said. "It's great because they give you a lot of creative freedom, but I'd much rather be painting outside." 

A project at Haight and Laguna with all-girl graffiti crew Few And Far.
All six of Ehrman's Lower Haight murals have disappeared—many were painted on temporary construction sites (like at Haight and Laguna) or buildings that changed ownership. One of his favorites stood at Duboce and Fillmore, directly in front of the N-Judah. "About 750,000 people saw that mural every week," Ehrman said. "I used to walk around the neighborhood and make sure my work was doing okay. It was like visiting an old girlfriend." Most of Ehrman's existing public work is now located in the Mission and SoMa.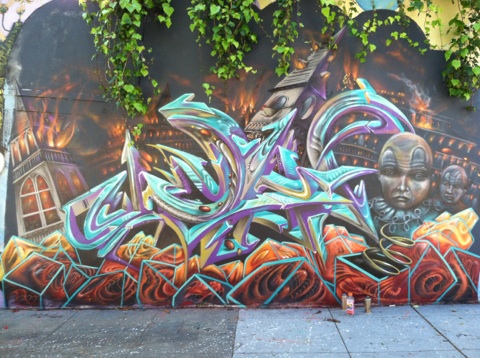 Another mural with Waf, this time at a project site on Haight and Laguna. The piece was removed when the construction site came down.
Street art, like a lot of things in SF, is ephemeral. So what's the motivation to create something that will likely vanish? "As long as I get a photograph, I don't really care if it disappears," Ehrman said. "It's just about the experience and having fun with your friends—that's all that matters."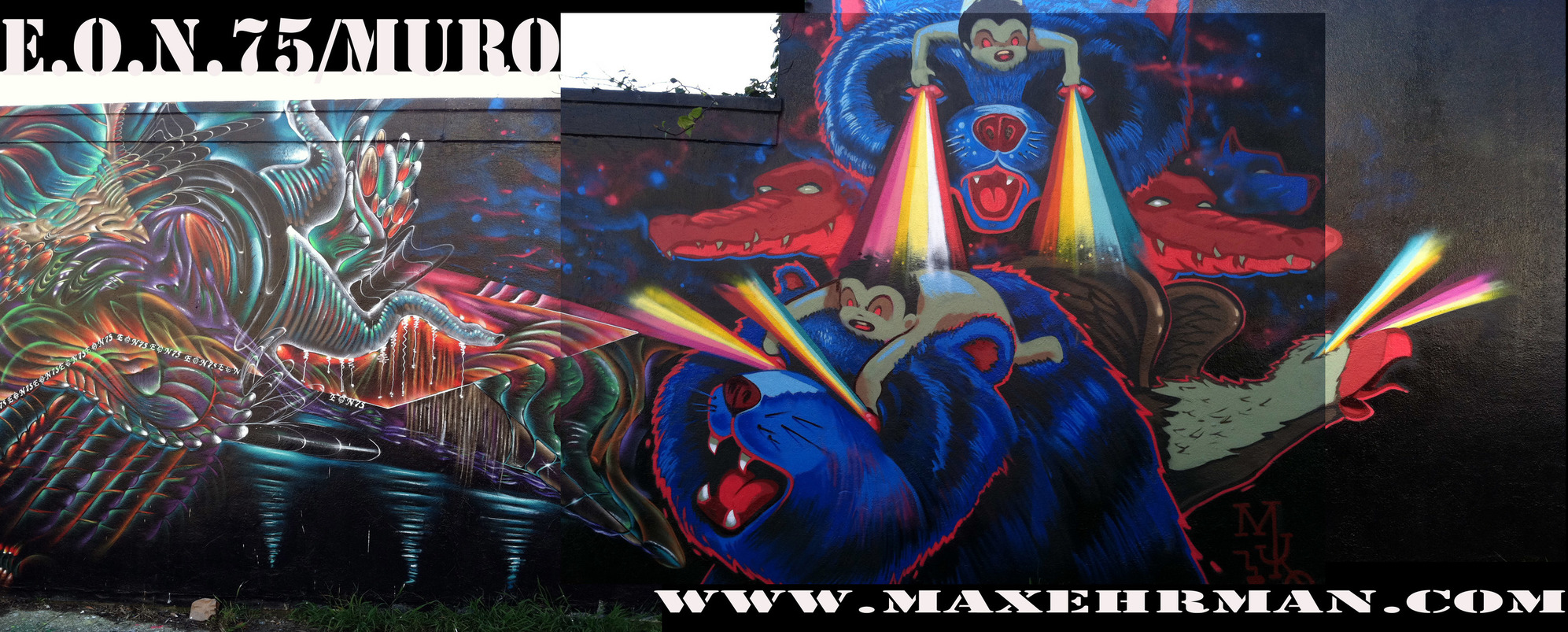 A collaboration with Spanish artist, Muro. "He paints all sorts of animals doing crazy things," Ehrman said. "Muro loved the Castro, so he wanted to add some rainbows to the piece." The mural once stood at Haight and Laguna.

Ehrman collaborated with Ernest Doty and Griffin to create "The Last Caravan to Paradise," a surreal image of characters escaping a post-apocalyptic world in hope of a better future. Also stood at Haight and Laguna.
Ehrman will be showing his work next month at La Onda Gallery (1922 Mission St.). For details, or to contact him about a wall in need of some art, email him at ehrmanmax[at]gmail[dot]com.