Building owners in the Rincon Hill neighborhood wanted to remove the 10 mature ash trees at 201 Spear St., but their neighbors fought to save them—and won their case. 
A tree-removal permit was originally approved at the staff level, but after community objection, a hearing was held on February 23rd, at which the Board of Appeals agreed with neighbors, issuing a 5–0 decision to deny the permit. At the appeal hearing on June 3rd, it once again denied the permit; no more appeals remain.

SoMa has the lowest tree canopy coverage in the city, at 4.1 percent, said Rincon Hill resident Jamie Whitaker. Due to its traffic concentration, it's also subject to high levels of particulate matter that trees can help quell.
Whitaker and neighbor David Osgood spoke at the appeal hearing on June 3rd at City Hall; the full document packet for the hearing is online.
"These trees have been there for over 30 years," said Osgood at the hearing. "They've withstood every wind storm that has come along. Just this last winter, we had several big wind storms. There's no evidence that one of them has ever caused a problem of any kind. Trimming of the trees is all that's necessary at this time. I'd ask you not to kill these 10 perfectly good trees."
Whitaker said people are becoming more educated about how trees help with air pollution, and with 280,000 vehicles a day on the Bay Bridge, not to mention a nearby bus terminal, the trees act as a filter. On top of that, he added, "It's the only pleasant ambiance that's there right now from the construction and noise that's going on. They are precious, and I think they must be kept."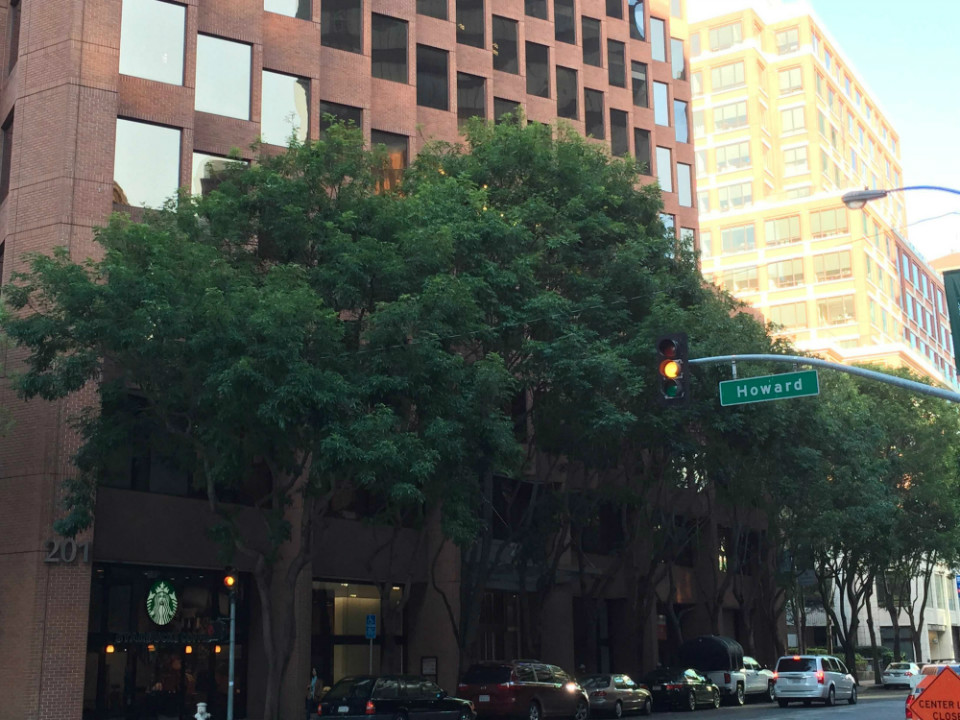 Photo: Geri Koeppel/Hoodline
The Class A office tower at 201 Spear St., built in 1984, is owned by KBS Real Estate Investment Trust III, which is funded by private investors. On behalf of the REIT, as these investments are called, an attorney requested a permit from Public Works' Department of Urban Forestry to remove the 10 of the 20 trees in front of the building, due to several problems documented by a certified arborist and a civil engineer. They outlined these reasons in a letter to the Board of Appeals:
Tree trunks have outgrown the O-rings in the sidewalk circles, restricting water flow and damaging the tree's health
Removing the O-rings puts them at risk of toppling
Roots are pushing out of the root boxes and causing damage to the sidewalks
Roots could damage the underground parking garage (the planter boxes drop down under the sidewalk and into the garage)
Potential damage creates a potential liability to the property owner and further potential property damage
Because of the potential for toppling, the trees are a hazard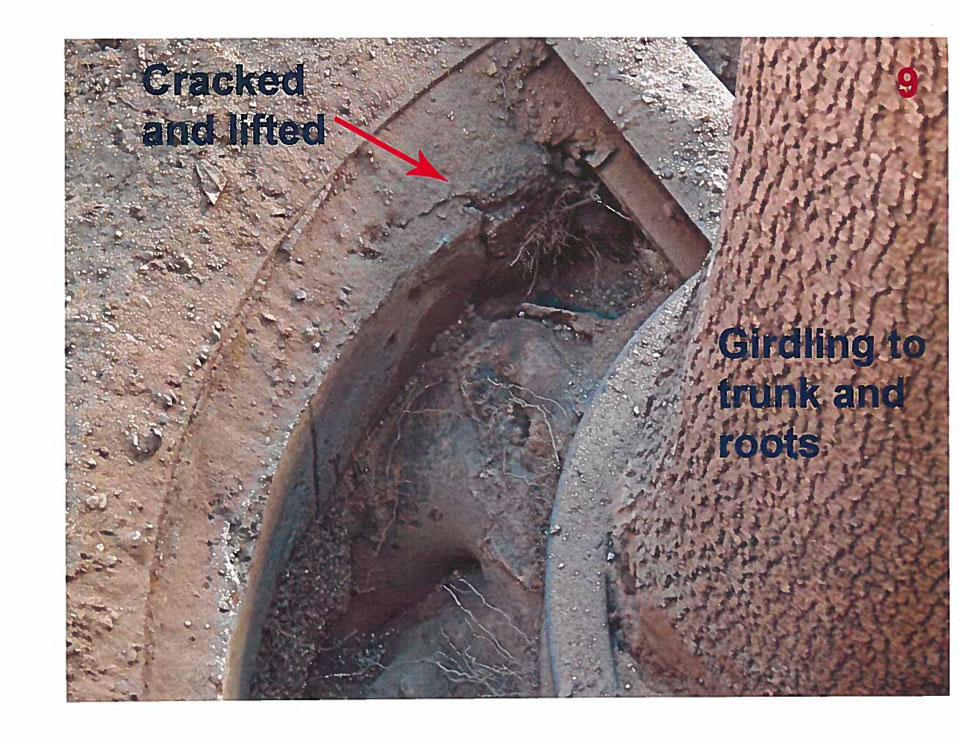 Image: SF Public Works
The property manager for 210 Spear St. declined to comment on the appeal when reached by phone, referring Hoodline to the document packet.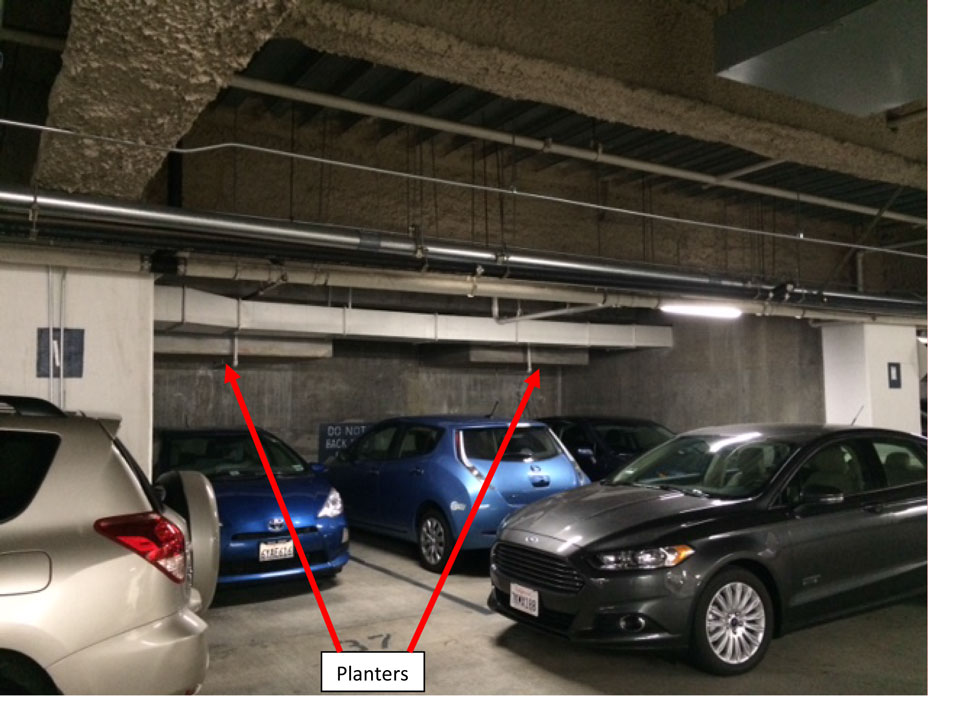 Image: SF Public Works
Chris Buck, urban forester for SF Public Works, represented the department at the first hearing. He and the hearing officer went and inspected the trees, and found little damage or risk of destabilization. 
"It's definitely an unusual situation," Buck said. "They're in planters below grade. There's no earth directly underneath that sidewalk. In preparation for the hearing, we went underneath into the parking garage, [and found that] the containers below are in very good condition ... There was actually very little sidewalk damage from the tree roots, because they're in these containers. It seemed routine, and a reasonable amount to repair."
The containers are about six by six feet square laterally, and about four feet deep, Buck said, so "it's pretty amazing how well the trees have done [for] this long" in such a confined space. "So far, there haven't been any signs of a tree leaning or shifting out of its basin."
Another public concern, Buck said, was that the owners were asking to remove 10 trees and replace only six. But after the outcry, they proposed to plant additional olive trees in planters, at the cost of $25,000. Osgood wasn't sold on the idea, saying that trees replaced further down Spear Street 13 years ago, behind the Gap headquarters, are still sparse and offer no shade. "This concept of replacing trees seems like a good trade-off," Osgood said, "but 13 years later, you're still going to have spindly trees to look at, [and] little shading."