San Francisco technology startup Shift Technologies, Inc. has been in the Castro for several years but it's just this week that the company hung its office shingle.
The Shift website is trying to offer a better process for buying and selling used cars. It began as a handful of entrepreneurs in the Castro apartment of one of its co-founders, chief executive George Arison. Last year, they moved to an unmarked office above PoPlus on Castro St. just north of 19th. This week, with a lot of funding in the bank, they put up their sign at 2500 Market Street, 6000 square foot building previously occupied by Zephyr Real Estate.
Hoodline caught up with Minnie Ingersoll, a co-founder and now Chief Operating Officer of the company, to hear more about its history and future plans.
Ingersoll at the office as it gets set up. Photo by Sari Staver/Hoodline

Ingersoll, a Castro resident who was previously a product manager at Google for 11 years and co-founder of Google Fiber, was on maternity leave in 2013 when she needed to sell her car, she recalled in the interview. "My husband was out of town on business," she said, "but I thought, no problem, I'll just put it on Craigslist and it will sell quickly."
When she arranged for a potential to come by to see the car, "I suddenly started worrying...do I take the baby with, put him in an infant seat, or just turn my car over to this stranger who was going to show up at my door?" 
"Neither option sounded very appealing," she told us. Ingersoll explained her friend and former colleague, Arison, had mentioned that he was working on a business plan to launch a company that would "take the hassles" out of selling your car privately. Shift provides test drives, rigorous inspections and financing options, while also offering what is basically white-glove service from a team of car enthusiasts. 
Long story short, Ingersoll became an angel investor, spent more time talking to Arison about his plans, and finally, decided the lure of working for a startup that was in her own neighborhood was enough to enable her to take the leap of leaving Google.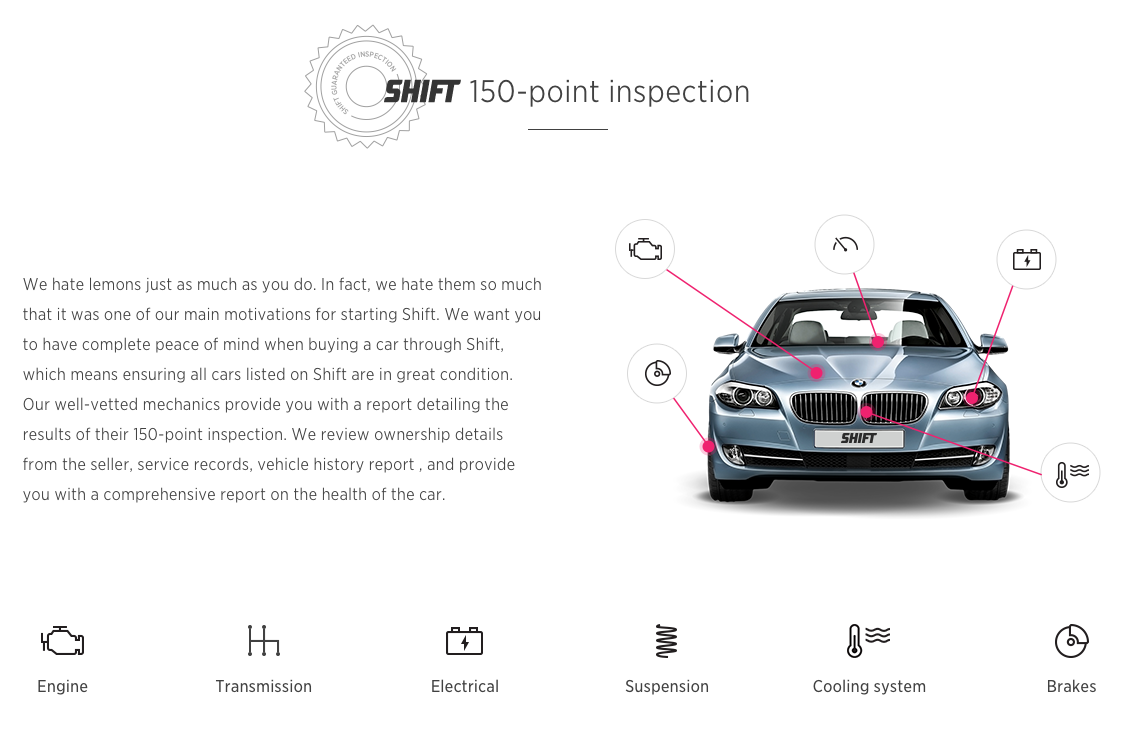 One of the selling points, from the Shift web site. 

In the past year, Shift has grown rapidly, with the help of a large first venture round of $23.8 million last year. With dozens of other jobs posted on their website, Ingersoll said the company has kept its former office space on Castro Street and also has a location in South San Francisco, where they keep their inventory of used cars. 
"We are absolutely thrilled to have found space in the Castro" she told Hoodline, adding that they've even had a curious neighbor come in and become a customer. In their search for potential offices, Ingersoll said the company passed on less expensive properties downtown and in other areas. "The premium was worth it to us," she said. 
The majority of employees "live on this side of town," she added and being in the Castro has given us an "advantage" in recruiting, she said. "We're a family friendly-company," she added, "and have already built a room designated for nursing mothers," she said.