The Duboce Park sidewalk doesn't have a red carpet, but when 6' 2" platinum blond Peaches Christ strolls toward the park's clubhouse, you know a big show is about to begin.
On this night, a week ahead of Pride, San Francisco's best-known drag queen is hosting a kick-off party in Lower Haight. She arrives fashionably late dressed in a three-piece rainbow-colored sequined mini-skirt ensemble.
The event includes a new photo exhibit, "Don't Dream It, Be It" featuring the works of six San Francisco photographers who've captured the wild world of drag over the decades. Peaches, now an established actor, feature film director and producer, is unsurprisingly featured prominently.
When she's spotted by partygoers milling on the patio outside the event, half a dozen whip out their iPhone cameras to capture the moment. She graciously complies, smiling and camping it up for the fans with the skill of long experience.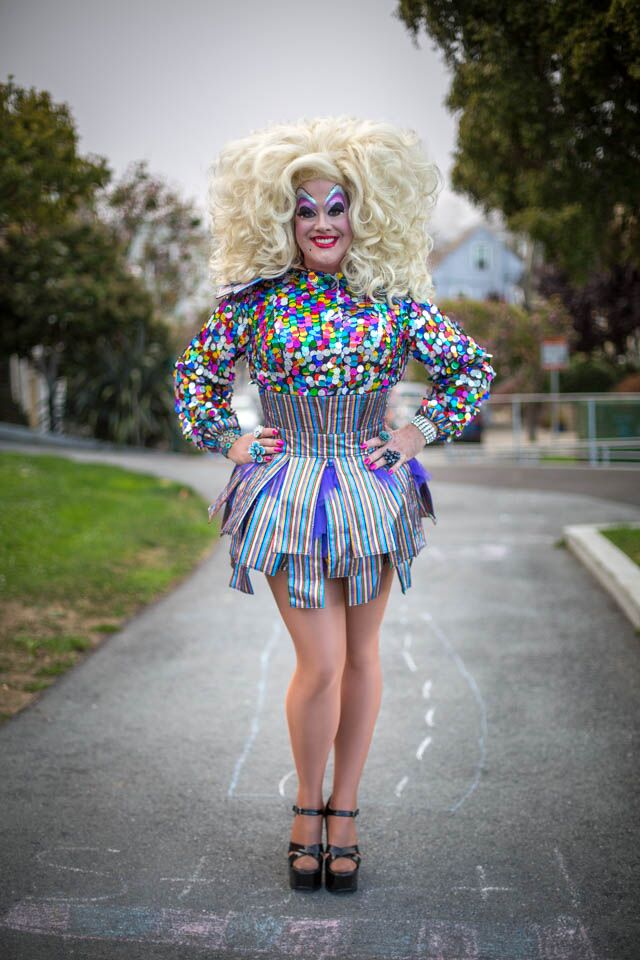 Another well-known drag queen, Sister (of Perpetual Indulgence) Roma, greets Peaches and the two trade insider gossip. Peaches confides that she was asked to help curate the show.  "And," she adds emphatically, "They used everyone I suggested."
As the crowd begins to descend on the celebrity host, this shabbily-dressed reporter pushes to the front of line and asks Peaches: "Who are you wearing tonight?"
"Fruitbomb," she says, naming one of her favorite San Francisco designers. "I asked him to design something for me for Pride and this is what he came up with. I love it."
"How long does it take to get ready?"
"Three hours."
But, Peaches adds, she pops two ibuprofen before she leaves the house. "The shoes are uncomfortable, the wig is hot, and the corset is tight — and I'm not as young as I used to be."
More than two decades before Peaches became a leading figure in the drag circuit and beyond, her alter ego Joshua Grannell arrived in San Francisco on the proverbial one-way ticket. He spent years collaborating in theater and art projects around the city, immersed in the city scene, sleeping on couches and partying hard.
These years honed his acting, writing and directing skills, and gave him time to evolve the Peaches character and her signature event — live versions of classic camp movies, performed at the Castro Theatre.
We sat down with him at a favorite coffee shop, Arlequin Cafe in Hayes Valley, to learn about his journey to becoming a leading film celebrity in San Francisco today.
The Peaches Show
So, for Hoodline readers unfamiliar with the world of drag, let's start with the basics. Merriam Webster defines a drag queen as "a homosexual man who dresses as a woman, especially to entertain people." Do you agree?
Yes, that's about right. But I'd add that to be a successful drag queen in San Francisco requires a lot more than putting on a wig and lipstick.
One thing that sets us apart here is the sheer amount  and diversity of drag ... from the Trannyshack style and culture to the Imperial Court to the Sisters Of Perpetual Indulgence. I always say you're not really a San Franciscan unless you've got a spare costume in your closet. Even straight people do drag here. They run their annual marathon here in costume, Bay To Breakers.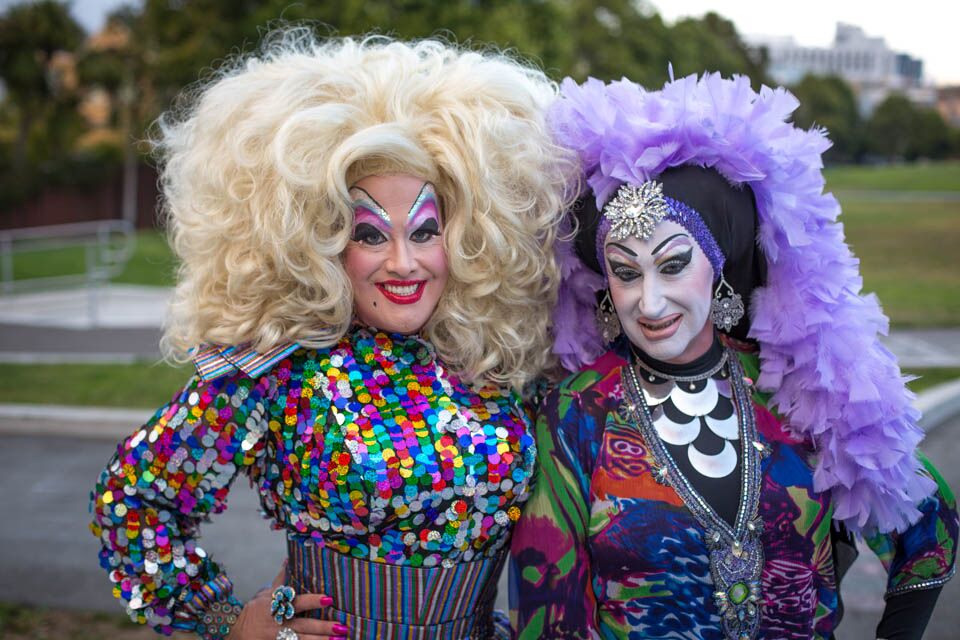 Has your love of film influenced your approach to drag?
Oh, absolutely. I've always been inspired by movies so its only natural that much of what I do with drag comes from my love of cinema. I'm also inspired by underdogs – the nerds, the outsiders, the freaks – and I like to think that Peaches Christ leads a cult of devoted followers who worship the cult movies we all love. It's my job to create events that celebrate these movies… and I borrow a lot of ideas from other cults, like the Catholic Church. For us, the cinema is our church.
You're best known in San Francisco  for the events you produce  at the Castro Theatre. Can you tell us a bit more about them?
For the past five years, we've been doing six a year. The show is in two parts — a screening of a classic film, preceded by a 75-minute original stage show that was inspired by the movie.  Sometimes we have a Q&A with one of the film's stars. Tickets are still available for our upcoming Showgirls event on August 8th.  
What other movies are in your repertoire?
How much time do you have? Let's see ... there's Texas Chainsaw Massacre, a movie I have adored since I was a child ... Serial Mom, Witches of Eastwick, Purple Rain, Wizard of Oz,  Mommie Dearest, Death Becomes Her, Hocus Pocus, The Craft, The Shining, Clueless, Silence Of The Lambs, Welcome to the Dollhouse ... I could go on. I really try hard to choose films that have a true cult of people attached to them so that I can write and direct a stage show that people will really connect with.
Do you think people come for the show, the movie, or both?
That's a good question. I really don't know but sadly, some people leave after the show, and miss the movie, which really makes me feel bad because I'm still a film programmer at heart. The show is a full 75 minutes and I'm starting to think that may just be too long.
There is also the fact the nowadays, all the movies we screen are also available online, so people know they can always watch at home. I should really just be flattered that people seem to buy their ticket primarily for our live event. But I just love movie watchin'!
The nice thing about having the show and movie together is that we have the opportunity to  introduce some filmgoers to drag and vice versa.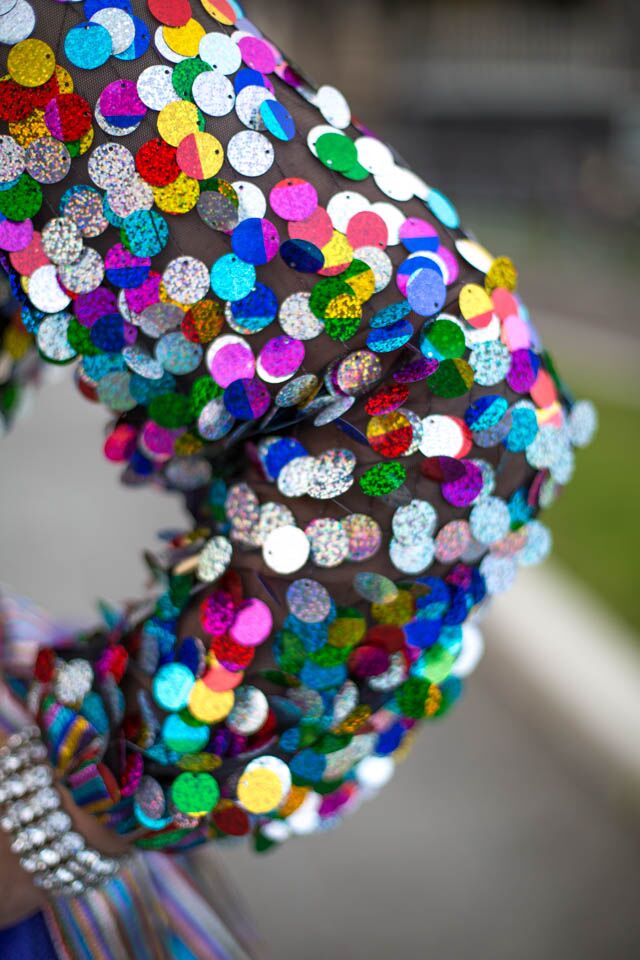 Do your shows appeal mostly to gay men?
No, not really. John Waters calls our productions "heteroflexible" and I think that's very accurate. Some, like "Showgirls," definitely tilt more toward gay men. Some, like "A Nightmare On Elm Street," tilt less so.
How large is Peaches' wardrobe?
Well, I have over 100 outfits and I keep them in a storage unit. I have just a few at home for "emergency" jobs. When I'm not Peaches, I dress like this: a t-shirt and hoodie.
The Early Years
What was it like growing up?
I grew up in Annapolis Maryland, and went to a Catholic school. At some point, I couldn't wait to get out of there, although I did feel much better when I learned that John Waters and the Dreamlanders were making their crazy movies just up the road in Baltimore.
When I was really young I didn't realize at the time that everything I liked doing was what girls liked and I was more comfortable playing with girls than boys. I was putting on theatrical horror events for the neighborhood, playing with stage make-up as a child, and in high school I was really into art, goth music, and doing theatre. I didn't have any interest in sports. I was always an outsider, and got teased for being different.  
How did Peaches begin?
I was studying film production at Penn State and while directing my senior thesis film, "Jizmopper: A Love Story", the actor we'd hired to play the drag queen in the movie didn't come through. Peaches was born and stepped in to play the part.
How did you happen to move to San Francisco?
It was the mid 1990s, I had just come out (as a gay man), so of course I wanted to be in San Francisco. No money, no job. I bought a one-way plane ticket and never looked back. I like to say I arrived here with a wig and a dream.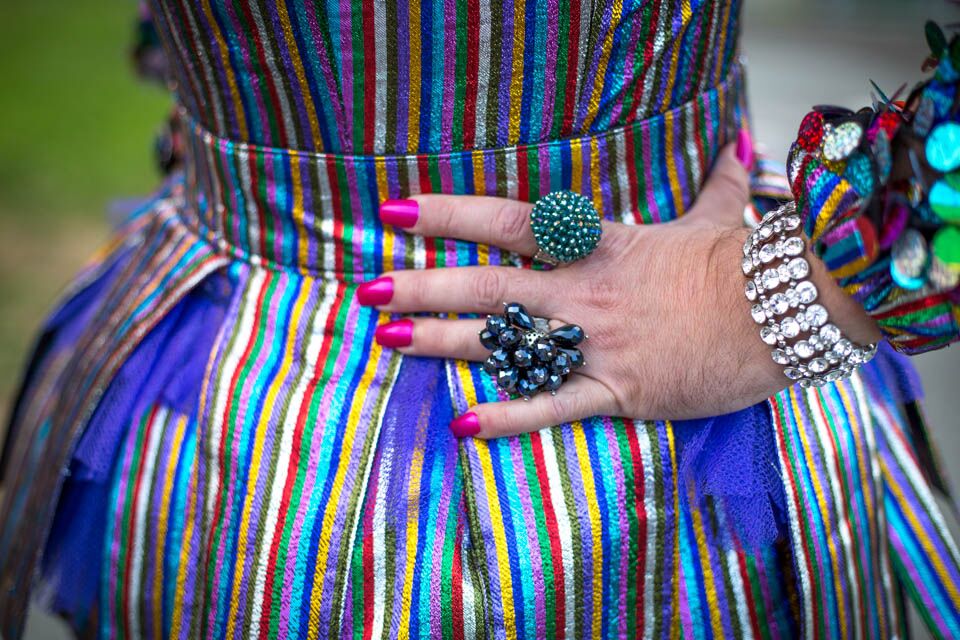 What was life like back then?
If I had to use one word it would be "debauchery." Trannyshack had just gotten started and I met a lot of the people who would wind up being my friends and community of collaborators. I was really lucky to come out here at a time in San Francisco where we had an "art for art's sake" attitude. We'd all just show up for each other and work on each other's stuff. I thought I had moved to Oz. A grungier version perhaps, but it was magical.
How did you support yourself?
Various jobs, the best of which was managing the (former)  Bridge Theater in the Richmond, which I did for a dozen years. I was performing as Peaches at various clubs  but getting paid very little, if anything. There's a reason Heklina is so rich.
When did you first decide to combine a film with a stage show?
In 1998, we put together our first show, which we called, "Midnight Mass." We screened "Faster Pussycat! Kill! Kill!" and during the stage show, I came out as Peaches and held a "Mass" that concluded with a Tura Satana look-a-like contest. I was terrified that nobody would show up, but we had a fantastic turnout. Putanesca won the contest and we really met that night. We've been working together ever since.
So did your career producing shows take off?
Yes, but slowly.
It was a time of a lot of partying and I was a part of that. As I became more serious about my work, I realized it might be a good idea to stop drinking. I think it's called, "stopping in time."  
A number of people in my extended family were alcoholic and I could see what might be on the horizon if I didn't stop. I don't think I did anything too terribly criminal or embarrassing ... I just realized that it was time. I wondered how my friends would take the news and interestingly, most were were really supportive and seemed to totally understand my reasoning. Maybe they agreed it was a good idea I stop? I know Puta did!
The Limelight
How did things develop after that?
Our Midnight Mass shows continued and increased in popularity.
In 2009, I wrote, directed, and starred in my first feature film, 'All About Evil," which was really very much a logical extension of what we'd already been doing. It was well-received when it came out in 2010, has been been screened all over the world and is now available streaming on my website. I have also written and directed a bunch of short films.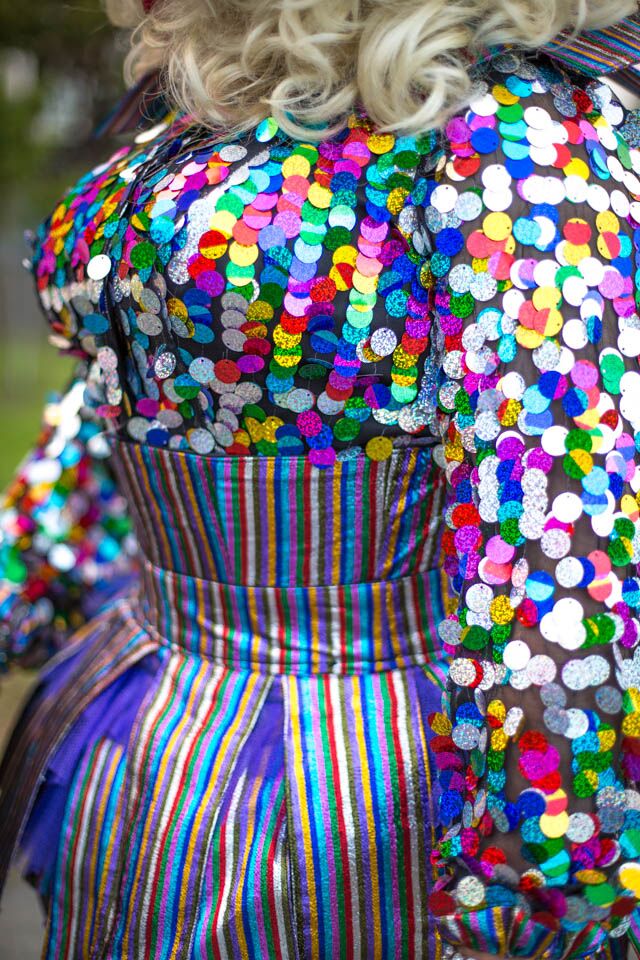 When the shows at the Bridge started to sell out regularly, I felt the time was right for a move to the Castro Theatre.
That move was very gratifying and validating, because although we clearly had been successful at the Bridge, in the back of my mind I was still thinking, "Oh, its just a bunch of my friends  having fun out here in the Richmond district." The audience was a family.
When the shows at the Castro drew gigantic crowds, I knew this was for real.
Then, as the Castro shows got positive reviews and often sold out, we began to receive invitations to bring the shows to other cities. We've been to New York, Seattle, Chicago, Los Angeles, Berlin ... to name a few. In August, I leave for a six-week run of "Grey Gardens"  in Provincetown. With the guidance of John Waters and Dina Martina, I was lucky to find a small cottage where I'll be staying. Hopefully it will be the perfect spot to get a lot of writing done.
How many people work for your company (Peaches Christ Productions)?
Full time, we have one, my business partner Bobby. And for each production, we hire as many as 30 cast and crew to star in the stage show. To be able to offer work to others is very gratifying to me.
And now that I am paid to be Peaches, I can afford to volunteer my services to organizations and causes I want to support, such as the recent show at the Harvey Milk Photo Center. I love that space and what they are doing there. I would love to work with them to establish an artist in residency program.
What are your favorite venues?
Well, other than my very favorite, the Castro, I love the Music Box in Chicago and The Egyptian in Seattle. There is nothing like performing in one of the great palaces.
Recently, have there been any professional milestones that have been particularly meaningful?
Yes, two come to mind immediately. The first was the invitation to perform at Sketchfest, which is the largest comedy festival  in North America. I was honored. And the other was the invitation from Frameline to produce the trailer for this year's film festival. Another tremendous honor.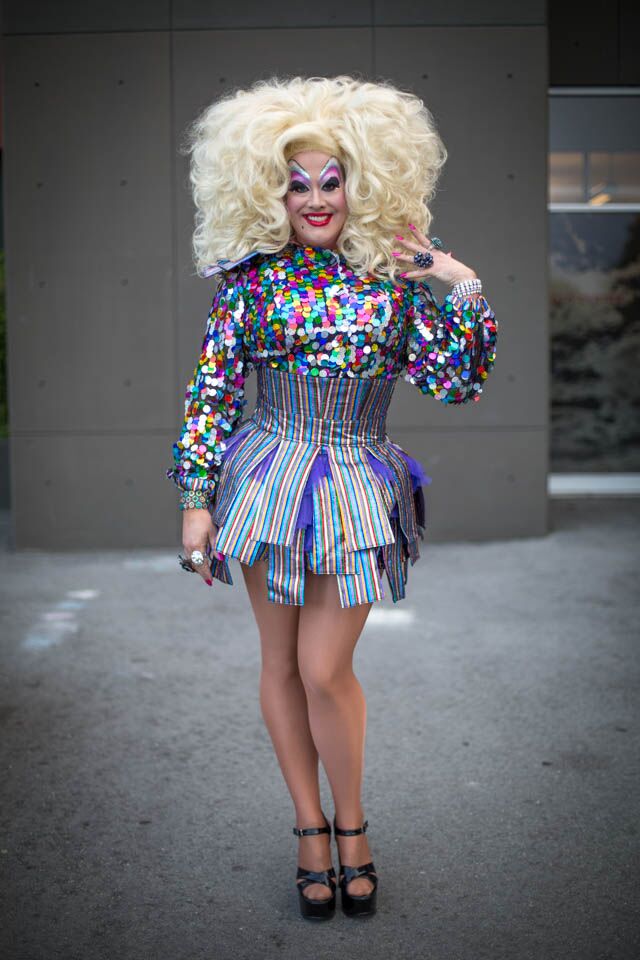 Have there been any disappointments along the way?
Of course. I was part of a group who pitched a TV idea to HBO but it fizzled. And financially, my 16-year-old Underground Short Film Festival has struggled financially, especially in recent years with the increasing popularity of online viewing.
What's on tap for Peaches' future?
Right now, I am in the midst of writing two feature films, which I also plan to direct. I am meeting with producers right now and hope to have more definite news very soon. I am also working with a group of filmmakers — I am one of the producers — on a documentary series about life behind the scenes on Peaches' shows. We'll be taking meetings with some of the networks and television executives in Los Angeles soon. Fingers crossed someone finds it interesting!
The Life Of Joshua
Has your life changed with the success of Peaches?
In some ways, yes ... I used to sleep on friends' couches when we took the show on the road. I need my own bed now but I don't stay at fancy hotels or anything. Years ago, we actually caravanned up to Seattle for a show. I'd never do that again, after I realized that I was not responsible for the well-being of my entire crew.
You'd mentioned that you were teaching. Can you tell us more about that?
For the past five years, I've been teaching at the San Francisco Art Institute, most recently a studio class on creating characters. That, after all, is what Peaches is — a character created by Joshua.
You have a lot going on. Of all the things you do—act, write, produce, direct, teach—what's your favorite?
I love juggling all of them.
How about your personal life?
Although we aren't officially married, I refer to my partner Nihat Karaarslan as my husband and partner. We've been together three years
We enjoy many of the same things: film, travel, food, and more importantly have many similarities in how we see the world and how we treat other people. We recently spent three  weeks abroad — two in Turkey visiting his family and one in Amsterdam. We had an absolutely wonderful time.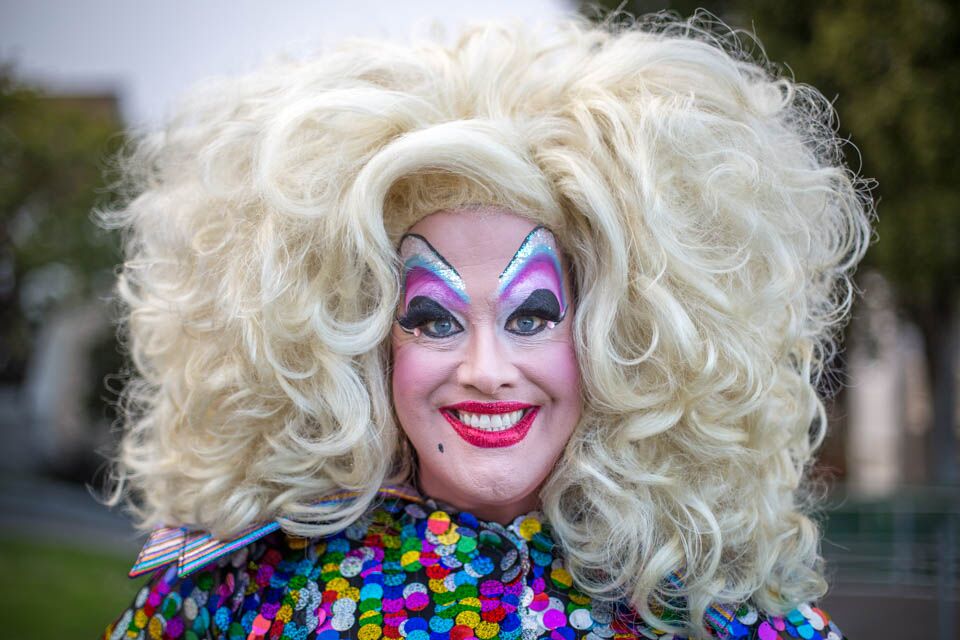 Where do you live and work?
I've lived in Hayes Valley for the past six years. Before that, Duboce Triangle. My "office" is portable ... I work largely in coffee shops like this one. With all the new arrivals in San Francisco, the coffee shops have become very difficult to work in. Look around ... there's a hardly an empty table. After my upcoming trip, one of my first priorities will be to find an office to rent.
What do you like to do when you're not working?
That's easy: go to a movie! I love all the film festivals and especially the work Jeff Ross is doing at the Roxie, in particular "A Hole in the Head," (an annual genre fest.) I also love the Noir festival. Other than the movies, I love what is happening at the new Oasis.
I'm surprised nobody has produced a documentary about you.
Well, I've been asked a number of times and my answer has been, "Let's wait." I think having some more time for perspective will makes sense.
What are your plans for Pride?
We are planning to see the closing film at Frameline. Please ... don't get me started on the whole topic of gay "pride." Pink Saturday was such a disaster in recent years. For years, it was such a fun party and then devolved into an unsafe — actually violent — event. More and more of my friends leave the city for the Pride weekend.  That's very telling about what it's become.
Is there anything you haven't tried but want to?
Yes, I would like to establish an artists' residency, perhaps at the Harvey Milk Photo Center. I love what they are doing over there. I would also like to apply for a grant to help me with expenses to finish my new film projects.
Is there a "dream" project?
If I could get Faye Dunaway to work on a "Mommie Dearest" show, that would be the ultimate.
Will Peaches ever retire?
I hope not ... I'm inspired by Charles Busch, who did drag for over 20 years. Now he just gets into drag when he feels like it. He still enjoys it and he's brilliant.