Today at 4pm, the Hayes Valley Neighborhood Association's Arts, Culture and Entertainment Committee (ACE) will host a meet and greet with artist Sam Flores to celebrate his new addition to Hayes Valley's growing collection of murals. The new piece is located on Linden Street across from the Blue Bottle kiosk, and follows artist Zio Ziegler's creation from last year.
San Francisco-based Flores is known worldwide for his colorful mixed-media paintings, which he says spring from his background in graffiti. He's responsible for a 100-foot mural in the Denver International Airport, as well as one of the "Painted Rooms" in Union Square's Hotel des Arts. He is represented by FIFTY24SF, and his wearable art can be found at Upper Playground. For more on Flores, see our interview with him from December.
Flores' new mural, which depicts a collection of colorful characters against a hilly landscape, is presented by the ACE, which is dedicated "to promot[ing] quality art and culture in Hayes Valley." Among its projects is the rotating public-art offering on Patricia's Green, which it's been helping to curate in collaboration with the Hayes Valley Art Coalition since 2006. The latest piece on the Green, a Burning Man temple constructed by artist David Best, debuted last week.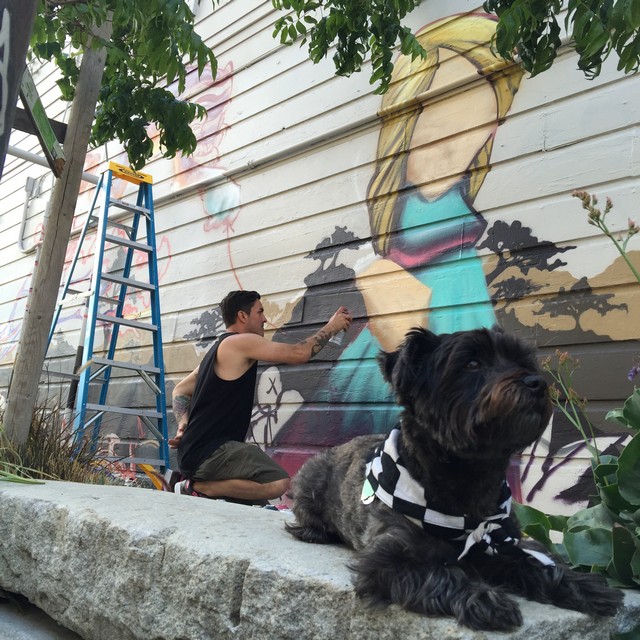 We spoke to Flores yesterday, and he encouraged neighbors to stop by the opening celebration and say hello. "We'll hang out for a while on Linden, then head over to Brass Tacks [for a no-host bar]," he said. It's also a great chance for neighbors to meet the members of the ACE and get involved. So, if you're in or around Hayes Valley this afternoon, stop by Linden to view the new mural and say howdy.