Thanks to tipster Chip, we found out the Hilton San Francisco Union Square Hotel at 333 O'Farrell St. is renovating its food and drink offerings, including restaurant Urban Tavern. While those spaces are closed, locals and visitors alike will get a big perk: at least for a few months, the Hilton will reopen its 46th-floor Cityscape Bar and Restaurant, which boasts spectacular views and has been closed to the public since 2008. (Like nearby Grandviews at the Grand Hyatt, it's used exclusively for private functions.)
Beginning Monday, Cityscape will be open from 6–11am for a breakfast buffet and from 5:30-10pm for a dinner buffet, according to Michael Dunne, Hilton's area general manager for San Francisco. The bar in Cityscape will also be open from 11:30am-close, so you can pop in after an afternoon of Union Square shopping or before club-going. Reservations for the buffets are being accepted on OpenTable under Urban Tavern's name; prices will be announced on Monday.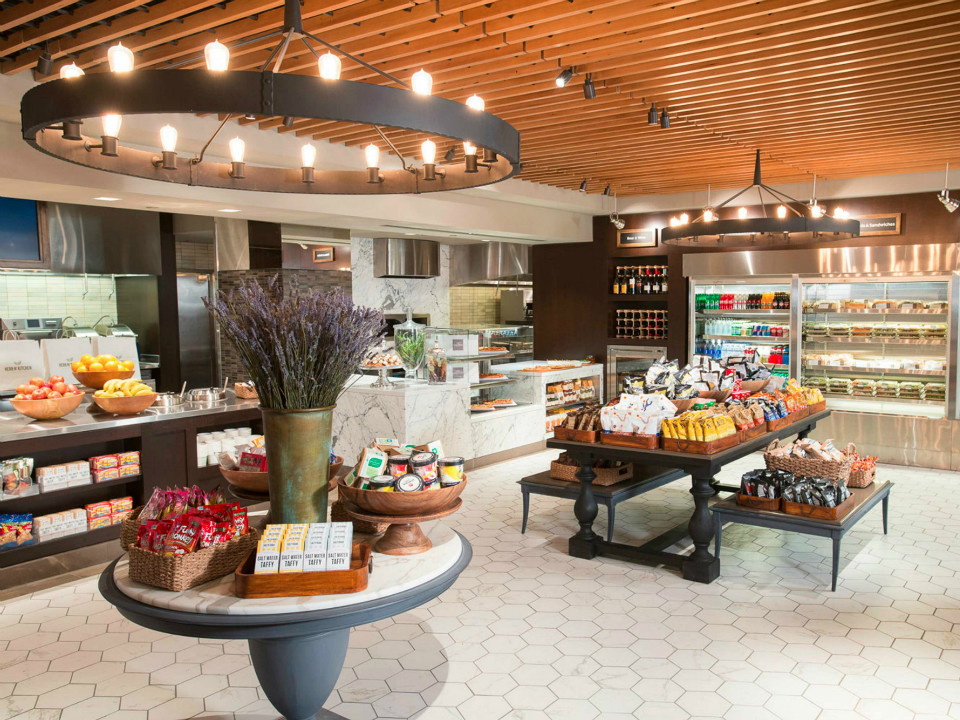 Herb N' Kitchen in the New York Hilton Midtown. A second location will debut at the Hilton in SF. (Photo: Hilton Hotels & Resorts)
In addition to making over Urban Tavern, the Hilton is adding a new, more contemporary lobby bar, and will replace the on-site Starbucks with fast-casual restaurant Herb N' Kitchen, which will offer beer and wine. "Starbucks works well from 6am to 10 or 11am," Dunne said of the change. "We're looking for a concept that works for our guests for breakfast, lunch and dinner." The New York Hilton Midtown piloted the first Herb N' Kitchen in 2013; it offers seated dining, grab-and-go meals and room delivery. 
During the changeover to Herb N' Kitchen, the Hilton will host a temporary Illy Cafe with a coffee bar and grab-and-go items, debuting this Monday and remaining through September. Staff is being trained this week, Dunne said.
It remains to be seen whether Cityscape will permanently re-open to the public in some form after Urban Tavern returns this fall. Dunne said the decision will come in the next three or four months: "We're just deciding: Is it a better use of the space as a meeting space or a combination thereof?" Given the relatively few options for seeing beautiful Bay Area views for the price of a cocktail or coffee, tourists and locals alike may want to consider a visit.