The former Metropolitan Community Church building at 150 Eureka St. is slated to become a four-story luxury apartment building, according to details proposed last night at the first neighborhood "pre-application" meeting for the project.
The 150-foot-wide property was sold to developer David R. Papale for $2.325  million last February. The MCC left its worn-out building on Eureka Street and moved in with the First Congregational Church at 1300 Polk St. earlier this year.
Last night, Papale and architect Gary Gee presented initial drawings and answered questions from the two dozen or so neighbors who came to the two-hour open meeting. 
Papale told Hoodline he hopes to file his building permit application in August and predicted that it would be "several years" until the apartments would be ready for occupancy. Papale said he intends to keep the property as a rental, not sell them as condominiums, "because I believe in the San Francisco real estate market."
Developer David Papale. (Photo: Sari Staver/Hoodline)
Papale, born and raised in San Francisco, is managing partner of Laurel Village Realtors and has been a realtor for 37 years. Previously, he bought and renovated a six-unit building near 17th and Market, above Hearth Coffee Roasters.

Plans call for the property to be divided into two 25-foot-wide lots, each with a four-story building containing a pair of two-level apartments with two parking spaces per unit, architect Gee told Hoodline. The units will be 1900-2100-square-feet each; the lower unit of each building will have three bedrooms and three bathrooms, and the upper unit of each building will have four bedrooms and three-and-a-half baths.
Architect Gary Gee (Photo: Sari Staver/Hoodline)
Thus far, some neighbors have expressed concerns about the scale of the building, with some at the meeting concerned about the scale of the project and noise during demolition and construction. One woman, who lives on the block, took to Next Door to say that the proposed structure was "unreasonably out of scale and would overshadow the homes of the existing neighbors, blocking our light and ability to see the sky." She urged other neighbors to try to convince the developer "to maintain the same building height and number of stories as its existing structure."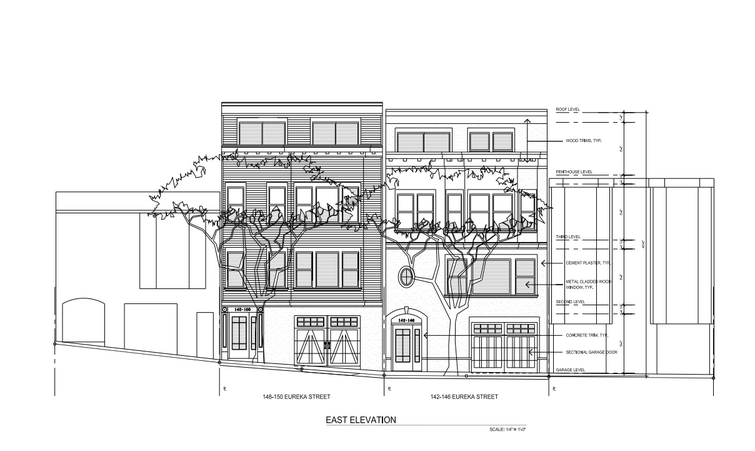 Drawing via Gary Gee
The developer has proposed a 40-foot structure, the top limit allowed by the city at that location. The fourth floor is set back 10 feet from the street façade, noted Gee, and would not be visible from the street. Papale noted that the block includes two-, three-, and four-story buildings.
In the coming weeks, another neighborhood pre-application meeting is planned, though no details on when and where have yet been announced. (We'll update this story when we know more about it.)