By
Bo McGee
- Published on July 11, 2015.
After three years in business in San Francisco, Fine & Rare is almost ready to open the doors on its first standalone storefront. Ted Wilson, who operates the business alongside executive chef Scott Peterson, describes the 35-seat fast-casual concept as a "Northern California comfort cafe." The focus is on local seafood and wine.
The duo met when Wilson— then a New York-based consultant—contracted Peterson to cater a posh party in Lake Tahoe. After spending some time discussing food and dining concepts, they quickly formed a strong partnership. 
Three years ago, the pair launched a weekly pop-up restaurant at Off The Grid, which led to a successful Kickstarter campaign to help open a brick-and-mortar restaurant in the former Buck Tavern space at 1655 Market. Though Wilson was "in love with the [Buck Tavern] space," the move didn't end up coming to pass: three days before signing the lease, one of the restaurant's main investors was diagnosed with a life-threatening illness and had to pull out.
Wilson and Peterson continued to push Fine & Rare forward. Seeing rapid development in the mid-Market area, Wilson spent his days "hustling the neighborhood" for leads, ultimately making a deal for a space in Market Street food hall The Hall.
Though business thrived in the crowded, often frenzied Hall, Wilson describes the move to the Lower Polk space as "a breath of fresh air." The duo are hoping to draw a daily lunch crowd from City Hall and Civic Center, as well some of the early diners heading down Polk for a night at the theater or opera.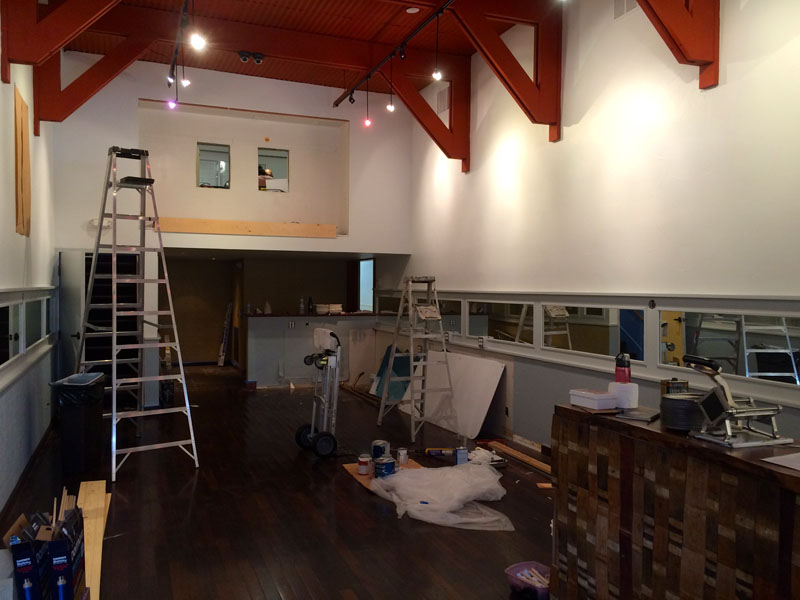 While Fine & Rare stops short of calling its offerings "health food," Peterson's menu is full of familiar terms for health-minded San Franciscans: local, sustainable, seasonal, organic. Whole-grain bread is made in-house, and any sandwich on the menu can be served as a salad instead.
Some of the most popular items from The Hall and the food truck will remain on the menu, but Wilson and Peterson intend to take advantage of their large new kitchen space to bring a greater variety to their offerings than ever before. The kitchen will also be utilized to support a continued presence for Fine & Rare at Off The Grid.
Fine & Rare will not serve beer or wine for now, but the team is pursuing a working partnership with the neighboring Empire Room, which could potentially allow drinkers to bring in food in the manner of Toronado/Rosamunde in the Haight. 
Wilson stresses that the team is prepared to adjust their strategy to meet the needs of the neighborhood, and they're not done growing yet—a full-service restaurant is a possibility for down the line. For now, the plan is for a late-July opening.