Perched at a rickety folding table behind a 1949 Remington manual typewriter, Devan Kingsford, 26, has been making his living selling poems for the past year.

In exchange for a "donation," Kingsford creates a poem, types it on thick, off-white embossed stationery, reads it aloud for the customer's approval, and tucks it in a matching envelope.
The Denver native, who fell in love with the art of poetry as a child, earned cash as a handyman throughout and after college. He's worked in a dozen cities, including New York, Santa Fe, Albuquerque, and Salt Lake City. While he's only been in San Francisco for a short time, he already thinks "the Castro is the best"—at least when it comes to raking in money for his work.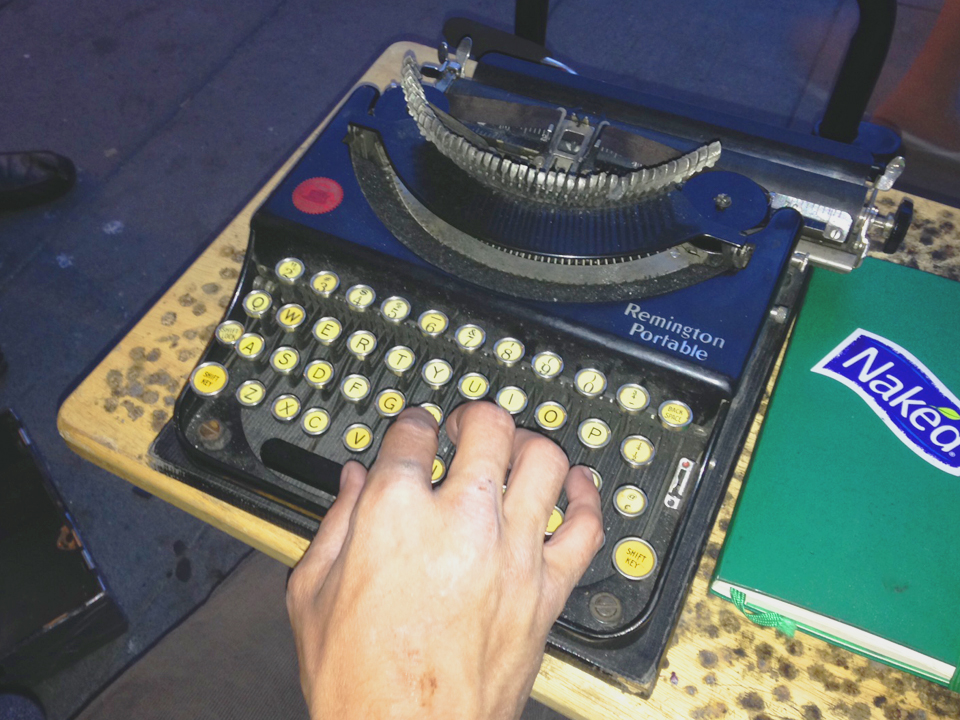 During a five-hour Saturday shift at 18th and Castro, Kingsford earned $150. "$30 an hour is almost twice as much as I earned in construction," he notes.

Kingsford drew a crowd throughout the day. A young filmmaker from San Leandro, whose film had just been screened at a film festival, asked Kingsford to write a poem about the filmmaker's wife. ("The majority of customers want a poem about a loved one," Kingsford notes.) "What do you love most about your wife?" asked Kingsford earnestly. "She's a great cook and an absolutely wonderful person," her husband replied. 
As soon as he completed the filmmaker's poem, two young men stopped to chat, asking Kingsford about his life and lifestyle. They wonder if he's homeless. "Home is where the heart is," he answers. They ask if he is gay, and Kingsford shrugs. "I'm in the Castro, aren't I?" After 10 minutes, they hand him a neatly folded $25, saying that they're running late but would stop by for a poem another time.
Three young men stopped by next, excitedly telling Kingsford that they "just saw him on Snapchat." They brought out their iPhones to show him the short video of himself, which is posted on a San Francisco channel.
Kingsford's sign does not have a price list or suggested donation, a strategy he finds useful, he tells us. "When I'm asked, 'How much?' I always explain it's a suggested donation," he says. "If the person is wearing nice shoes and has a nice watch, I won't hesitate to say '$20,'" he explains. "If they look like they can't afford that much, I might suggest something less. And, of course, I'm more than happy to do it for free."
The charm of the portable typewriter is an important part of his business, Kinsgford concedes. "I tried a quill, but nobody was interested."
"The important thing is the poem ... I never thought I'd be able to make a living doing it," he adds. "But I'm giving it a try."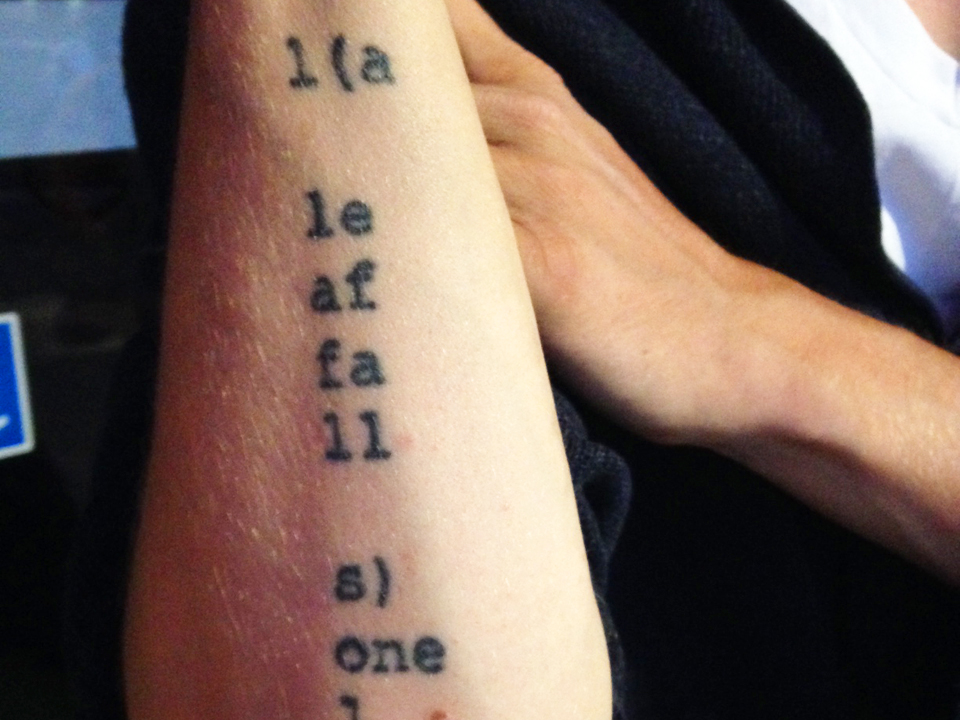 On the inside of his forearm, Kingsford has a tattoo of a poem by e.e. cummings. (It's called "[l(a].") When asked about its meaning, he says, "I have absolutely no idea."
Kingsford arrived in San Francisco with the hope of meeting a man who's been rumored to have made a "good living" from poetry pop-ups for many years. Kingsford hopes to track him down and meet up with him while in San Francisco.
Kingsford's plan is to stay in San Francisco for two months, visiting a different neighborhood each week. After that, he'll visit friends and family in Denver, then drive to New York City, where a friend is starting an artists' commune. His only traveling companion is his three-year-old German Shepherd-Chihuahua mix, Paul Wolfowitz, who's named for the former head of the World Bank.
For the moment, Kingsford and Paul are sleeping in his gold van, checking into a motel every few days to clean up. "I gave up my apartment in Denver to come to San Francisco," he said. "So far, I'm loving it here. My dream is to come back some day and live here ... People in the Castro have been extremely kind and generous. There's a lot of levity. That kind of atmosphere is good for business. It's clear that there is a real appreciation for art in the Castro."