By
Bo McGee
- Published on August 08, 2015.
The Hi-Lo Club at 1423 Polk St. is easy to miss.
A simple and unassuming blue canopy hangs over a dark doorway. Step inside, though, and you'll find a classic cocktail drinker's oasis: airy, yet intimate, with hardwood floors, concrete walls, and a high ceiling that keeps the bar cool and comfortable. Vintage fixtures and ornate glassware add to the retro charm.
One Yelper astutely describes the Hi-Lo's atmosphere as " equal parts urban loft and classic speakeasy," while another says "the environment makes me think of a bombed-out building in some European village during World War II—believe it or not, I say that in a complimentary way." On its Facebook and Twitter pages, Hi-Lo simply bills it as "an atmosphere you'll like."
But it's the drinks that really define the Hi-Lo Club. The team behind the bar has strong expertise in mixology, and Hi-Lo's cocktail menu is one of the most compelling and creative on Polk.
Justin Mulford bought the bar in 2012, with co-owners Chris Keith and Lori Martens. We dropped in to have a drink and ask Mulford about his experiences working on Polk.
How long have you been slinging drinks on Polk?
"We're coming up on our three year anniversary. From 2008 to 2011, we were Koko Cocktails on Geary, between Polk and Van Ness. It was kind of a divey old Korean bar that we bought and made our own. Before that, I worked over at Tunnel Top."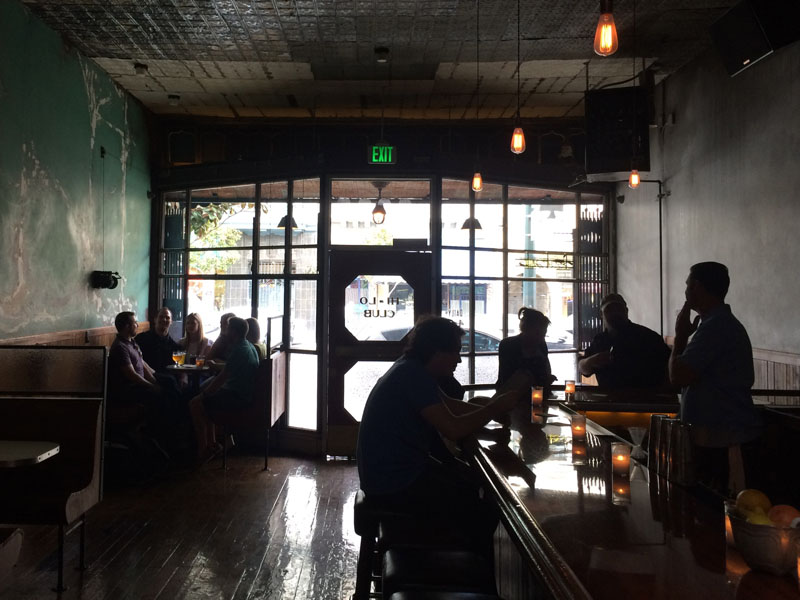 Why Polk?
"We wanted to be on Polk. It's a merchant street. Good traffic, good business. And a really good history, too. We bought this place in the middle of the recession. The building had been empty for three years, and the neighborhood has been really good to us."
What do you call this part of Polk?
"I would call this 'lower Polk.' The Neighborhood Association defines Lower Polk as California to Geary, I think."
Where's the Gulch?
"Polk Gulch is south of Broadway, but I'm sure you could call anything from the bay to Civic Center Polk Gulch and people would know what you're talking about."
What would you like to see more of on Polk?
"More food... good food. We've got lots of good burgers and pizza around this area, and God knows San Francisco has enough restaurants, but I'd love to see a greater variety of solid food options on Polk."