The debate over whether Canadian clothing retailer Kit and Ace should be allowed to move into the former Painter's Place space at 371 Hayes continues. A number of local merchants have posted "Heart Hayes: Oppose Kit and Ace" signs in their windows. The company is fighting back via a new graffiti-style stencil on its planned storefront, which points to a website arguing its case. 
For the unacquainted, Kit and Ace is a "technical cashmere" clothing company which boasts 29 locations, with 21 more in the works. The Vancouver-based company was founded by Shannon and JJ Wilson, the wife and stepson of Lululemon founder Chip Wilson, and already has one SF location, on Fillmore Street in Cow Hollow.
The Hayes Valley Neighborhood Association (HVNA) is heading up efforts to block Kit and Ace from entering the neighborhood under the formula retail law, which states that stores with more than 11 locations can't open locations in certain neighborhoods, including Hayes Valley. The Planning Department ruled in favor of Kit and Ace in a July hearing; the HVNA has since filed an appeal, which will be heard on August 26th.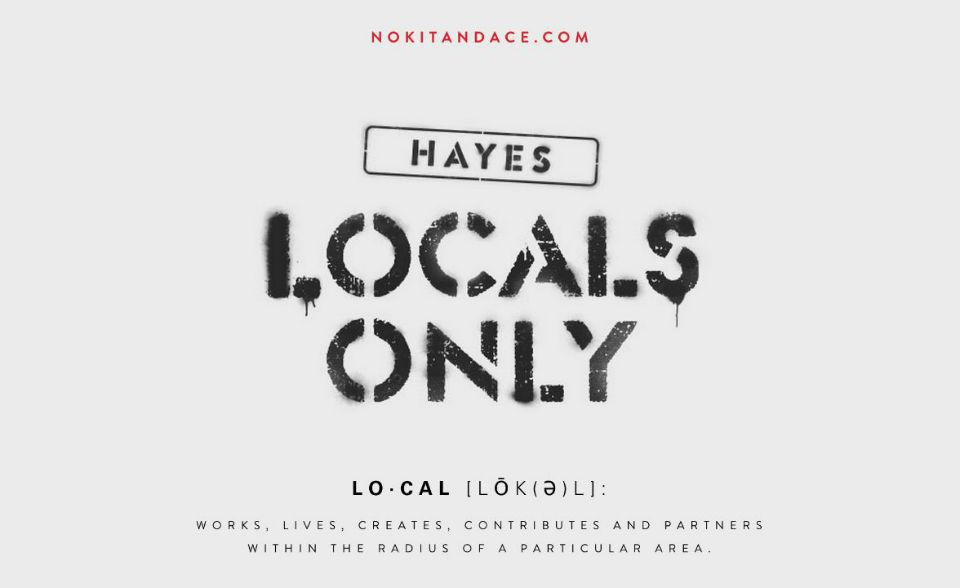 Image: NoKitAndAce.com
In the past couple of days, a new stenciled URL has appeared on the facade of 371 Hayes, where Kit and Ace hopes to move in. It reads "NoKitAndAce.com," which leads to a Kit and Ace-owned website challenging HVNA's definition of "local." 
"Kit and Ace has a lease in the San Francisco Hayes Valley District," the site reads, "an area that has a strict code for retail establishments occupying the neighbourhood. This eclectic, small-business-friendly neighbourhood association is now seeking to keep Kit and Ace out, mistaking our brand for traditional formula retail." The site then goes on to highlight Kit and Ace's desire to work with the community by exhibiting the work of local artists, featuring local craft-makers, and hosting supper clubs. The company also asserts that it will employ 12 community members.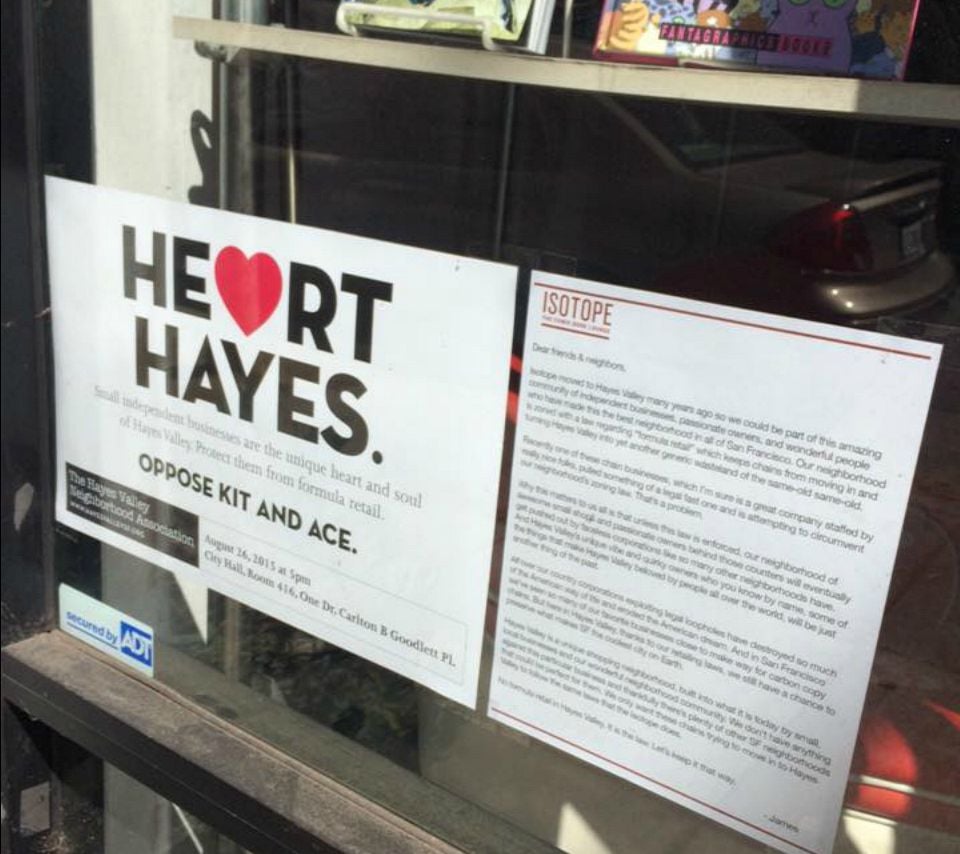 Photo: James Sime
In a letter posted alongside the "Oppose Kit and Ace" sign in his shop's window, Isotope owner James Sime explained his opposition to the store. "Why this matters to both you and me is that unless this law is enforced, our neighborhood of awesome small shops and passionate owners behind those counters will eventually get pushed out by faceless corporations like so many other neighborhoods have. And Hayes Valley's unique vibe and quirky owners who you know by name, some of the things that make Hayes Valley beloved by people all over the world, will be a thing of the past ... No formula retail in Hayes Valley. It is the law. Let's keep it that way."
HVNA is also collecting petition signatures to oppose Kit and Ace moving into the neighborhood.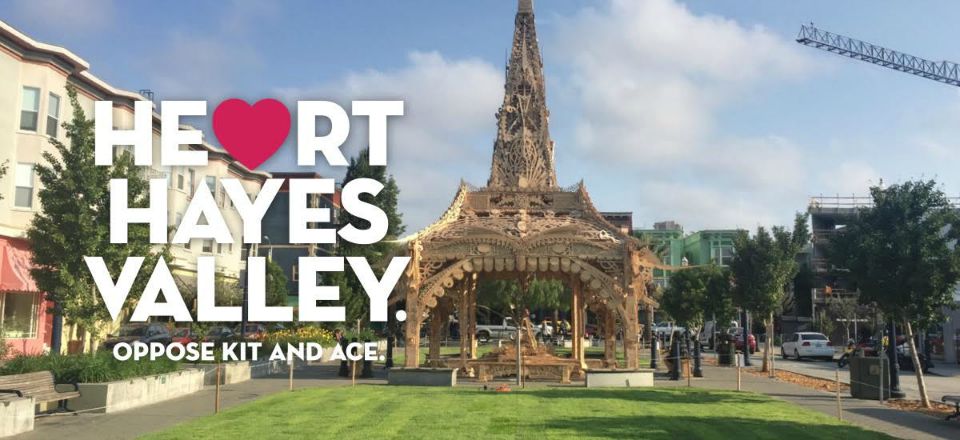 Image: HVNA
HVNA will challenge the Planning Department's decision on Kit and Ace at a Board of Appeals hearing on August 26th. The meeting will take place at City Hall (room 416) at 5pm; for those who can't make it in person, video of the event is often posted shortly afterwards. 
In the meantime, the controversy over Kit and Ace raises interesting questions for the neighborhood. What does "local" truly mean? Is it a business owned by residents of San Francisco? Or founded in San Francisco? Can something still be local if it has more than 11 stores? And if a business is committed to serving its local community, does that make it local? You tell us.