Published on August 26, 2015
It's been a little over two months since Dolores Park's northern half reopened following a lengthy, delayed renovation that lasted over a year. Once "Phase 1" was completed, "Phase 2" picked up on June 19th with the southern half of the park fenced off—with the exception of the Helen Diller Playground, which had its own renovations at the end of 2012.
With Phase 2 well underway, and aiming for completion in early 2016, we spoke with San Francisco Recreation & Parks Deputy of Public Affairs, Connie Chan, to check in and see how things are going.
Crews work on the southern bathroom (left) near Helen Diller Playground.

"We're glad to see that things on the south side are going as planned," Chan told Hoodline. "All of the planning and teams working together on this project are making it run smoothly."
A lot of work is either already started or close to getting underway, with projects like the revamped lookout from the southwest corner of the park and the new bathroom near the playground already being worked on.
Other changes include new, wider sidewalks, drainage and grade adjustments, additional benches, and more.

As for waste management, which is an ongoing issue at the park for residents, visitors, and workers alike, Chan told us that things are improving. "It took time for people to learn to love the park by packing out what they brought in and using waste bins, but the concept is catching on," she explained.
Chan also provided us with a map of all current and planned locations for garbage, recycling, and compost bins to show the planned coverage for waste management.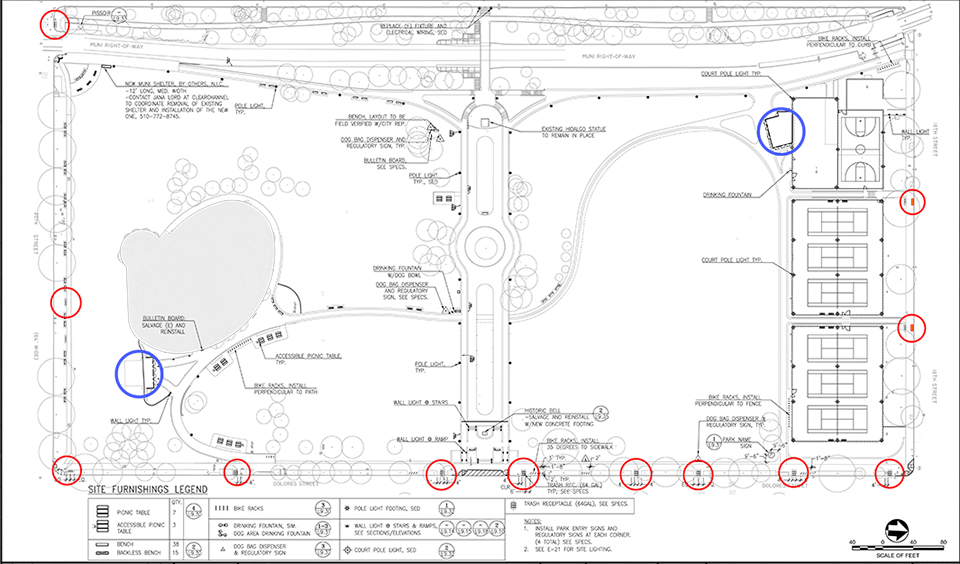 Receptacles circled in red.

Chan also told Hoodline that the recent eco pop-up pilot program is helping. "It was a pilot that is meant to happen during the peak visiting times in the summer," she said. The pop-up saw staff and volunteers help visitors separate waste into separate metal bins designated for recycling, compost, and trash. "It has been a big success, with over 67 percent of the collected waste going to recycling and composting," said Chan.

We asked Chan for any information on security management of the construction space in light of the damage that was done to the northern side during Phase 1. "The site and security are under the jurisdiction of our contractor," she told us. "We work closely with Park Patrol, the SFPD, and neighbors to help keep an eye on everything. If anyone sees anything happening, please call 311 for non-emergent issues and 911 for anything urgent."

Once the entire project is completed early next year, Chan told us that they will plan a celebration. "Our focus for now is on the construction, but something is in the works."
The entire construction project for both sides of the park began in February of 2014 with a budget of $20.5 million. It appears that the majority of that went to the north side, as Chan told us that the work on the south side is estimated at $7 million.
As we keep an eye out for future updates, check out these additional photos of construction throughout the south side of the park:

Panorama from southwest corner of park.


Pathways west of the Muni tracks.


View of downtown.


Grade work on the "shelf" or "beach," as many call the sunbathing spot.