A word of caution for anyone planning to roam near the foot of Market Street: A perfect storm of construction projects has made the area messier and noisier than usual, and harder to traverse—particularly in a car, but also on foot and bicycle.
Davis Street has been torn up and is experiencing ongoing lane closures from the Embarcadero Center crossing (mid-block between Clay and Sacramento) all the way down to Market Street. Those come courtesy of the water and sewer main replacement and pavement renovation project that began on March 12th, and will continue through January 11th of next year.
The project is taking place throughout the FiDi, but it's hit Davis Street hard of late, with sparks flying due to welding, dump trucks emptying concrete, ear-splitting jackhammering and other unpleasantness.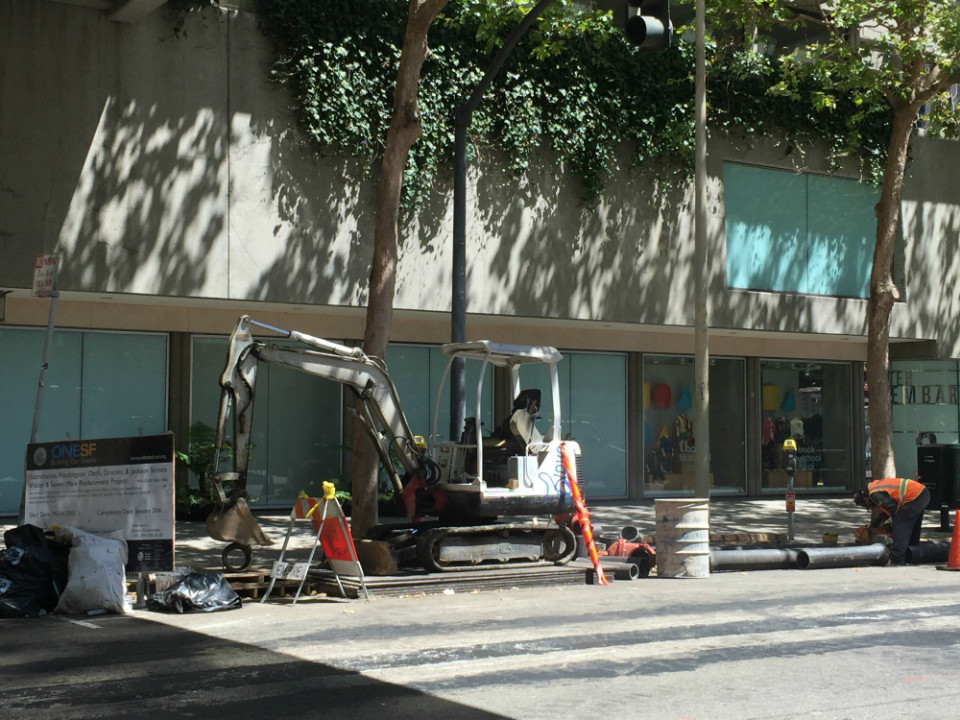 Davis Street near Sacramento.
Over at Market, the Embarcadero BART entrances are going to be closed two at a time for earthquake safety improvements. The entrances on the north side of Market, between Davis and Main streets, and the south side of Market, near Spear Street, were both closed this week, and will remain out of service through September 4th. The next set to close will be at the north side of Market near Pine Street and the south side of Market near Main Street (late summer/early fall). After that, the entrances at the south side of Market near Beale Street and the north side of Market near Spear Street will shut down (fall).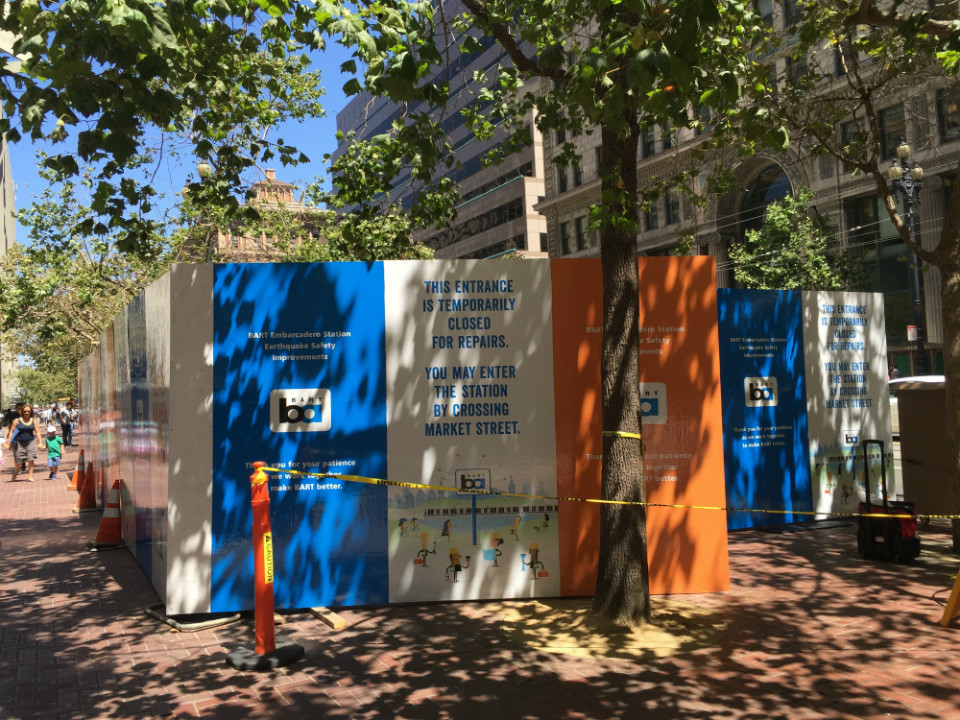 The station entrances are enclosed with large box-like structures that are rubbing up against another big construction project on the exterior of the One California building. A big chunk of space has been closed off with chain link fencing and black tarp, creating a bottleneck for pedestrians near the closed BART station at Market near Davis and Main streets.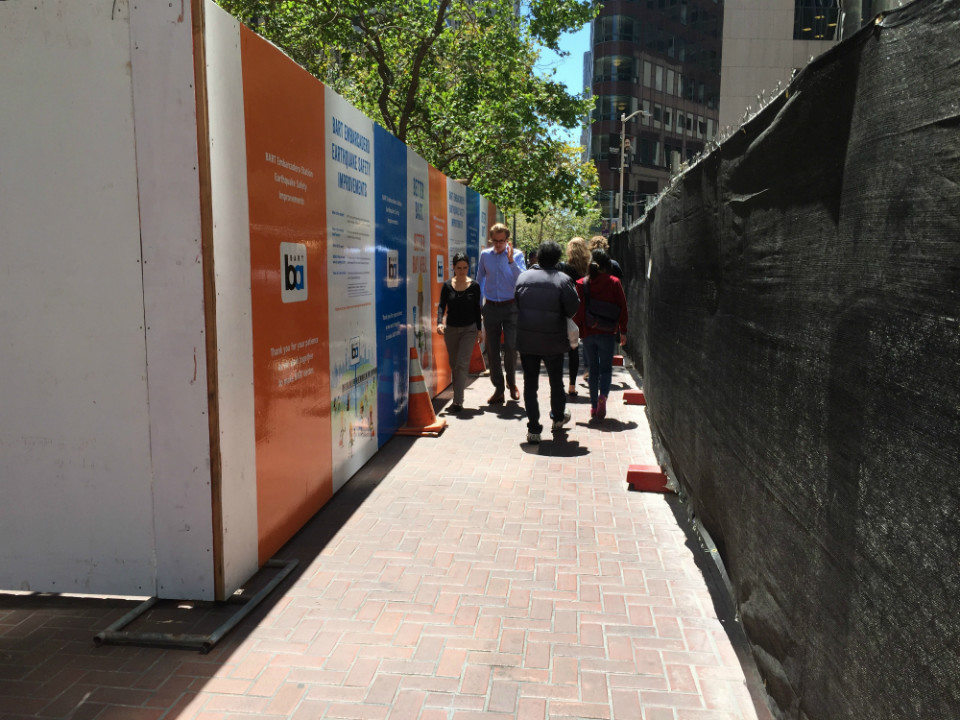 Hoodline contacted One California to get more details on its construction project, and general manager Norm Dito declined to comment. But a building permit shows an application for extensive modifications of the plaza, including "selective demo of existing planters and landscaping, new seating platforms, planter wall, site lighting, stone paving and landscape," all to the tune of $1.2 million. All areas existing as public open space will remain open space, according to the description. (The plaza is one of the city's Privately Owned Public Open Spaces.)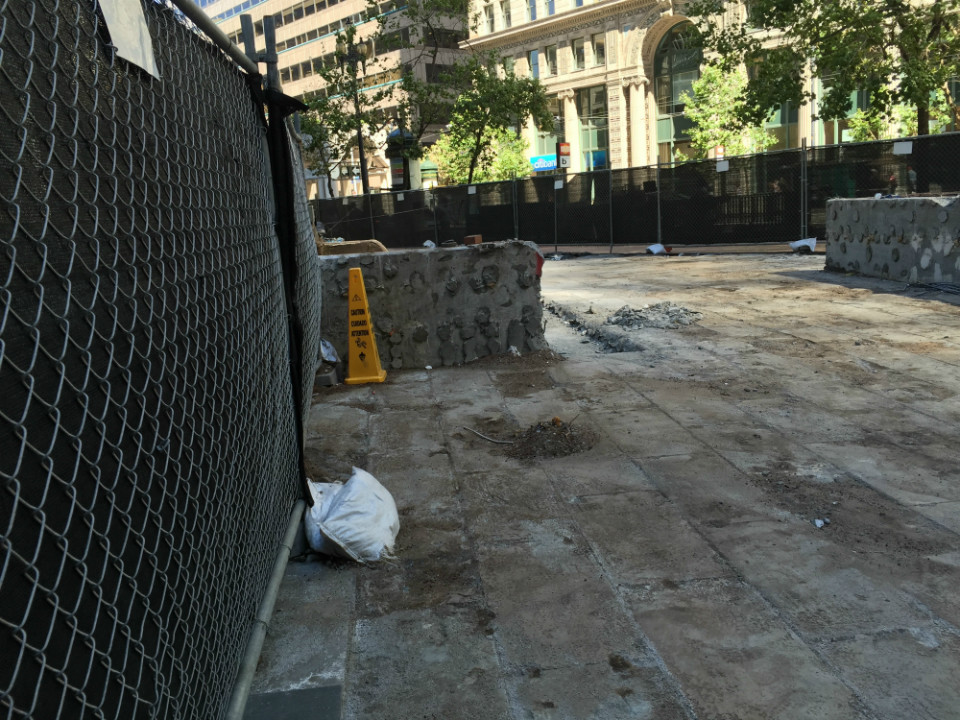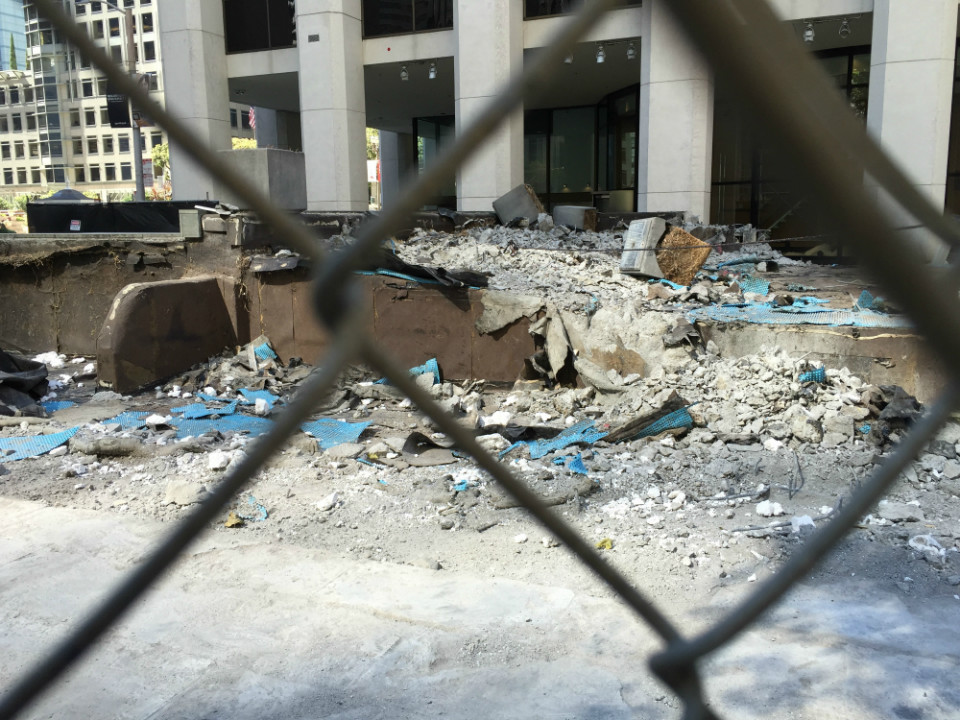 One California construction.
Eastern SoMa neighbors are already well aware that Spear Street is still a huge construction zone, due to ongoing sewer main improvements, but this is new: SFPUC spokesman Steve Kech sent an email saying the intersection of Spear and Market streets will be closed to through traffic for about a week in mid-August. "Instead, local Spear Street traffic will enter and leave at Mission Street, acting as a cul-de-sac during the work," he wrote. As of this writing, Kech didn't have a more definitive date for the closure.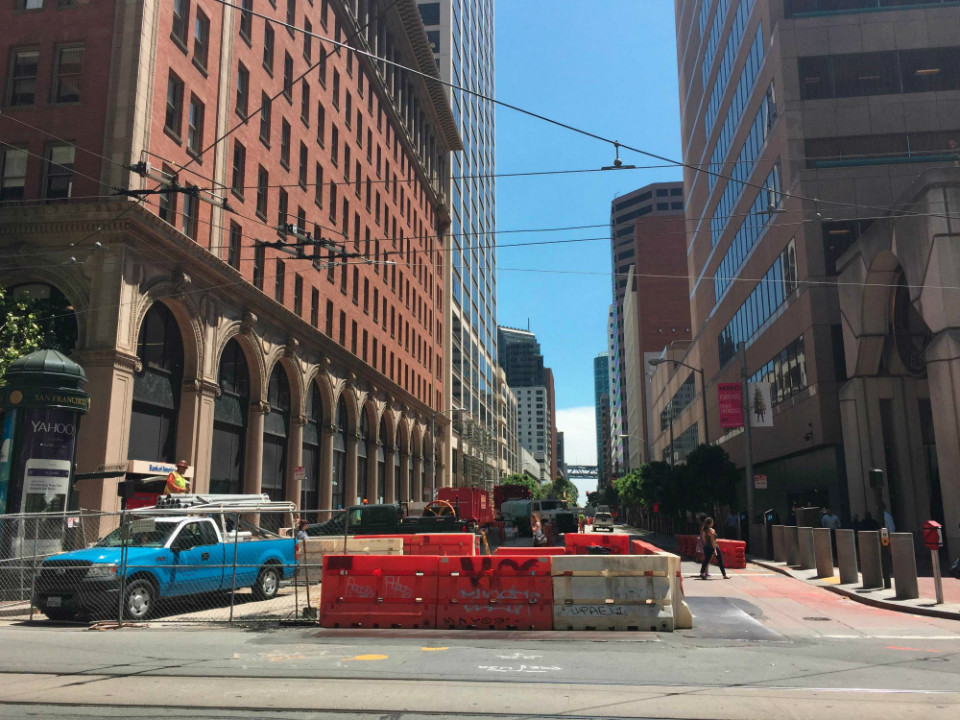 Spear Street south of Market Street.
"The excavation pits on Spear Street that were used to install the steel casing and pipelines have been backfilled and the sheet piles removed," Kech said. "This work is a major step towards restoring the street and final paving." 
On the upside (besides much-needed new sewers): Construction just began at the forthcoming Philz Coffee location slated for the former Il Massimo at Five Embarcadero Center. A man at the site said it should open in October.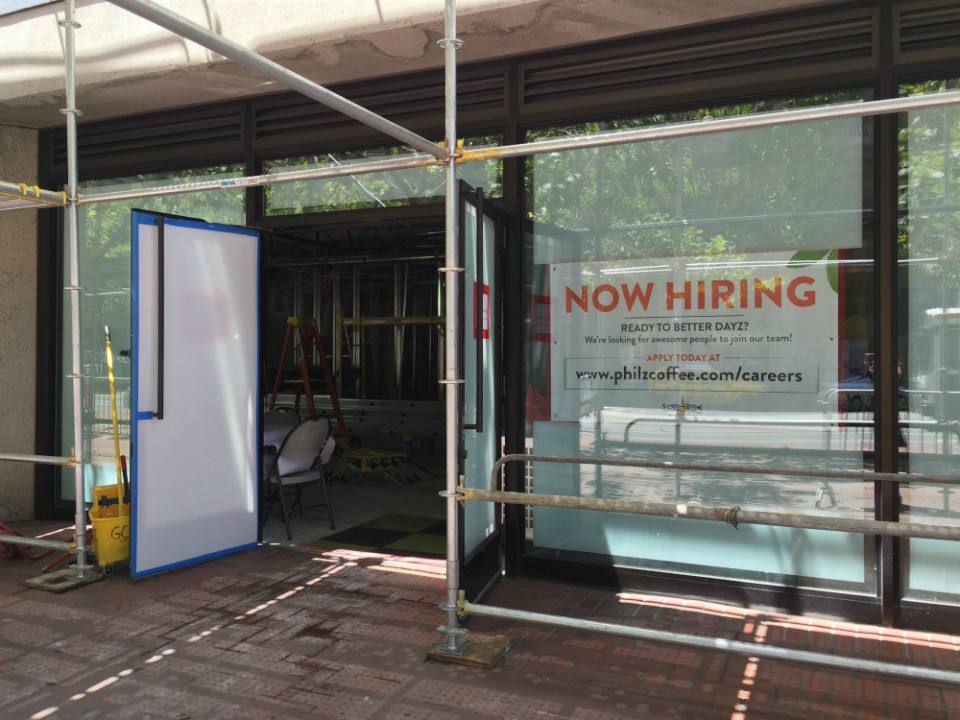 Philz Coffee is hiring.