A new bike lane, separated from traffic by parked cars, is being constructed on 13th Street between Bryant and Folsom. As Streetsblog reported, the SFMTA Board of Directors approved the design back in June.
That stretch of 13th/Division currently has no bike lane in either the eastbound or westbound directions. Three lanes of traffic are bordered by one lane of parked vehicles, adjacent to the curb. 
Under the new plan, the street will be reduced to two lanes of traffic in the westbound direction, with parking spots directly next to moving traffic and a new westbound bike lane between the parked cars and the curb. This "parking-protected" lane design can also be observed along John F. Kennedy Drive in Golden Gate Park.
"When you ride in or drive next to a bike lane like this one, known as a 'parking-protected bike lane,' the benefits are very apparent," writes Ben Jose of the SFMTA. "To name a few: both bikes and cars have their own space, double-parking is prevented, and the risk of 'dooring,' or a bicyclist being hit by a car door opening, is lower."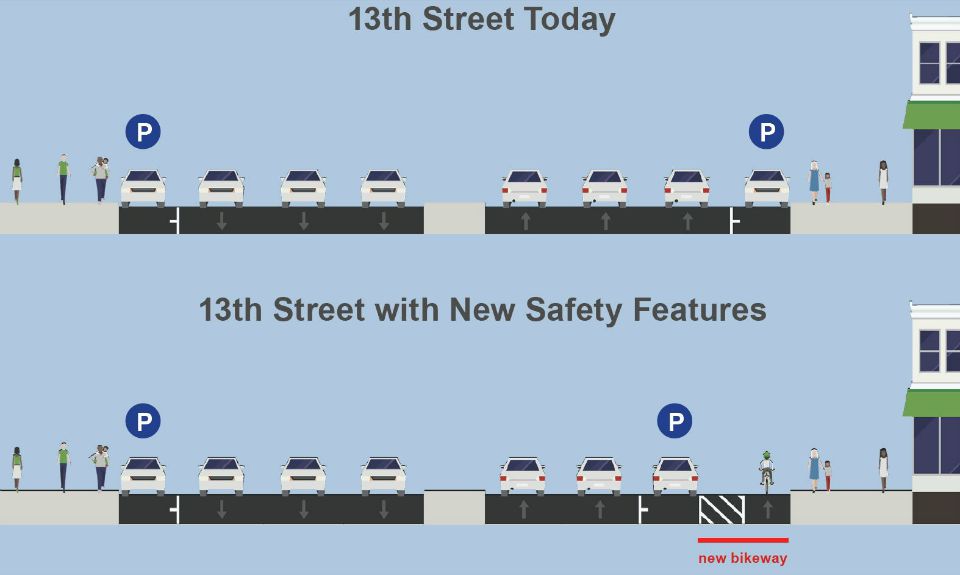 Image: SFMTA
A large portion of 13th Street runs underneath the freeway, and has been a hot spot for collisions over the past several years. According to a Vision Zero flyer distributed to nearby residents this week, 107 collisions occurred on or near 13th and Division streets between 2007 and 2012. Two of those were fatal. 
On March 2nd, 2015, 66-year-old Charles Vinson was killed on his bicycle at the intersection of Folsom and 14th streets. Two years prior, on October 18th, 2013, 78-year-old Chen Jin Lai was hit and killed at the busy SoMa intersection of Bryant, Division and 11th streets. Ghost bike memorials have been installed at both intersections in remembrance. 
Jose told us that "we are implementing the parking-protected bikeway in the westbound direction to improve safety and make the street more organized and comfortable. The SFMTA was able to quickly implement the westbound portion, and is considering options for improvements in the eastbound direction." 

Construction on the project started this week, and should be completed by late September. No excavation of the road is required, just new painted lines and some new signage. 
Plans for upgrading 18th between Folsom and Bryant. (Image: SFMTA)
The 13th Street changeup is just one of many safety-focused new projects in the area. Down the street at 9th and Division, a new sidewalk, painted bulb-outs and new signage are being constructed. and the traffic circle that links 8th Street, Townsend and Division has already been narrowed. All of those projects are part of the city's Vision Zero campaign, which aims to eliminate traffic-related deaths by 2024. 
What do you think of the new plans? Are you excited for the separated bike lane? Sad to lose a lane of car traffic? Let us know in the comments.