The Emperor's Bridge Campaign, a fledging nonprofit dedicated to preserving the history and legacy of Joshua Abraham Norton, the self-proclaimed "Emperor Norton I," is hoping to boost its profile and its coffers with a new Kickstarter campaign and a special tour on September 6th.
An unrelated tour company, Emperor Norton's Fantastic San Francisco Time Machine Tour, is donating all the proceeds from a one-time-only tour to the Bridge Campaign, which aims to becoming the leading public resource on Norton, an eccentric 19th-century character and self-proclaimed "Emperor of the United States and Protector of Mexico" who lived and roamed in what is now the Financial District.
"A lot of stuff you find [about Norton] online is scattered here, there and everywhere, and there's a lot of misinformation," said John Lumea, founder and president of the Emperor's Bridge Campaign. "There's the myth and the reality."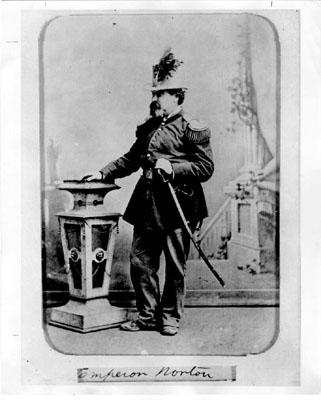 Emperor Norton. (Photo: San Francisco Public Library Photo Archives)
The Emperor's Bridge Campaign began in the summer of 2013 as a petition to name the San Francisco-Oakland Bay Bridge after Emperor Norton. The reason is simple: Norton was the first to publicly advocate for a bridge connecting Oakland and San Francisco via Yerba Buena Island, Lumea said. He issued this proclamation on the subject in 1872: "The following is decreed and ordered to be carried into execution as soon as convenient: That a suspension bridge be built from Oakland Point to Goat Island [now Yerba Buena Island], and then to Telegraph Hill; provided such bridge can be built without injury to the navigable waters of the Bay of San Francisco."
Lumea said that he first heard about Emperor Norton from a friend irked by the California State Senate's vote to name the western span of the bridge after former Mayor Willie L. Brown, Jr., a moniker that became official in February 2014. "When this Willie Brown thing bubbled up and he wasn't happy about it, he sent me an email. He said, 'We want the bridge to be named after our Emperor.'"
Lumea, a freelance writer who was relatively new to town, wasn't familiar with Emperor Norton at the time. "I began reading about it and got charmed by it," he said, adding that it was "a poignant story about someone who remade himself," a common thread for many transplants to San Francisco.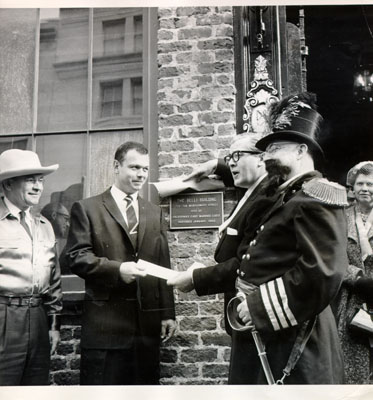 Donald A. Wells, Melvin M. Belli and Emperor Norton standing in front of the Belli Building. (Photo: San Francisco Public Library Photo Archives)
While the Brown name applies to the bridge's western span, Lumea and his fellow Norton supporters have argued that the Emperor Norton name could be appended to the overall moniker of the bridge (which is officially known as the San Francisco-Oakland Bay Bridge). Their campaign continues; the petition now boasts 5,236 signatures and counting.
Two years on, however, the naming is now "a campaign within a campaign," Lumea said. The organization now has a broader cultural and historical mission to research Emperor Norton and find primary source material on him—not easy, as much was destroyed in the 1906 earthquake and fires.
One of the organization's goals is to change San Franciscans' perceptions of Norton. "I've been looking at the stories that tend to get less play. There are these stories of the emperor as lovable kook. But he had a lot of proclamations that we associate with the open, tolerant nature of the city," Lumea said, citing Norton proclamations that called for African-Americans to be allowed to ride public streetcars and attend public schools. Norton also proclaimed that Chinese residents should be allowed to testify in court, and rallied against the exploitation of Native Americans. "The term 'civil rights' wasn't current then, but he was calling for some very forward-thinking things."
The nonprofit recently received a grant from the San Francisco History Association to produce a book of selected Norton proclamations, and it was also featured recently in a front-page Wall Street Journal article. Now, it's hoping to raise funds to continue its work. Among its current projects is a Kickstarter campaignto make Emperor's Bridge Campaign T-shirts featuring a 1939 illustration of Norton, which has already raised over $2,100 for the group.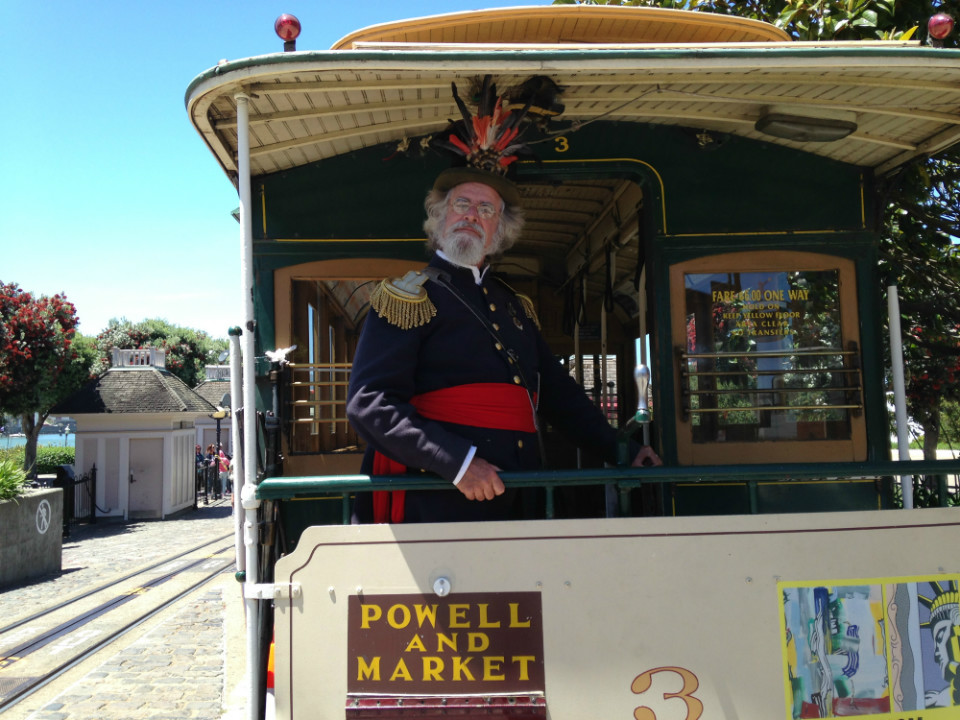 Photo: Emperor Norton's Fantastic San Francisco Time Machine
The group's next fundraiser will be a special edition of the two-hour-and-45-minute Fantastic San Francisco Time Machine tour, led by Joseph Amster in character and costume as Emperor Norton. Usually only given on Thursdays and Saturdays, the special tour will take place on a Sunday, September 6th, at 3pm. It boasts a five-star rating on Yelp.
The tour starts at the Dewey Monument at Union Square and covers two miles, going through Union Square, the FiDi and Jackson Square; one of the stops is Norton's former boarding house on Commercial Street near Montgomery Street(now the site of Empire Park, a privately owned public open space, or POPOS). Tickets for the tour are $20, or $10 for ages 5–10, and are available online.