By
DF Young
- Published on August 22, 2015.
On a recent Thursday evening, Tony Sparks stood inside BrainWash, a cafe-cum-laundromat at 7th and Folsom in SoMa, holding a sign-up sheet and watching people walk in. Occasionally, someone would come up, slap him on the shoulder, and shake his hand. "In about half an hour," Sparks said, "this place is going to be packed."
Every Thursday night for the past 16 years, this has been the case. Through Sparks's efforts, BrainWash has become the unlikely host of San Francisco's longest-running open-mic comedy night. While locals fold their laundry in the adjacent room, seasoned and aspiring comics alike flock here from all over the Bay Area to tell jokes, try out new material, and hope for a laugh. In the process, Tony Sparks has become a revered figure who has earned the moniker, "The Godfather of San Francisco Comedy."
But it wasn't always this way.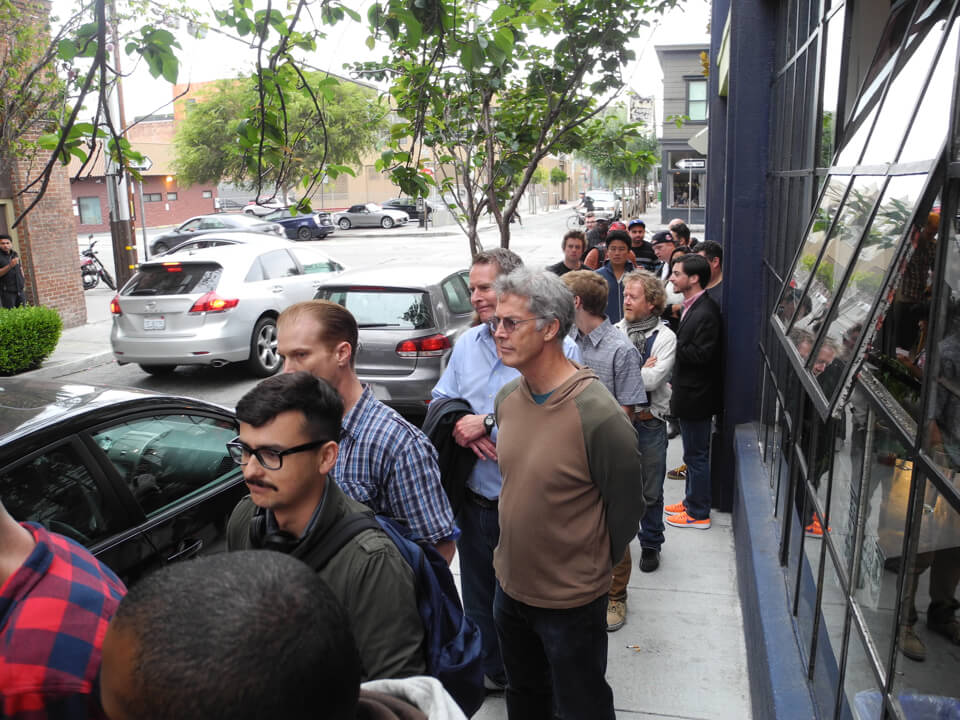 The crowd outside a recent open-mic comedy night.
"It was awful, it was terrible," Sparks said about his first years here. "They sucked ass!"
Originally from Little Rock, Arkansas, Sparks moved to San Francisco over 20 years ago after noticing that all the comedy trade papers came from here. Although he had worked as a comic in New York City, and had even made a living of it on the road, he did not find the San Francisco comedy scene to be as welcoming as he had thought.
"I thought this was the place to be," he said, "but there was this one group of people at the Holy City Zoo and they fucking dominated everything. So I got tired of fighting with them and went and started my own stuff."
The first open-mic night Sparks organized took place at the Luggage Store art gallery. He initially kept the format open and let anyone take the stage.
"We had all these crazy fucking homeless people who would come perform. It was fucking brilliant," he said. "It was packed all the time. Then, when we switched over to [just] comedy, it really got packed. Soon, everyone began asking me to host a room. I had a monopoly every night except Sunday, since I didn't want to compete with the Punchline."
"It was incredible," he added. "I went from being the outcast, to being the big guy almost overnight."
Eventually, Jeff Zalles, the owner of BrainWash, approached Sparks with an idea: Wouldn't it be funny if they did a show at his cafe/laundromat on April Fools' Day? It turned out to be a hit. Soon after, it became a regular event, and has only grown more popular each year.
Sparks attributes this success to the culture of inclusion and encouragement that he has worked hard to foster. After the negative experience he had when he first arrived in the city, he wanted BrainWash to be a positive place.
"This is the thing with comedy," he said. "You see a lot of people doing it, but you don't see a lot of people continue to do it. It's a lot tougher than people think. So that's why I really want to make this place nice and wonderful and supportive. Because it's the one place you can come to and know that it's going to be okay."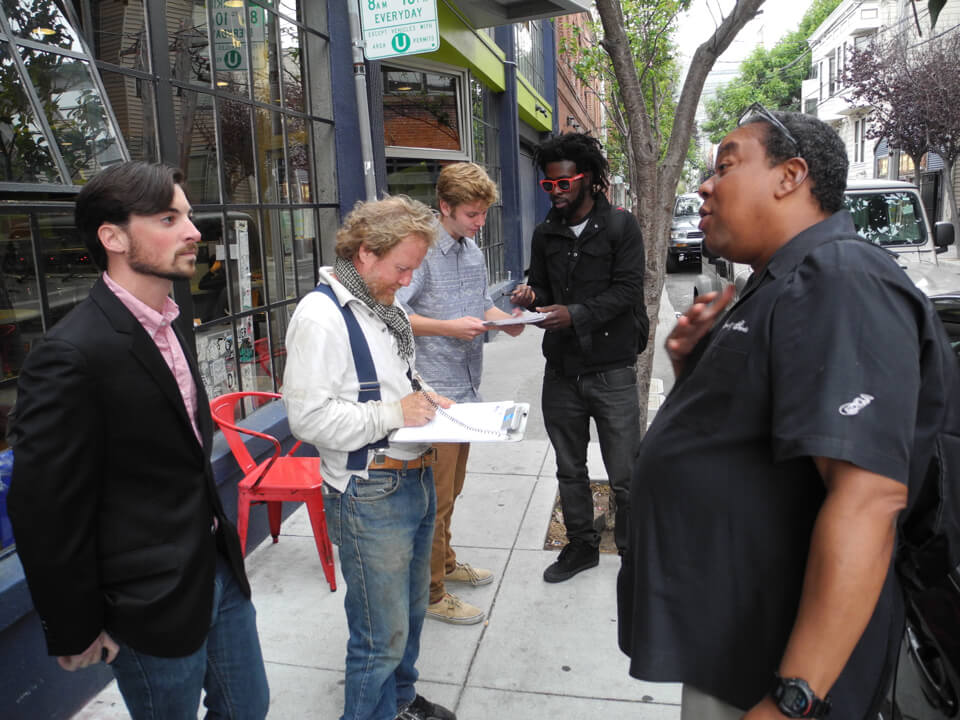 Comics sign up for a set on stage.
Due to these efforts, comedians beyond the Bay Area have taken note. Sparks recounted how celebrities such as Paul Mooney, Hannibal Buress, and Faizon Love, who played Big Worm in the movie Friday, have dropped by in the past. However, his eyes lit up most when talking about comics who got their start at BrainWash and have since made it big.
"We've had about eight people that have gone on to Comedy Central," he said proudly. These include Louis Katz, Mo Mandel, Jasper Redd, Sheng Wang, Brent Weinbach, and Al Madrigal, who became the "senior Latino correspondent" on The Daily Show.
This mainstream success aside, the open-mic shows at BrainWash remain an indelibly local affair. They are open to everyone, and can sometimes be unpredictable as a result.
"We've had some things that are really funny or weird, like a guy who climbed into a box and did his act from there," Sparks remarked. "[Another] guy wore a green suit, all green, face covered up and everything. We had a guy who did it naked. We had a girl who pulled her top off. Sometimes some of these people just need someone to look at them and talk to them, you know?"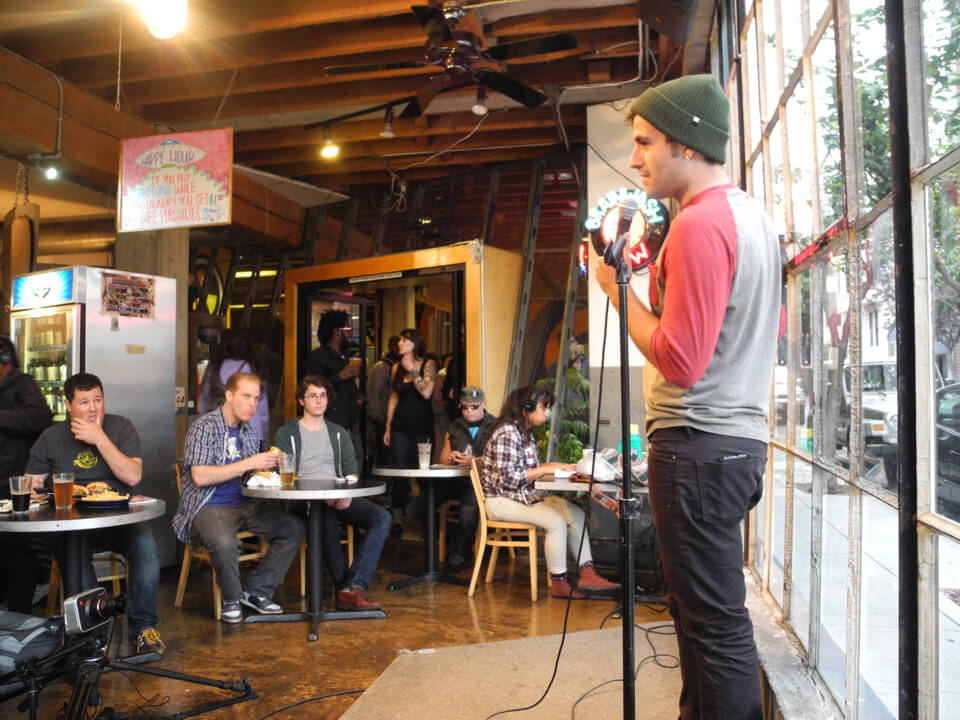 For anyone who has not yet been to BrainWash, though, Sparks did have this to say:
"If you are a person that just wants to watch comedy, and you've only seen people that are quote-unquote 'successful,' the best thing to do is come here and watch the people in their beginnings. As an audience member, this is probably going to be one of the best experiences you'll ever have, especially if you come on a Thursday night. You're going to be blown away at how funny undiscovered talent can be."