Two new parklets may be coming to the coffee spots of Divisadero Street, as longtime Divis hangout Bean Bag Cafe and newly opened Repose Coffee have both applied for parklets. The parklet proposals are up for public review through August 6th. 
According to a sign posted outside the cafe, Bean Bag Cafe's proposal was submitted by Suheil Shatara, of the architecture firm Shatara Architecture. The parklet would measure six feet wide, with the length listed as "TBD."
Further south on Divisadero, Repose co-owner Paul Campion confirmed to Hoodline that he and partner James Grogan would like to open a parklet outside their new Divisadero location, which debuted in April.
"They really help community spirit, and give everyone a place to slow down and keep the pace of the sidewalk a little more relaxed," he said. "Our little area can get very busy, and we plan on having some amazing plants and trees, some shade and some fragrant plants in there. I believe it will become a great hangout for everyone!"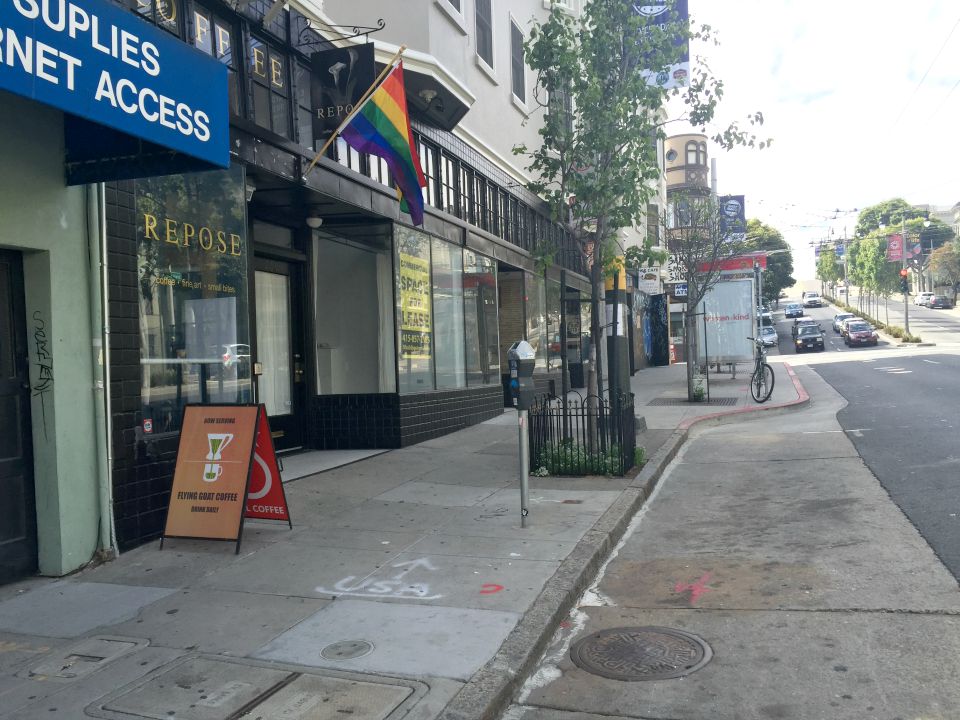 The space for Repose's proposed parklet.
Divisadero currently has two parklets: one at Mojo Bicycle Cafe, and another outside The Mill. A third parklet can be found on Fulton Street, outside the former locations of Corkage and Cafe Abir. Since the parklet program's inception five years ago, parklets have proliferated across the city, both increasing outdoor seating and slightly diminishing public parking stock.
For more information on the parklets or to file an objection to the proposals, contact the Department of Public Works by calling (415) 554-5810, or send an email to parklets [at] sfdpw [dot] org. We'll let you know if either project get the green light to proceed, and what the proposed plans might look like.