Published on August 05, 2015
Imagine an era before hippies, tech workers, and the Golden Gate and Bay Bridges, when most of the city was sand dunes and the Lower Haight, Hayes Valley and Mid-Market were a tangle of dirt roads and horse-drawn carriages. You'd have a good picture of San Francisco in 1882, when the Nightingale House, at 201 Buchanan St., was built.
You've probably noticed the Nightingale House before, thanks to its sheer size (4,400 square feet), not to mention its gothic details and general spookiness. The Queen Anne-style "cottage" has three stories: a basement, ground floor, and and a tower-like attic that serves as the house's only proper bedroom (though three more have been added on the ground floor).
The house in 1921. (Photo via current owners of the house)
The house's name comes from its original owner, John Nightingale. A real estate developer, California Pioneer and political businessman, Nightingale settled with his wife and eight children in the Lower Haight/Hayes Valley area, alongside swarms of other '49ers. Although he didn't strike literal gold, he did amass a huge fortune by buying up properties and turning them over for profit years later. At the time of his death in 1912, Nightingale was worth an estimated $3 million—about $8 billion in today's dollars.
Nightingale was also known for his influence on city politics. According to his obituary in The San Francisco Call, Nightingale convinced city officials to pass a law that awarded settlers permanent ownership of their property after the Gold Rush (which likely played a role in his own financial success). Nightingale also prevented Congress from building the original San Francisco City Hall in an area that was, in his opinion, too far from the business district.
The Nightingale House was John Nightingale's wedding present to his daughter, Florence (no relation to the famous nurse), when she married Hamilton Page. The property stood right next door to Nightingale's own house, which spanned the entire block of Haight between Buchanan and Webster. Across the street, in the same lot now being used for the 55 Laguna development, was a Protestant orphanage.
Florence and Hamilton Page sold the Nightingale House a year after her father's death in 1912. It's unclear who lived in or owned the property from 1913 until 1970, when Jo Hanson moved in.
Hanson was an artist, feminist, environmentalist and political activist. According to her obituary, Hanson staunchly opposed littering, leading her to run anti-litter children's art campaigns, organize city-wide street sweepings and lead bus tours of dumping sites. During her six-year term on the SF Arts Commission in the 1980s, she helped create and restore some of the city's most beloved public art, like Lucien Labaudt's murals at the Beach Chalet and the Coit Tower murals.
Hanson won national arts awards and booked solo exhibits in galleries and museums around the country. She also once led a campaign encouraging people to eat street snails: she believed that snails are delicious and full of vitamins, and therefore should not be wasted.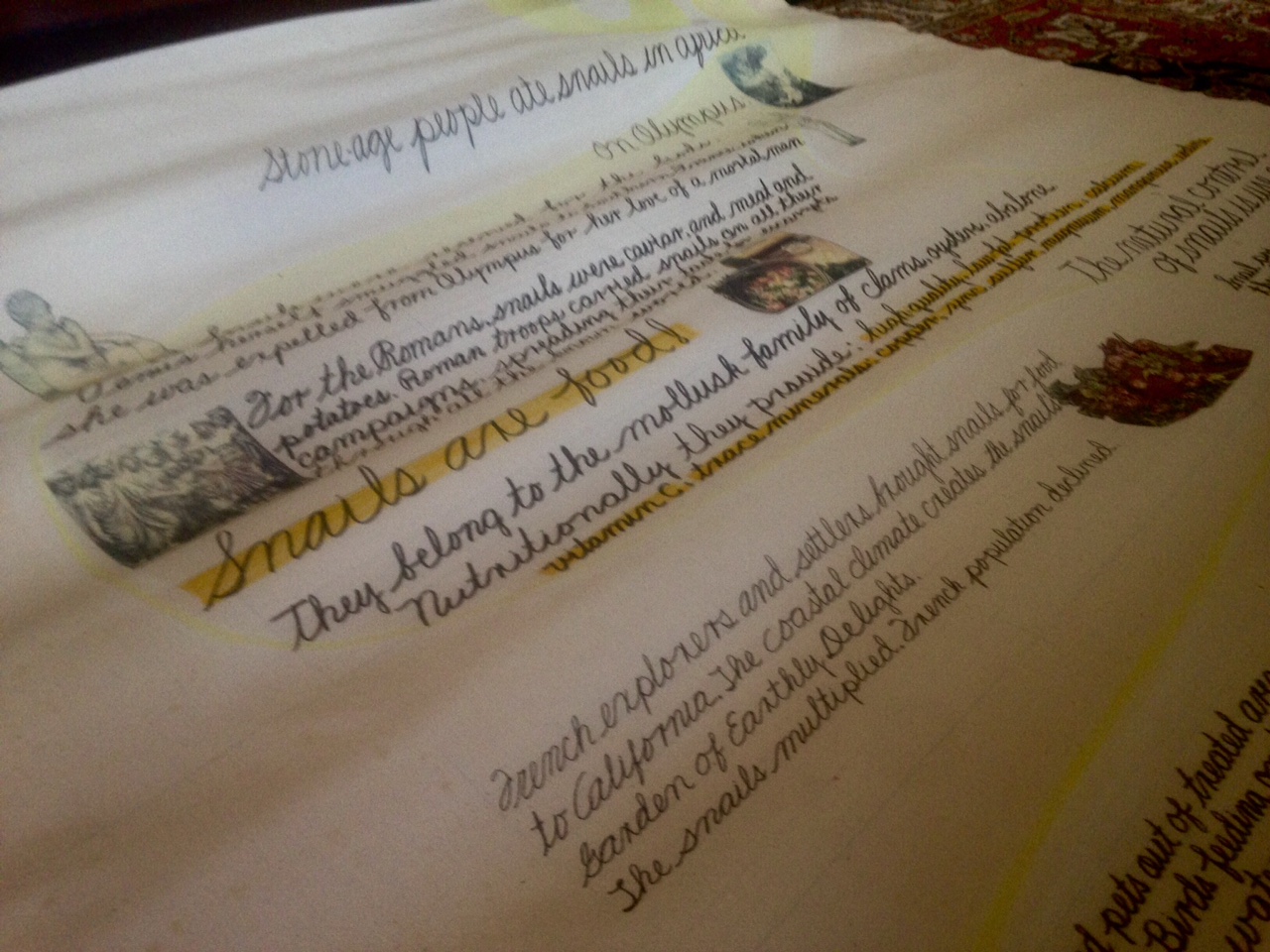 Large banners made by Hanson for her pro-snail campaign, which were found by the house's current owners in the attic.
Around the Lower Haight, Hanson was known for picking up trash and cleaning up after vandals. Neighbors often saw her outside the Nightingale House, feverishly sweeping away litter that had blown down the windy Buchanan Street corridor.
Hanson's environmental efforts caught the attention of city officials, who invited her to the NORCAL Sanitary Waste Recycling and Disposal Company (a.k.a. the dump) so she could see where litter actually goes. Shocked at what people were willing to throw away, Hanson convinced the company to create a program that pays artists to create work out of urban waste. Thus, the Recology Artist in Residence program was born. It has since benefitted more than 100 local artists, and even spawned an exhibition at SFO.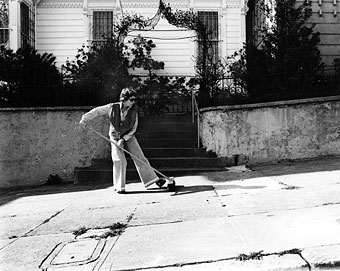 Jo Hanson sweeping in front of the Nightingale House in 1980. (Photo: Green Museum)
Hanson lived in the Nightingale House by herself for nearly 40 years. According to her friends and neighbors, she was infatuated with the house. Within two years of moving in, they say, Hanson had cleaned up after squatters, planted a garden out back, saved the property from likely demolition and had the house designated as the 47th San Francisco Landmark.
In 2007, Hanson died in her bedroom in the house. Per her request, her body was laid out on a cold slab in the house's foyer for four days before her funeral.
The Nightingale House's current owners, who declined to be named, have fully embraced their home's unique and mysterious history. Since buying the house in 2010, they have added back some of its original gothic details, and cared for several artifacts dating back to the late 1800s. The property is currently in the midst of major renovations, but the owners have promised to give us a peek inside once everything is completed.