If you've passed by the corner of Waller and Shrader in the past five years, you've likely seen the exterior of Mystic Eye Studio, the workshop and gallery of local artist Cameron Chernoff.
For the past five or so years, Chernoff has both worked and resided at 1652 Waller St., which features his studio and a gallery space in addition to his home. He grew up six blocks away, and holds a degree in art from UC Santa Cruz. Over apple-carrot cake and rice tea, he told us about his art, his history in the Upper Haight, and what interests him.
Chernoff's work, all in oils on canvas, ranges from brightly psychedelic, organic abstracts, reminiscent of microscopic close-ups of plant cells and small organisms, to broad, idiosyncratically colored landscapes he calls "energyscapes," in which he works figuratively to capture the mood and feeling of a place.  "I'm always interested in looking at what's underneath the surface of things," he said.
We mentioned that some of the coloring in the energyscapes, like in "Big Oak," shown below, felt like they belonged in the same world as David Hockney's landscapes, recently displayed at the de Young.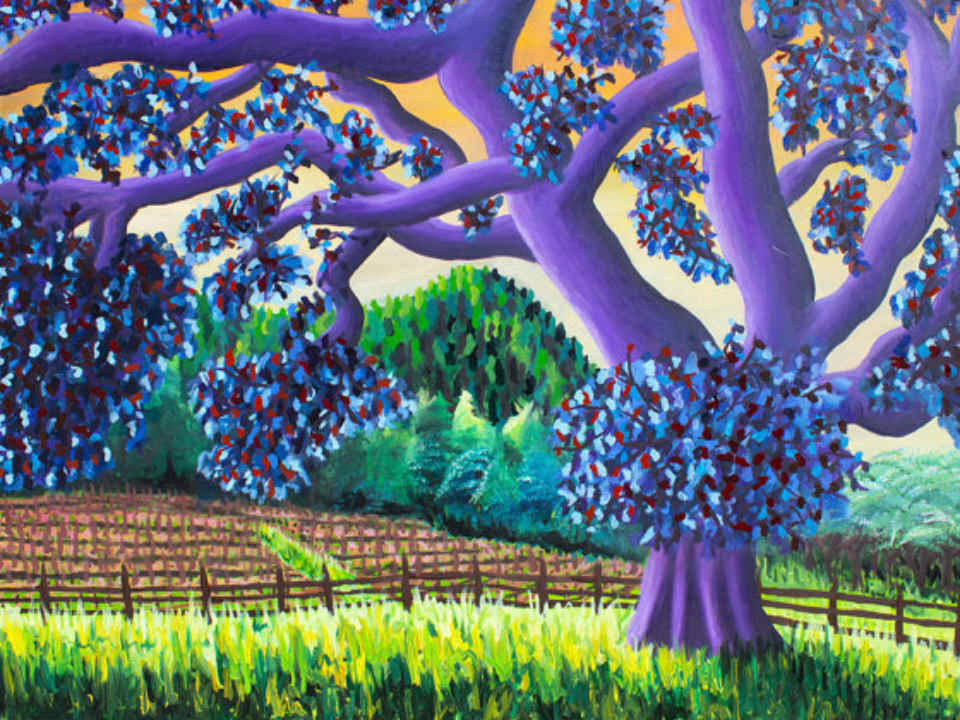 "Definitely," Chernoff said. While he's "always working to do something that's original, that's not derivative," he felt a deep affinity for the Hockney exhibition, he said. He was particularly fond of Hockney's later works, featuring psychedelic bright landscapes and murals.
Chernoff said that his work is definitely influenced by the psychedelic art endemic to the Haight. But he also draws inspiration from travel and from world sacred art, especially the tribal art of the Pacific Northwest. The places he visits inform his work, including Vietnam, the Philippines, and most recently, Croatia, which is the inspiration behind his current work-in-progress, an energyscape of a rural lake chain.
Chernoff said he's currently working on playing with texture in his paintings, and moving towards a messier, less immediately detailed and representational feel that's more indicative of a mood or a feeling.
Chernoff's work is available for sale through the studio and on Etsy. He also holds viewings in his studio; just get in touch with him to set one up. Magic Eye will also be among the studios open in the Upper Haight for Artspan's SF Open Studios series, on October 24th and 25th.