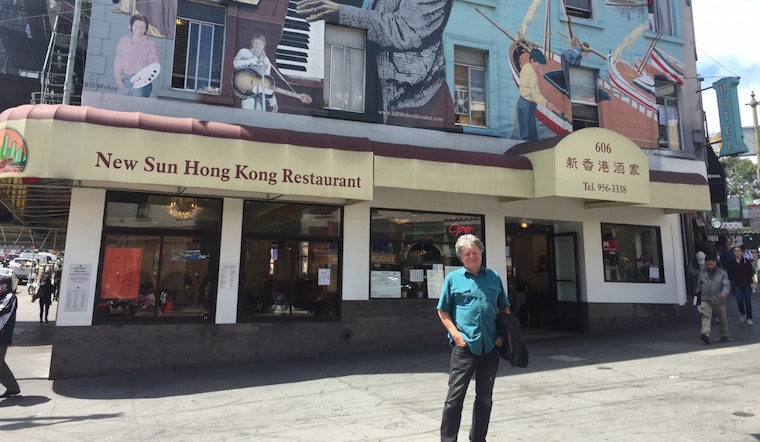 Published on September 10, 2015
Since 2004, muralist Bill "El Gallo" Weber has been diligently working to restore his largest work in San Francisco. The 1987 piece, known as the "Jazz Mural," can be found above New Sun Hong Kong Restaurant at the corner of Broadway and Columbus. (It's located just above "Language of the Birds," the flying book-themed installation by Brian Goggin and Dorka Keehn.)
The mural's ongoing renovation has been more visible lately; the side of the building facing Chinatown is hidden under scaffolding and sheer tarps. Thanks to funding from the city and North Beach Neighbors, the restoration is well underway, and should be finished in about two more weeks. 
The city gave Weber $15,000 to restore the mural via participatory budgeting, in which former Supervisor David Chiu asked District 3 residents to choose how to spend his $100,000 discretionary budget. The restoration was one of seven projects chosen for funding by locals. "That made me feel really good," Weber said.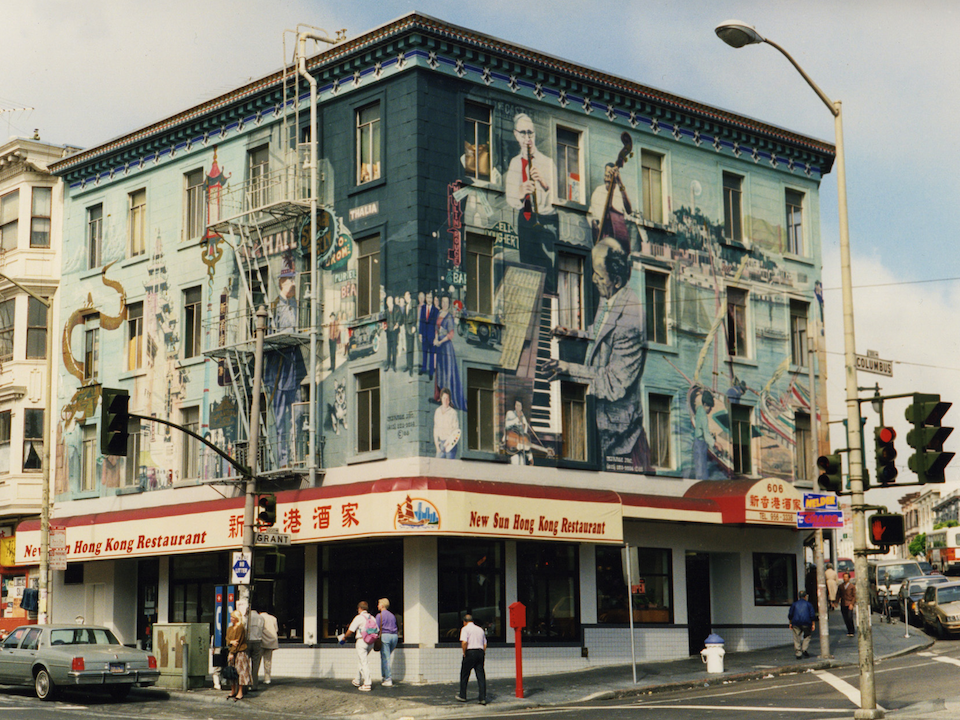 The jazz mural in 1987-1988, when it was first painted. (Photo: Bill Weber)
Trish Herman, Ted Camesano and Debi Marchi of North Beach Neighbors (NBN) attended participatory budgeting meetings to present a pitch. They also walked door-to-door to rally community support, so people would vote for the mural to be funded.

Some red tape delayed the project: because all public artworks have to be approved through the Arts Commission, NBN had to become an official city vendor in order to get the money released to the project. That process took 11 months and hours of time. 
NBN also granted the project $3,500 from an in-house fund supported by neighborhood donors. "They were very instrumental in getting the funding for the completion of this restoration," Weber says of NBN. The combination of funds from that and the city supported the purchase of supplies, scaffolding, and Weber's work on the piece.
While Weber's murals can be found throughout North Beach, Fisherman's Wharf, the Haight and the Castro, the jazz mural is one of only a few to be diligently maintained. It features Emperor Norton and iconic musicians Teddy Wilson and Benny Goodman, among others.
"[Goodman's] daughter moved to the city right after I did the mural," says Weber. "She called me, thanked me, and told me that now when she drives by, she says hello to daddy."
In 2007, 20 years after Weber first completed the mural, he updated it to include musician Gene Krupa and former mayors Willie Brown and Gavin Newsom, among others.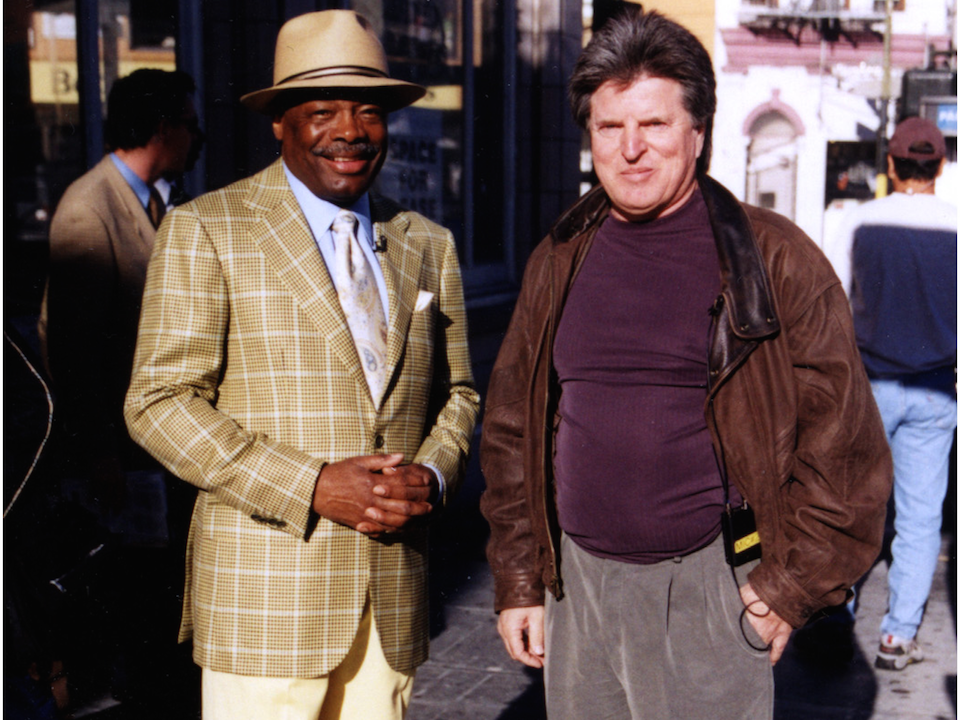 Bill Weber and Willie Brown. (Photo: Bill Weber)
Weber has deep roots in the Bay Area. His fourth- and fifth-great-grandfathers came to the city with Juan Bautista de Anza in 1775, and were among the founders of San Francisco. "They built the Presidio and Mission Dolores," Weber says proudly.
Weber got his start as a muralist in 1974, when he painted a piece at Valentina's Night Club in San Mateo. Shortly thereafter, he was recruited by North Beach agent Johnny Burns, who helped him get his start doing murals in San Francisco.
In 1976, while Weber was painting a mural in Fisherman's Wharf, next to the former Caesar's Restaurant at Bay and Powell streets, he was approached by Giovanni Toracca, then 11 years old. "This little boy was selling cherry bombs, and he said to me, 'When I grow up, I'm going to buy buildings and have you paint them,'" Weber says.
Toracca made good on his youthful promise. "He called me 10 years later, and he had [acquired the building at 606 Broadway], the Columbus Café, and a Victorian house, where he lived. He had me paint all three of them."
While Weber was responsible for researching and finding pictures to bring the jazz mural to life, it was actually Toracca who had the initial vision for it. "He knew exactly what he wanted on there, because it's where three neighborhoods intersect. He wanted me to paint the Barbary Coast on the corner, North Beach on the Columbus side, and Chinatown and a Chinese dragon on the Broadway side. He knew exactly what he wanted; it was kind of his creation," says Weber.
"All the murals that I've done have always been historic murals, and they kind of fit into the neighborhood," Weber adds. "I'm also a surrealist painter; I have always wanted to paint something surreal on a wall, but that doesn't really connect with the neighborhood, so that's probably why I haven't done it yet. But most of my murals are historic and they fit in with what's going on around them—the history."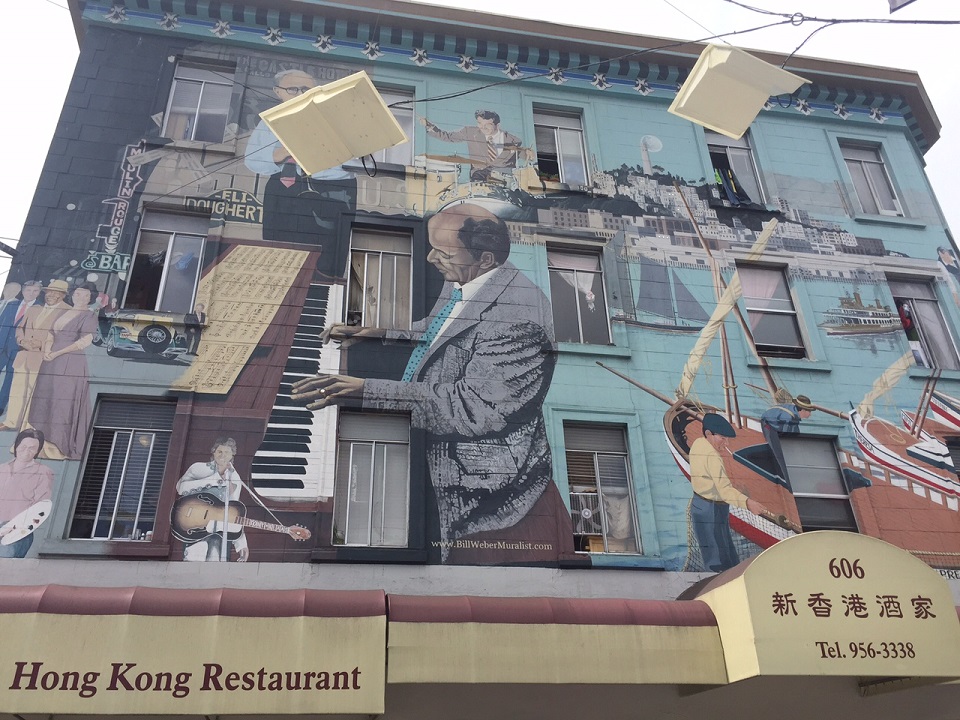 The jazz mural today. (Photo: Blair Czarecki/Hoodline)
Weber's mural work keeps him busy (his art studio is located in Oakland's Jack London Square). But he still considers surrealist art to be his true passion. "It would be nice if I could just make a living on my surreal work, which I haven't been able to do yet." He's planning an upcoming exhibit of his surrealist work at the Peninsula Art Museum, which will feature 40 of his paintings. 
Weber recently completed a book based on his life as a surreal artist, and is wrapping up a second for his murals. "I'm going to publish them separately, and I'm also going to put them together," he says. "One of them will be Bill Weber, the Muralist, and then you'll flip it over and it will have another cover and it will be El Gallo, the Surrealist. They'll have two different life stories, and both stories are true, but one sounds like an insane surreal painter and the other sounds like more of a normal guy."
Those interested in Weber's surrealist art can visit his studio at 560 Second St. in Oakland, which is open daily. Weber can be reached at bill [at] billwebermuralist [dot] com for inquiries regarding his availability.