Most North Beach neighbors are already aware that plans are underway to close Vallejo Street between Columbus and Grant avenues to build a "Poets Plaza," inspired by Italian piazzas. But some say they were caught off-guard by a lack of notification for the block's temporary closure, set to occur from Sept. 26th, 2015–Jan. 4th, 2016.
Kristen Foley, who's lived in the neighborhood for six years, said she only learned about the Vallejo closure coincidentally, at a public meeting on Thursday, Sept. 10th held by the Interdepartmental Staff Committee on Traffic and Transportation for Temporary Street Closures (ISCOTT) of SFMTA. She was there seeking a temporary road closure for a company she works for when she noticed an agenda item about the closure.
"Three neighbors spoke about how they were concerned about the traffic issues that would ensue if it closed," Foley said. "They weren't necessarily so much against it, but they wanted to find an alternative. They felt they weren't being heard." SFMTA spokesperson Paul Rose said that one person spoke in support of the project, which was presented at the meeting by a representative from the SF Parks Alliance.
Rose added that approval for the closure was put on hold until the next hearing, at 9am on Thursday, Sept. 24th, due to both public opposition and concerns from the fire department regarding traffic and pedestrian safety. (For those who wish to attend, the hearing will be held at SFMTA headquarters, 1 S. Van Ness Ave., Room 7080.)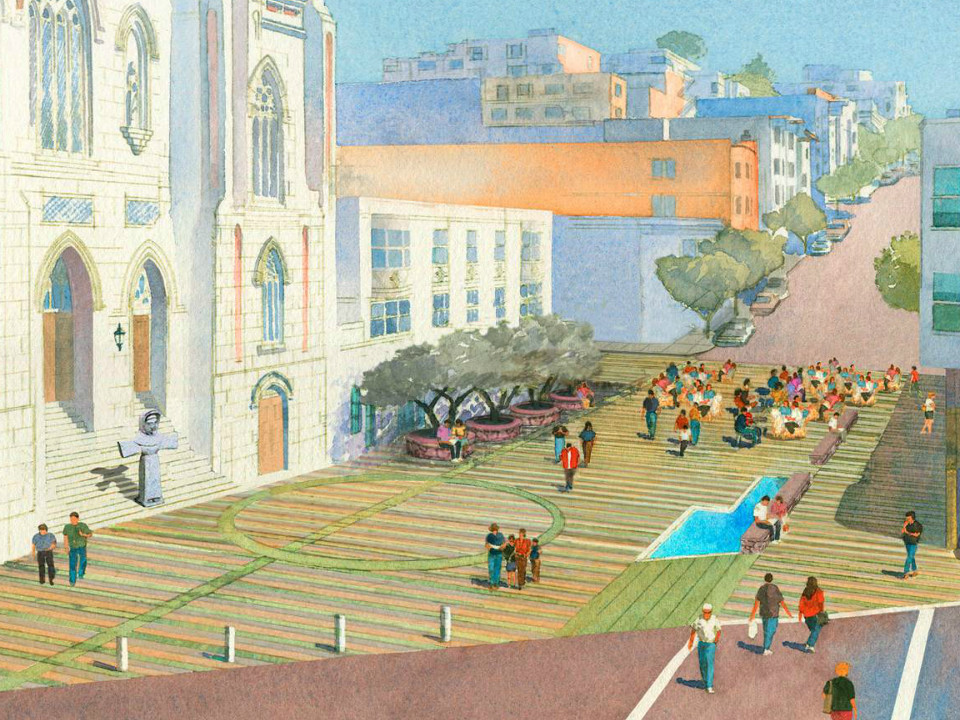 A rendering of the proposed plaza. (Image: Courtesy of Angela Alioto)
The Poets Plaza has been in the works for more than a decade. City Lights founder and acclaimed poet Lawrence Ferlinghetti came up with the idea, according to an article in the Marina Times, and former supervisor Angela Alioto has led the charge to raise funds and solicit support from everyone from Mayor Ed Lee to the Telegraph Hill Dwellers.
Foley said that an Oct. 2nd gala to support the project is planned on Vallejo, but no further details are listed on the website. We emailed Alioto's office to ask about the gala, but didn't hear back by deadline.
The main problem, as Foley sees  is the lack of communication and outreach to neighbors. "I wanted to bring it to the forefront, to make people aware of it so they have another public hearing," she said. "I want to educate the neighborhood ... I think this public hearing for this temporary closure snuck up on people, snuck up on our neighborhood. We should have known about this earlier."
Foley's argument is that people who don't live in the immediate neighborhood aren't aware of the difficulties the closure will pose for drivers. To get out of the neighborhood, cars will now have to turn right at Grant, which is a one-way street heading north, and go up to Green or Union streets to get on Columbus. Alternatively, they have to make a big circle heading north on Grant to Green and then east to catch Montgomery, which ends heading north at Green. Or they have to wind circuitously through alleys and small streets to get to Broadway, which is often congested.
"It took me 45 minutes from my house on Kearny to get out of there, going down Romolo Place" during this summer's North Beach Festival, Foley said. "I don't think people who are visiting realize it's only a one-way going down Vallejo. They don't realize Kearny dead-ends. If you don't live on that hill, you're not affected, and you're not going to know those things."
"It's not like it's coming as a surprise. There's certainly been a lot of information out there for a while," Jerry Cimino, founder of the Beat Museum, told us. He sees the temporary closure as a test, and if it's too disruptive, "it gives us a chance to pull back on it, if it comes to that."
Incidentally, we reported in April that Poets Plaza, which is a nonprofit corporation, would cost roughly $1.5 million, with $700,000 of that still needed to be raised. Now, the price tag appears to have gone up: the Poets Plaza website states that the cost will be $2.4 million, while a recent Marina Times article said it will cost about $3 million.