Rudy Corpuz Jr. knows a thing or two about the dark side of SoMa. The first-generation Filipino-American, born and raised South of Market, got caught up with gangs, guns and drugs in the neighborhood and was in and out of jail for years in the early '90s.
"Despite my parents raising me right, I still chose to make a lot of bad choices," he said.
After his last release in 1993, Corpuz knew he had to make a change. "If I didn't do something positive with my life, I was going to end up going back to jail," he told us.
Since then, Corpuz has focused on keeping young people off the streets through United Playaz, a youth violence prevention program he started at Balboa High School in 1994. At that time, the student body was embroiled in gang activity and one fight between African-American and Filipino students flared up a series of attacks targeting students based on their skin color, not their participation in the fight or gangs, Corpuz said. With the help of campus and community allies, he was able to sit the feuding students down in one room, air their grievances and convince them that their differences weren't worth jail time. He also allowed them to devise solutions to curtail future violence.
Their ideas: create more on-campus activities to keep students busy and turn that diverse group of students into a campus organization. The group thrived on campus for about ten years, creating a positive environment for at-risk youth and opportunities to learn from community members who had turned to drugs and gangs.
But Corpuz, who's lived in SoMa all his life, was soon driven to bring United Playaz home. Leveraging the program's success in District 11, he secured a $25,000 grant and an agreement from the city to run the program, rent-free, out of the Gene Friend Recreation Center at Sixth and Folsom. 
As more and more neighborhood kids got involved in their after-school programs over the next few years, however, the city decided in 2009 that it was time for United Playaz to pay rent — which they couldn't afford.
"We came in the rain, they had the sheriffs out front and they wouldn't let us in," Corpuz recalls. "So we're literally out there protesting and rioting to try to go into a rec center that's in our community that we were born and raised in. But we couldn't go in because we didn't have the resources."
Luckily, it didn't take too long to find a location in SoMa — a two-story building between Sixth and Seventh on Howard Street — and funds to pay the rent.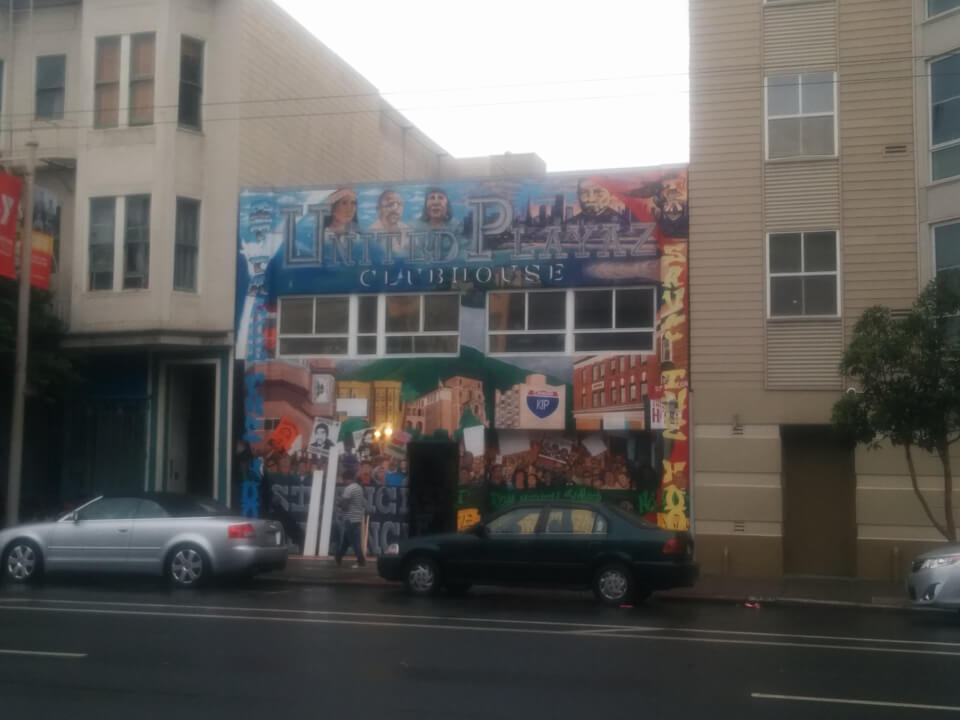 But as they made themselves at home, cranes and new neighbors quickly followed, and Corpuz says he knew it wouldn't be long before displacement threatened United Playaz again. So he made it a mission to buy the building before it was too late, though he knew United Playaz couldn't do it alone.
"One of my goals was to have met all these guys who I've seen with all these cranes up," he said. "So I asked people in positions to introduce me, just give me the opportunity to meet them."
Introductions to both developers and tech investors led to many site visits, conversations about their mutual interests in keeping SoMa safe, even more introductions and often donations. The relationships he built also changed his perspective of his new neighbors. "They were actually caring people who wanted to help," he said. "They just didn't know who to trust and who to talk to."
By the spring of this year, relationship-building had paid off. With $400,000 raised, a $400,000 match from the SoMa Community Stabilization Fund and a loan, United Playaz purchased their building for $1.4 million.
Celebrating @UP4LIFE purchase of their SOMA Clubhouse w/ SOMA Stabilization Fund + private sponsors! #ItsOurHood pic.twitter.com/XInXjF7ClC

— Jane Kim (@SupeJaneKim) April 29, 2015
While Corpuz still stands firmly behind United Playaz's motto, "It takes the hood to save the hood," he said it's crucial for long-time residents and neighborhood nonprofits to recognize that their new neighbors aren't going anywhere. 

"A lot of the people who originally were in this neighborhood — this is a Filipino community — got displaced or left. They got buyouts," he said. "And so the big difference now is there's a new community that exists here with the old community. And my job is to honestly try to build that bridge so we can coexist in the community — right now — where we're all safe."
To build one peaceful community, new and old residents need to start getting to know each other, learn about the neighborhood's history, and participate in community meetings and public hearings to help shape new developments on the table, he said.
Doing just that, United Playaz is heading into its 21st year in operation with confidence that it will be in SoMa to support neighborhood families for years to come. 
But Corpuz and his staff aren't resting just yet. The organization's annual fundraiser, celebrating its 21 anniversary and newly rehabbed clubhouse, will be held the evening of Oct. 8th. And you can expect to see United Playaz's distinctive T-shirts to continue to pop up at community meetings, public hearings and community service days around town.