Published on September 13, 2015
Kathy Britt wasn't always a team kind of gal. 
"Me and my dog," she said of her running routine. "That was my partner."
Now she has over 60 teammates and wouldn't have it any other way.
On Saturday mornings the dragon boat team she captains, the SF Dragon Healers, meets at Lake Merced to paddle three 500-pound boats across the lake, 22 to a boat, packed knee-to-knee. On race day they'll attach the dragon's head, and a drummer will set the pace by striking a ceremonial drum. The boats stand out even without these elements though, with their colorful painted scales and the sheer number of people packed inside, all striking the water in unison.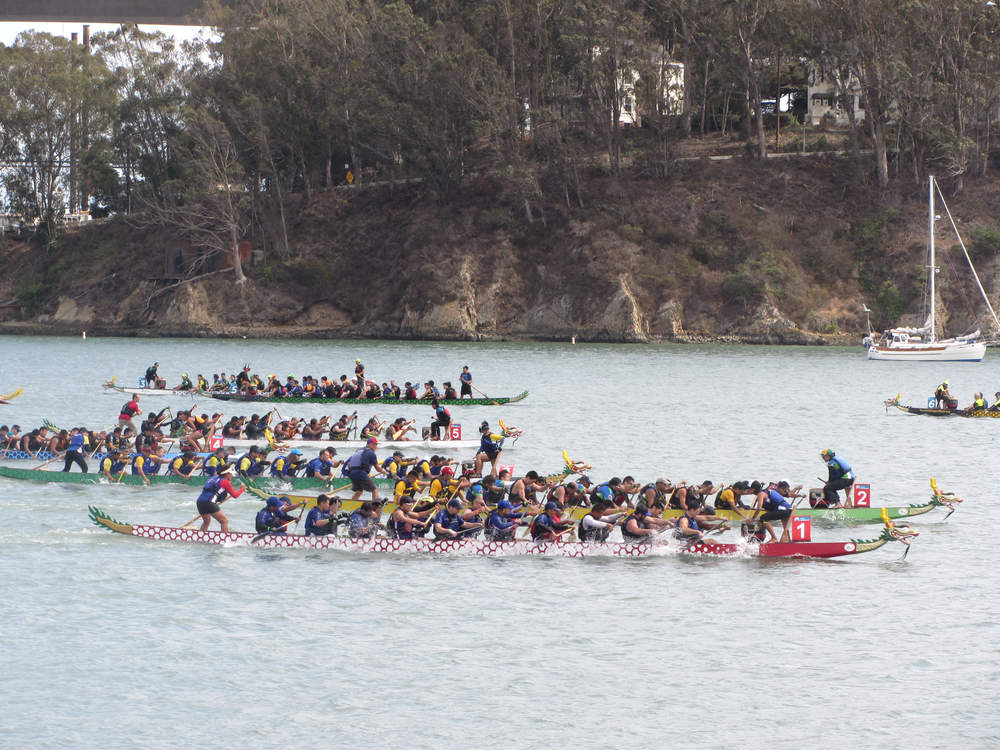 Photos by Caitlin Harrington/Hoodline or noted if otherwise
The Dragon Healers will be giving competitors a run for their money next Saturday and Sunday, at the 20th annual San Francisco International Dragon Boat Festival at Treasure Island. Despite its recent arrival to San Francisco by way of a Chinatown nonprofit, dragon boating is one of the world's oldest sports, with evidence placing its origins 5,000 years ago in China.
In the relatively short time that dragon boating has been in the Bay Area, it has caught on quickly: Out of the over 60 cities hosting over 80 races across the U.S., the San Francisco festival has become the country's largest.
Last year over 125 teams competed – almost 140 are registered this year - and up to 60,000 spectators came, enough to fill one and a half times the capacity of AT&T Park. What makes the sport so compelling to so many? Some point to its emphasis on teamwork, community, and inclusiveness- people of almost any age, ability, and commitment level can find a place.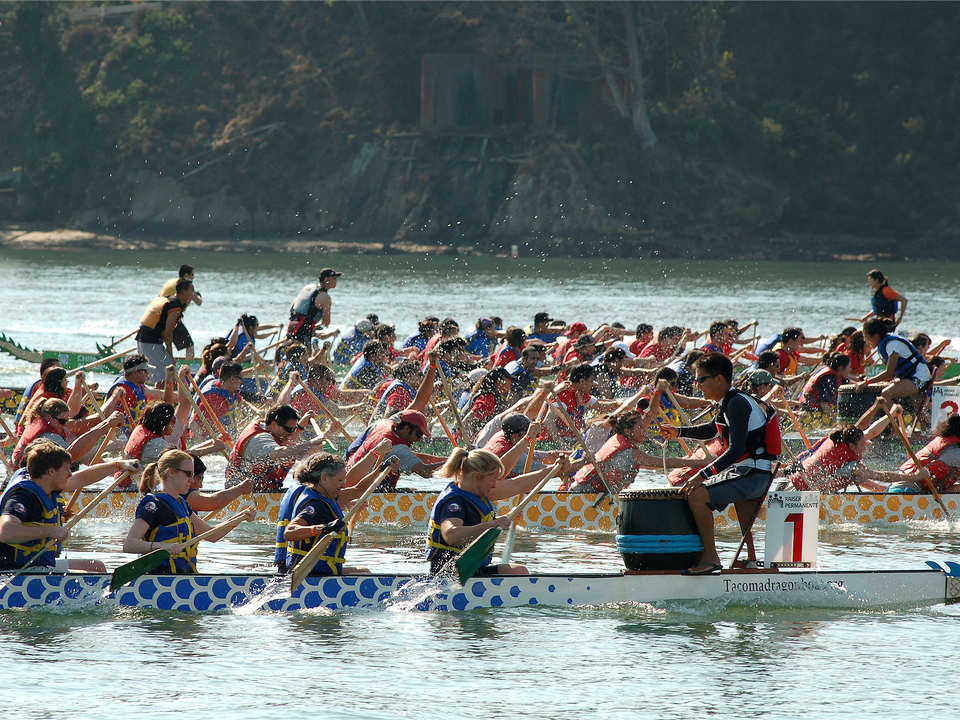 Photo via Romel Jacinto/Flickr
The seeds of the San Francisco rendition of the festival began with a Chinatown-based nonprofit named Self Help for the Elderly. Self Help provides social services, including home health care and senior housing, to low-income seniors, particularly Asian Americans.
Created as a War On Poverty program in 1966, the nonprofit started out serving seniors in Chinatown and has since expanded to other Bay Area locations. In 1996 they hosted the first San Francisco Dragon Boat Festival as a small fundraiser, purchasing the first boats from Hong Kong, where the festival is a major holiday. Since then, the race has multiplied in size and competitiveness, leading to the formation of the California Dragon Boat Association, which now runs the races and donates back to the nonprofit. Self Help staff and supporters still paddle in the races; this year they'll compete as the Paddling Tigers.
For the Dragon Healer's Kathy Britt, jumping in the boat took a little convincing. Over ten years ago, her friend and colleague from Hong Kong enlisted her help in starting a team at Kaiser Permanente, where she works.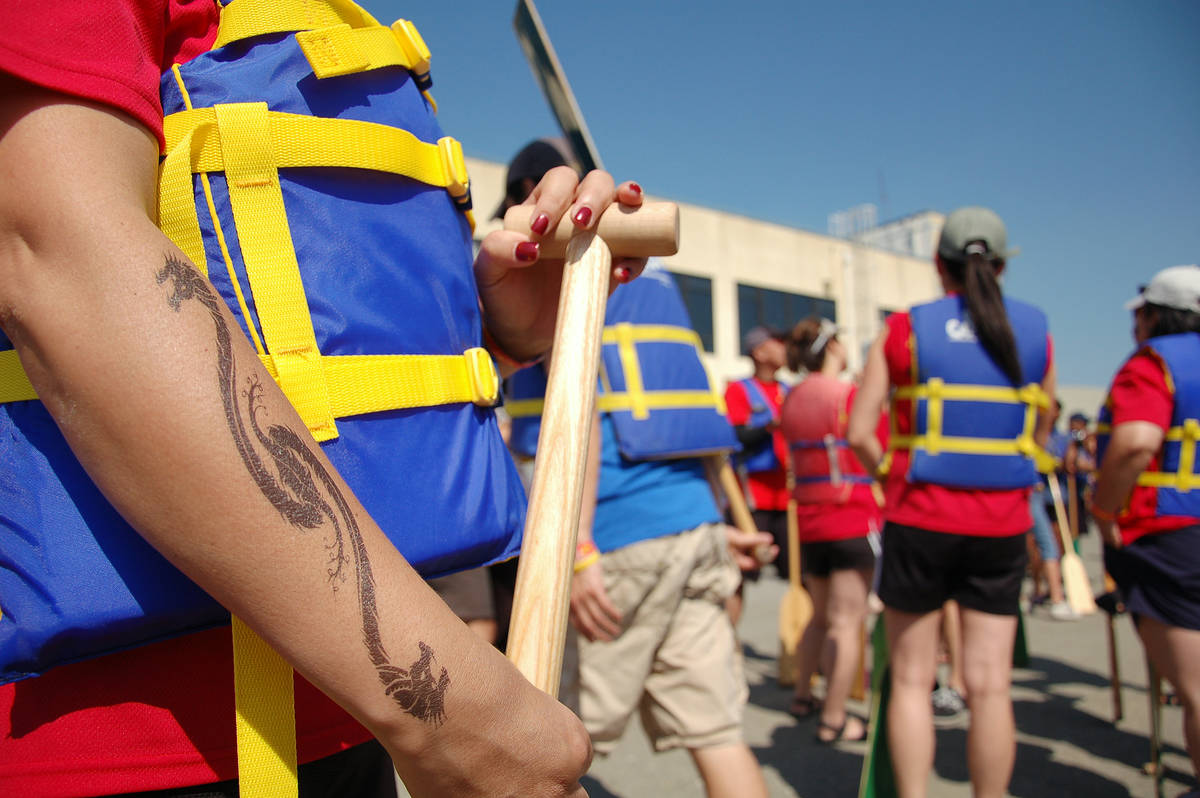 Photo via Romel Jacinto/Flickr

"I did not swim," she said. "I grew up on an island, but I was terrified of water." She told her friend she'd help with the fundraising, but she wasn't going to get in the boat. Eventually she relented, racing her first festival after three practices as part of Kaiser's first corporate team. 
"I look back at some of those videos, and I just cringe. We were so bad," she laughed. "But you know what? I came off that boat, and I was hooked." She found she could apply aspects of her marathon training, like discipline and goal setting, and surprisingly for the solo athlete, she found she liked the camaraderie. 
Britt credits dragon boating with helping her discover some of her personal strengths. "I learned that I have a gift in motivating people," she said, "in helping people see that they can move beyond what they thought they could do."
Among her more memorable accomplishments she counts paddling in last year's World Crew Cup Championships in Italy and a 3-day, 85-mile rafting race down the Amazon River. She's seen teammates grow through the sport too, from adults who'd never been athletes winning their first medals to kids from the Balboa High School team they coach taking on leadership and coaching roles.

Britt says that one of the sport's appeals is that it allows people to feel part of something larger than themselves. In dragon boating, everyone's contribution is equally important. With 22 people typically in a boat (20 paddlers, the drummer, who keeps time, and the steersperson) synchronicity is key. No amount of individual strength will salvage a team whose stroke it out of sync. As Britt put it, "There's no quarter back in dragon boating."
The Origins Of The Festival
When dragon boating began 5,000 years ago, boats held over 100 people, and races were run as fierce battles, according to Arlene Chan, a longtime Toronto-based paddler and author of several books about the sport. "If someone was killed during the race it was thought to be pleasing to the river dragon," said Chan. 
Dragons were believed to influence the rains, and in turn, crop yields. "Unlike the western dragon, which was considered evil," Chan said, "in Chinese mythology the dragon was an important creature that you had to keep happy. Because if you didn't, it would bring too much rain, or not enough."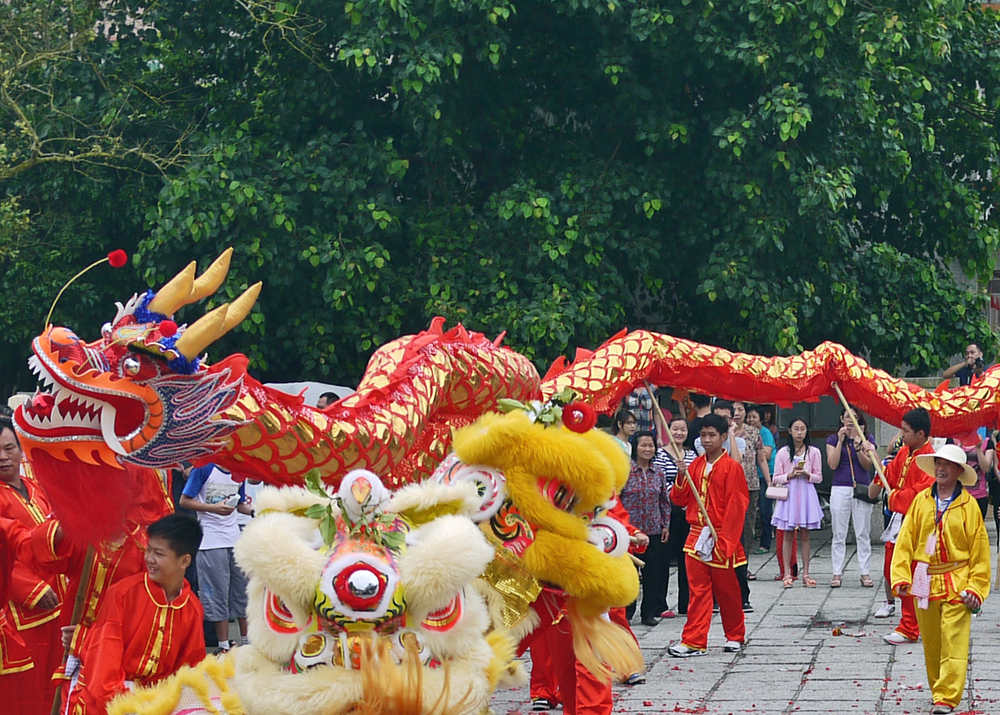 Duanwu Festival, Quo Island. Photo via Jonathan E. Shaw/Flickr
The festival associated with dragon boating, called the Duanwu Festival in China, began later, about 2,000 years ago, and it commemorates the statesman Qu Yuan. As legend goes, Qu Yuan served as an advisor to the emperor of the Chu kingdom during the Warring States Period before China was unified. When Chu's main opposition, Qin, proposed a peace treaty, Qu Yuan advised the emperor against signing it, suspecting it to be a trick. The other advisors, jealous of Qu Yuan, accused him of treason and banished him to the countryside, where he wandered for 20 years.
When Qu Yuan's suspicions materialized and he heard that Qin had overthrown the emperor, he committed suicide to protest the corruption, throwing himself into the Mi Luo River. The villagers, who loved Qu Yuan, raced in their boats towards him, hitting the water with their paddles to scare the river dragons away and prevent them from eating Qu Yuan.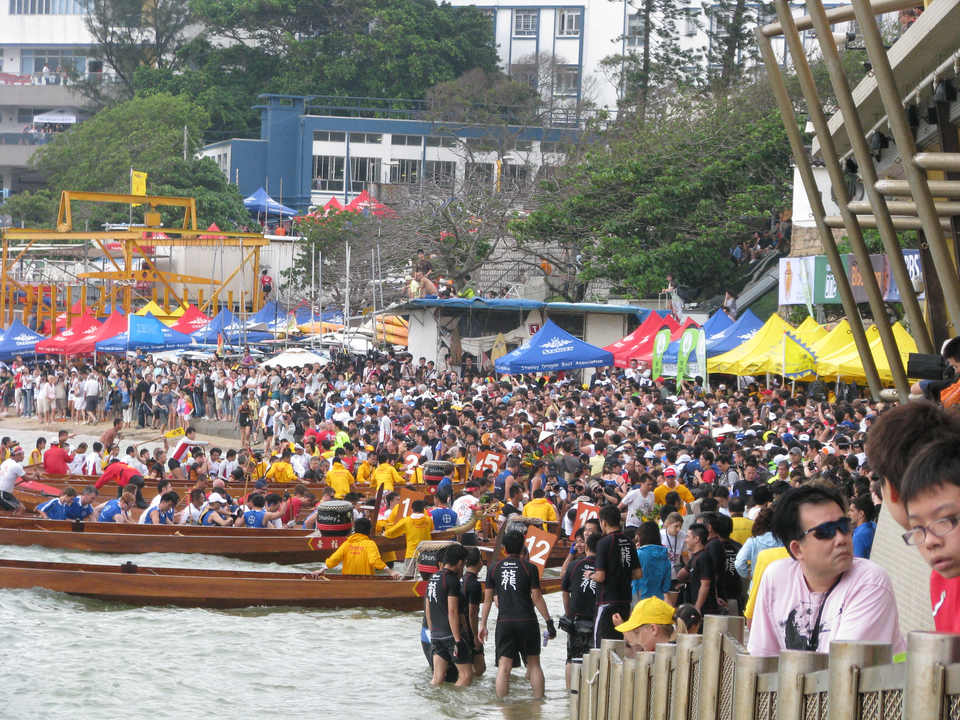 Scene from the festival in Hong Kong. Photo via Ricky Chan/Flickr

"Unlike [the Olympic Games], which celebrated the power and fighting abilities of the warrior class, traditional dragon boat festivals celebrate the sacrifice of Qu Yuan. Ever since his death, racing dragon boats has been a community activity with mass participation to remember his ultimate sacrifice," wrote Mike Haslam, International Dragon Boat Federation president, in the foreword of Chan's book, Paddles Up!  
Modern dragon boating is considered to have begun much more recently, in 1976. Hong Kong, in an effort to boost travel to the region, held a dragon boat race, inviting a couple nearby countries to compete. From there, the sport spread outside Asia, first to Europe and Canada, and eventually the United States.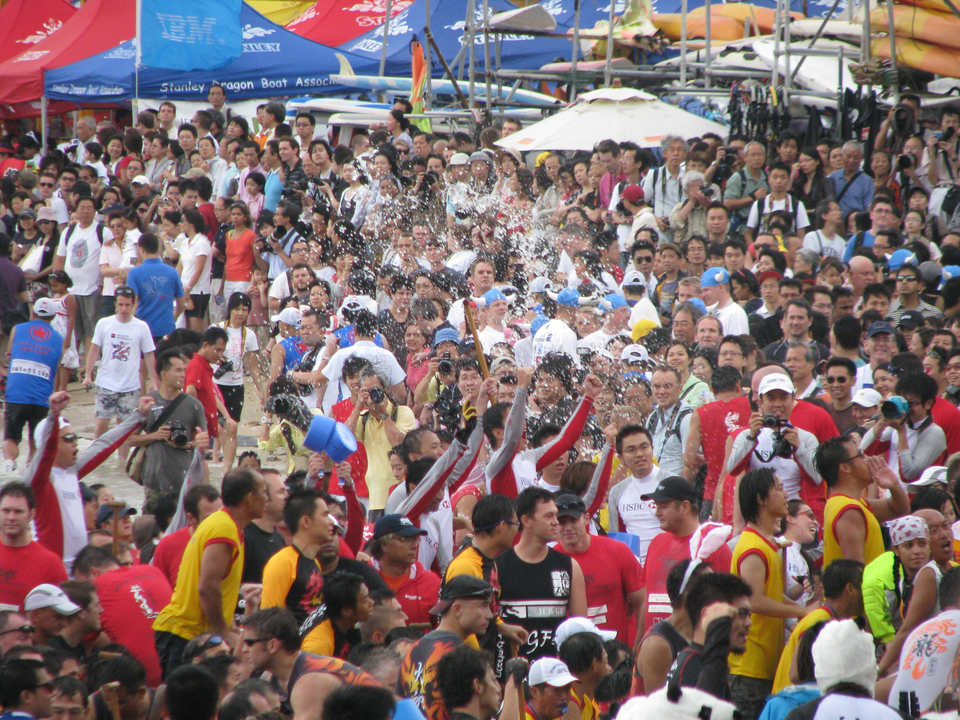 Scene from the festival in Hong Kong. Photo via Ricky Chan/Flickr

The festival's Asian heritage is celebrated at Treasure Island, with some Bay Area influence mixed in. At 11:30 on Saturday monks from Sunnyvale's Chung Tai Zen Center will conduct the blessing and traditional dotting of the eye ceremony, where the dragon's eye is dabbed with red paint to symbolically awaken it for the races.
Flanking a performance stage featuring lion dancing and taiko drumming will be Dragon Land, a themed children's amusement park, and food stalls offering Thai, Hawaiian and Vietnamese cuisine, as well as corn on the cob, organic hot dogs, and artisan chocolate. Kids can do science, technology and math-oriented activities at the Microsoft Land of Smart Kids Activity Center.
The Bay Area Gets On Board
When the festival began twenty years ago, it was a modest, informal affair. "They had a small- very small- bit of cultural entertainment and maybe one or two vendors, and then the races. Teams just came together, and they raced, and they may or may not have practiced. It was a fun thing, very casual. Then it kind of experienced organic growth along the way," said Linda Cheu, who co-directs the festival with Jeanie Lee.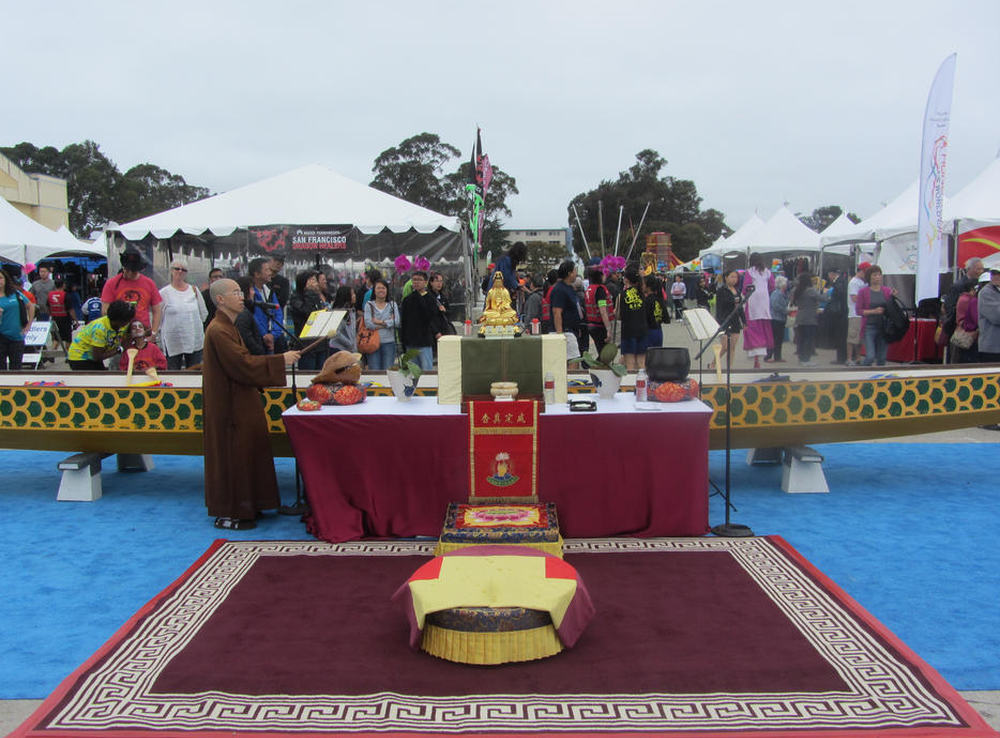 As the race expanded, so did the level of competition. Teams from around and outside the country flocked to the desirable location, and the race outgrew its original Foster City site, moving to Lake Merced in 2001, and Treasure Island in 2005, where it remains today.
Cheu thinks dragon boating is an ideal fit for the Bay Area. "We always say we think it's perfect because the Bay Area has the values of being very inclusive and diverse, and being on the Pacific Rim it has a very high percentage of Asian Pacific Americans," she said.  "Dragon boating is a very inclusive sport, very accessible, so anyone can do it. It doesn't cost a lot of money. It's all about the team and not about the individual." 
Breast cancer survivors have adopted the sport as a supportive, health-promoting activity. In and around Vancouver, Canada, multiple blind/sight-impaired teams race. Cheu said that although strength matters at the most competitive levels, for levels underneath, timing is the most important thing, so exceptional strength isn't a must.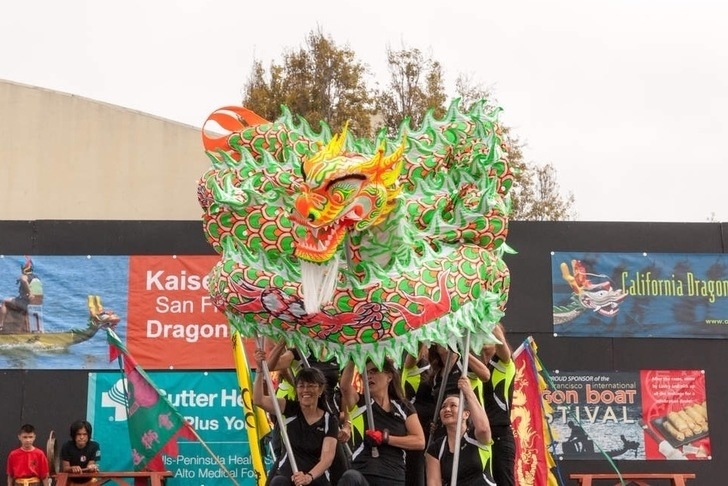 The Dragon Horse Lion Dance Group at the festival last year. Photo via Matt Chan/Flickr
The festival continues to benefit Self Help for the Elderly, but "our main focus is really funding our youth program," said Cheu. A large portion of the festival's growth has occurred in this area- about 1000 high school age youth currently paddle, the largest youth program in the country.
"It's very interesting because it's actually reached an audience that doesn't tend to participate as much in mainstream sports," she said, referring to the program's Asian American and immigrant youth. "These are youth that didn't grow up with soccer moms or dads who coached their baseball teams, so this is kind of new for them." 
The California Dragon Boat Association, the organization that runs the festival, offers the program free for students, and demand at some schools has outpaced available spots. One school has four crews- that's over 80 kids- and a wait list for spots on the team. "I think it's been a really big deal for them to be involved in a sport where they can be competitive and have all the benefits of a team sport," said Cheu.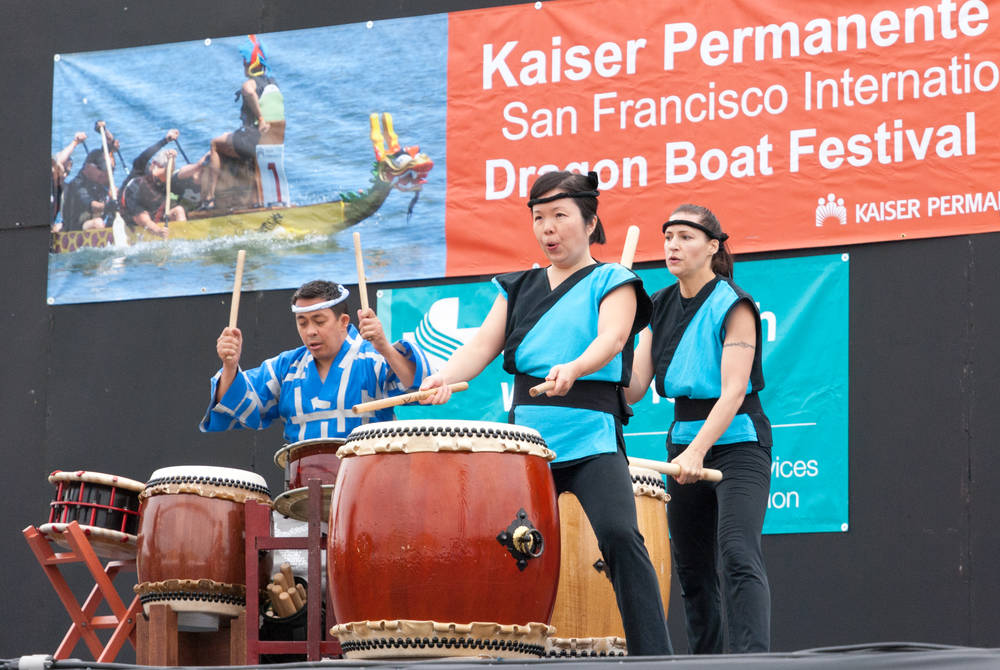 Maikaze Daiko at the festival last year. Photo via Matt Chan/Flickr
With 40 teams in last year's festival, the corporate division is another area experiencing remarkable growth, Cheu said. Dragon boat racing is popular as a corporate team building activity because of its emphasis on team cohesion and relative ease with which new paddlers can pick it up. Hospitals, financial firms, tech companies, museums and public utilities are all sending teams to this year's festival. (Last year's winner was the Electrical Worker's Union.)
Coach Huy Luong has seen the level of competition rise since he began paddling with his team, Suen Feng Loong, in 2003. He said that it's become more common, particularly in the last couple years, for some veterans to temporarily break away from their teams and form competitive teams to race the big races in Vancouver or China.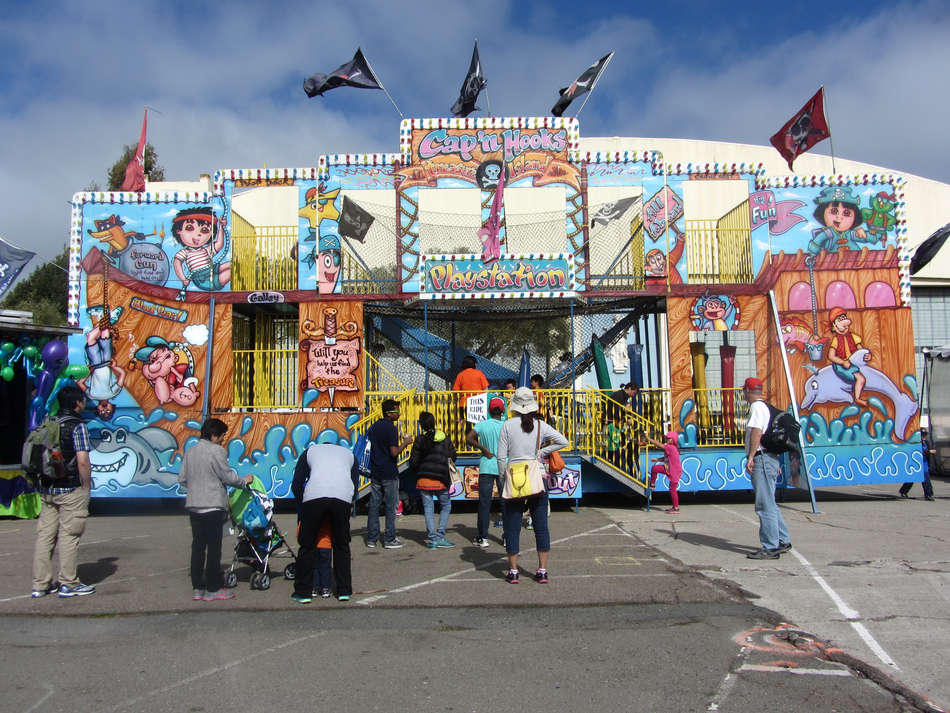 "A lot of people want to test their limits," his teammate and SFL captain Henley Ng said. "They want to challenge themselves. It's a really big social sport where you can meet a lot of people who want the same thing you want." 
"That's Winning"
Arlene Chan told a story of her team's visit to a dragon boat training camp in Florida. She met teams from all over the world, including China, where dragon boaters paddle professionally. "It's their job," she said. They train year round, sometimes in the blistering heat. "They said it's such hard work, and they said, 'You do this because you do it for fun? This is something you like to do?' They were just shocked. It shows the real difference in what we do in North America and how seriously they take dragon boat racing in China."
Contrasting her own experience, Chan said if she ever stopped enjoying herself, she could choose to call it quits. "If I didn't have a choice, I wouldn't be having as much fun as I am."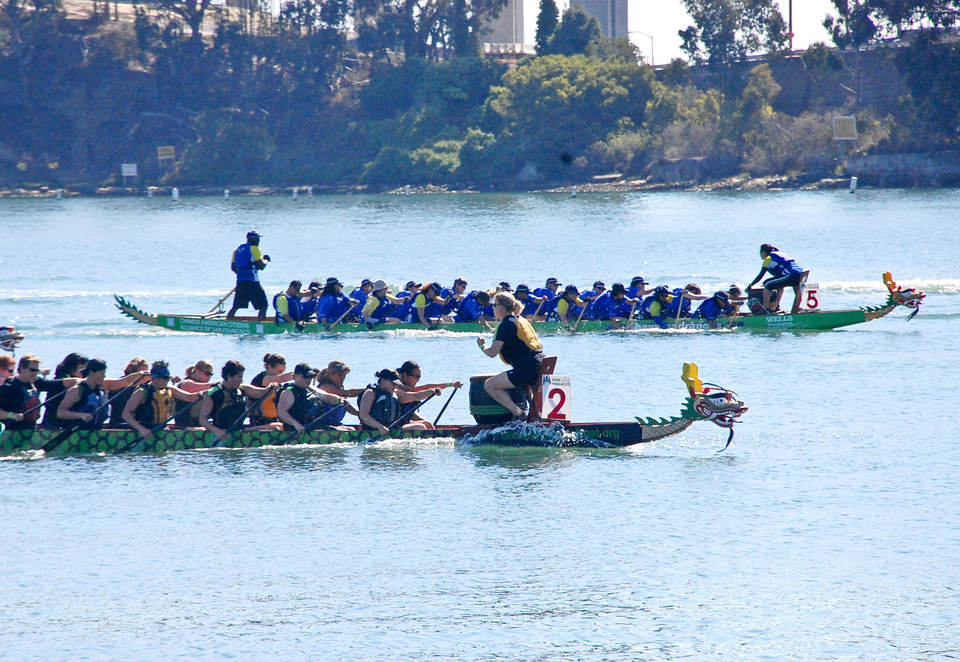 Photo via Todd Lappin/Flickr

Asked about the Dragon Healers' goals for the festival, Kathy Britt explained her team coach's philosophy: "Forget about medals. If every single person goes out there, and at the end of the race you can say I gave it 100% and more, that's winning."
For more information about the free festival, including directions to shuttle buses departing downtown San Francisco and Chinatown, visit www.sfdragonboat.com.