By
Dijon
- Published on September 08, 2015.
In our recurring "Souls Of" series from Dijon of Souls of Society, we travel through San Francisco's neighborhoods and bring you quick on-the-street snapshots of the people we meet. Today, we visit NoPa; you can also read the four previous editions of this series from Divisadero. 
---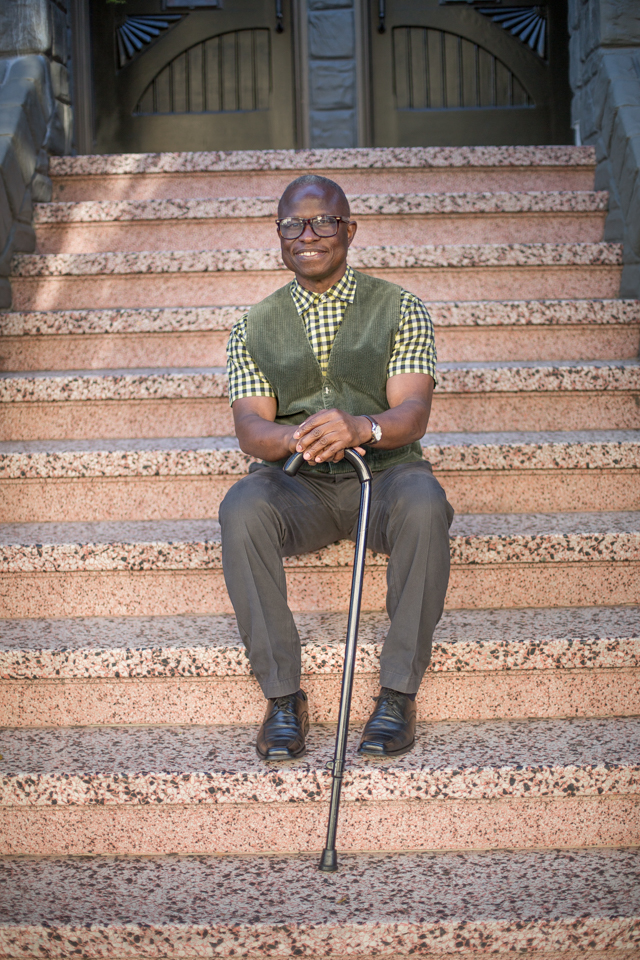 "I was home in Liberia in 1974, and I asked a shaman to tell me my future. He threw down some bones and told me I would move to America. The next year, there was an American family on vacation; they were staying at a hotel and the guy was overcharging them. I talked to the guy, got their money back, and then showed them around during their trip. At the end of their trip, they asked me if I wanted to come back to America with them.
So in 1975, I came to San Francisco. I went to school during the day, and then they had me watch kids at the nursery they ran afterwards. One day, a kid got out from the nursery and someone found them outside in the street. The woman who brought me got angry and blamed me and told me I had to leave."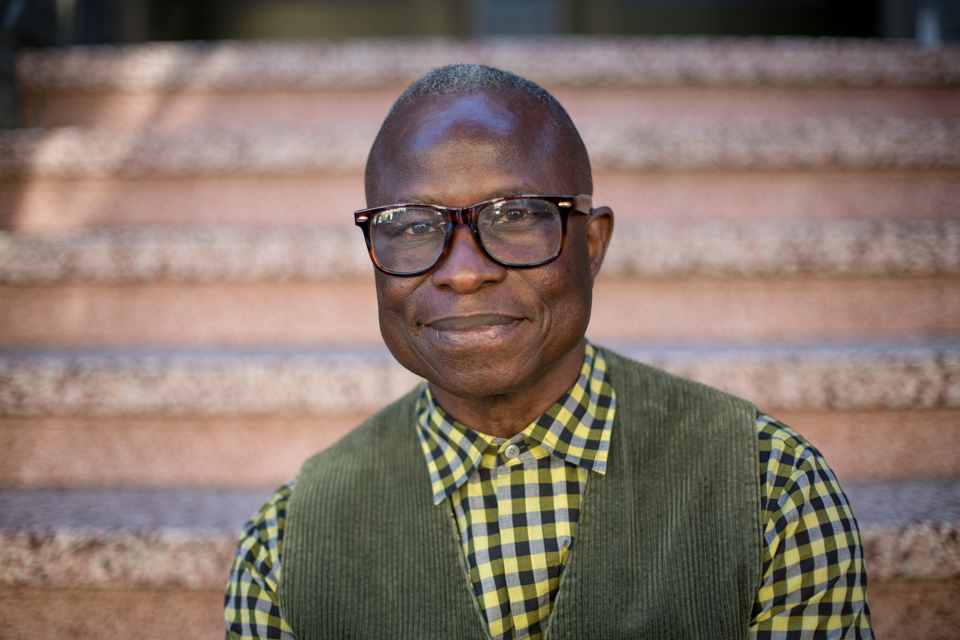 "Being in America has been so fun for me, because Liberia and America are so much alike. I fit in right away. It was love at first sight. I've traveled all over."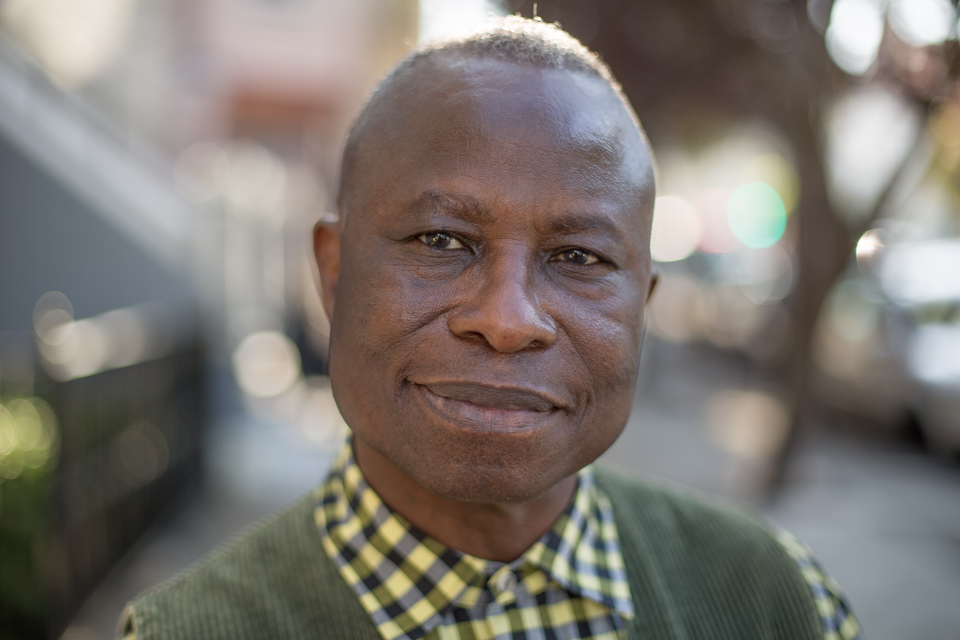 "I lost my family in the Liberian civil war. Seven brothers. I felt like I had lost everything, like I was the only person left on earth. I felt empty inside. Then I met a girl from Minnesota; she was so good-looking, but had some bad habits. I was dating her, and when I was with her, all my troubles went away. But she was smoking some shit. And one day she asked me to try it. I prayed to God and said, if this is my life, then I want to die. After that, I ended up getting arrested, but I explained to the judge what I had been going through, so he only gave me three days [in jail]. I promised never to touch the stuff again ... and I didn't." 
How did you find the strength to make it through?
"Because the love I have for my mother was stronger that that. I love me. And I like to look people in the eye; when I was on that stuff, I couldn't look people in the eye. Now I have my power, my respect, and nothing to be ashamed of." 
Hell yes! What's your name?
"Sankali." 
---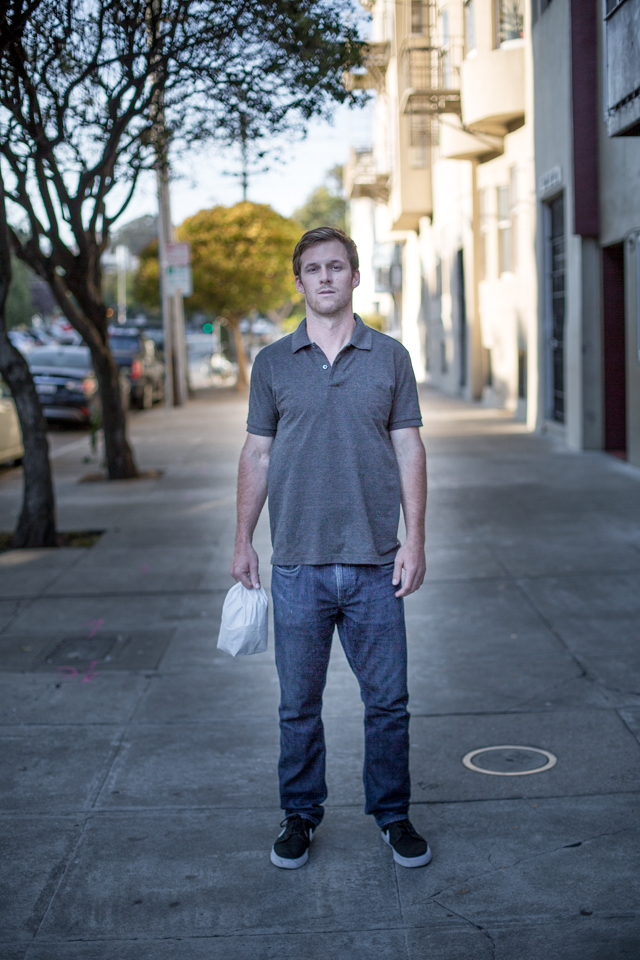 "I was born in the city. I spent some time in the East Bay, but I've been back here going on two and a half years." 
What are you passionate about?
"Music. I like reggae, electronic, indie. Love catching shows at the Independent." 
What's your dream for your time in San Francisco?
"To be able to afford to buy a house sometime. Create a business with friends." 
What kind of business?
"That's a good question." 
---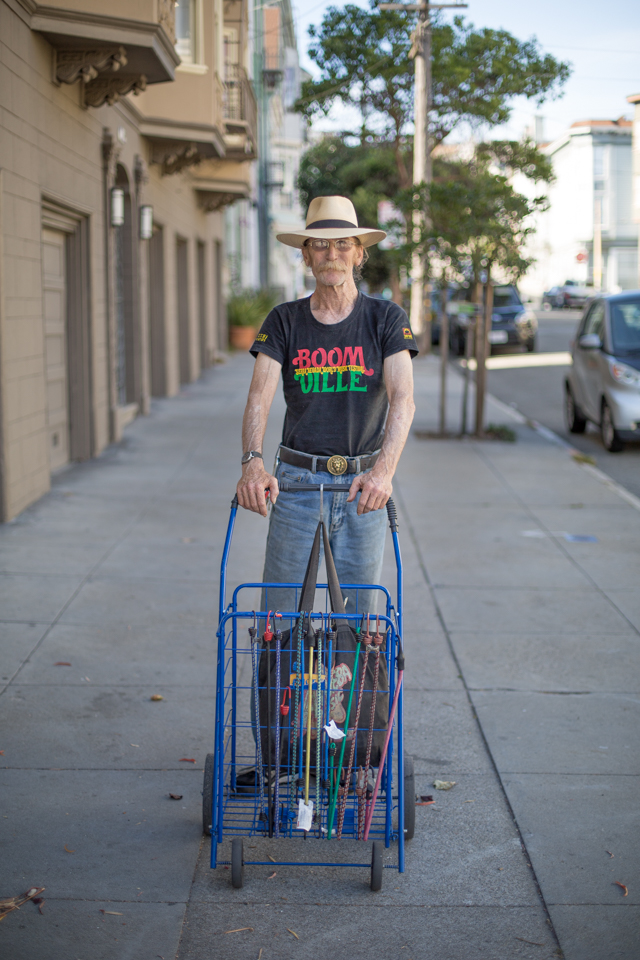 "I've been in this neighborhood since 1989. It's a precarious situation right now. A lot of people who made this city what it is, lower-income people and people of color, are being pushed out. Me and some of my friends call Divisadero 'Poserville.'"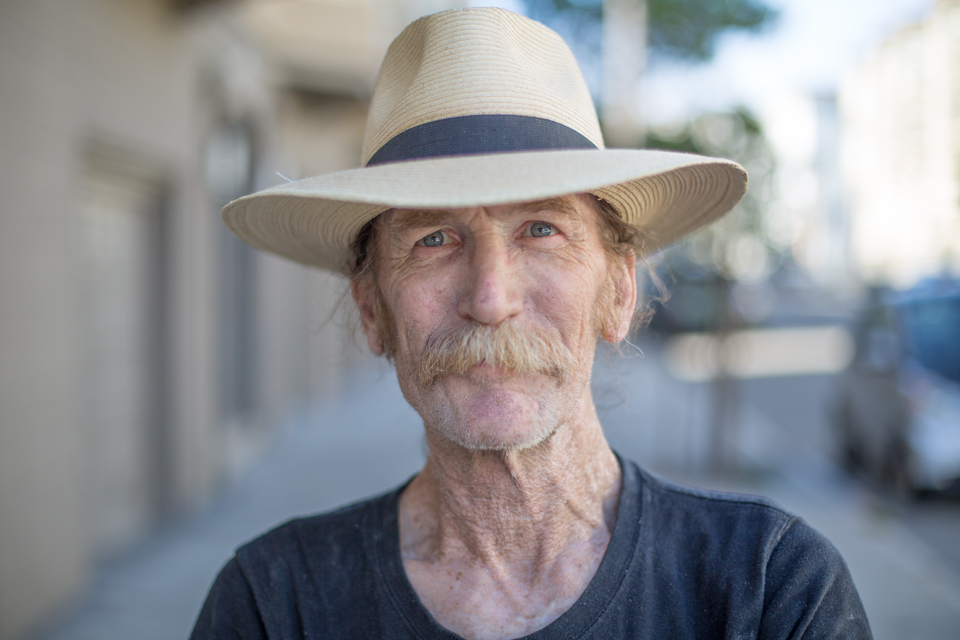 "I've had instances of cosmic consciousness, where I felt interconnected with everything else. One time, I saw a little sparrow next to a wall struggling, so I picked it up and started blowing on its feathers to see what was wrong with it. It stood up, stretched out its wings, raised up its head, opened its beak without making a sound, and then collapsed onto itself and was gone. It danced its death to me. The universe was sending me a message, thanking me for being compassionate."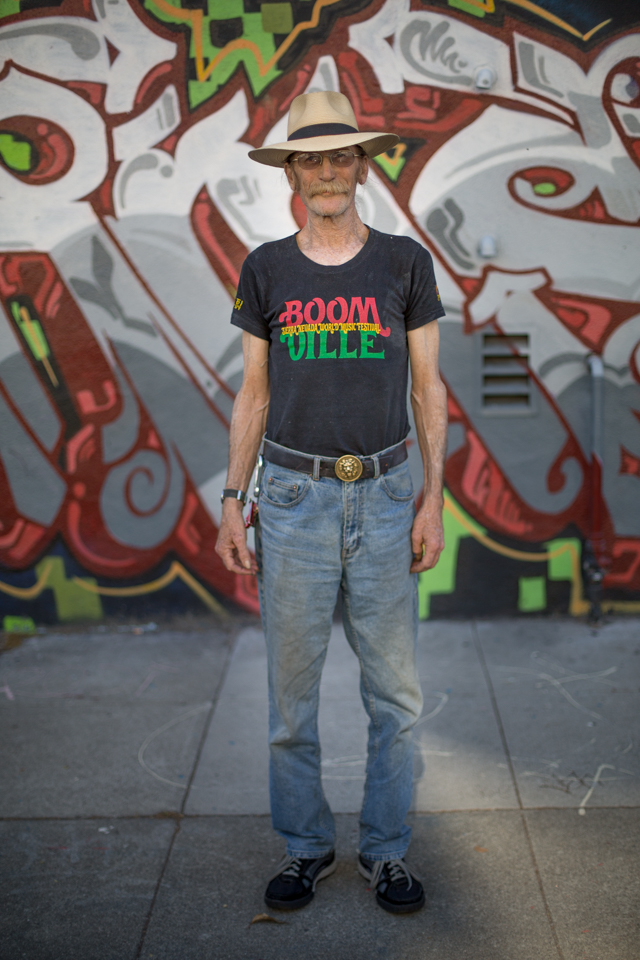 "I used to come over from the East Bay during the Summer of Love, going to concerts at Winterland and the Fillmore." 
Were you part of the psychedelic movement?
"I consider myself an OH: Original Hippie."
How were psychedelics involved in the expansion of consciousness?
"Psychedelics were the primary art form of the '60s. They expressed the energy of the time. People exploring different ways of obtaining higher consciousness. There was major social upheaval at the time." 
During my trips, I feel like I've connected with many different planes of consciousness and beings. You ever have those types of experiences?
"One time, I watched the sky catch fire. The whole sky was nothing but flames. I was looking around at everyone and couldn't understand why everyone else wasn't freaking out. And then I was like 'Oh, I'm on acid. This is pretty cool.'" 
I used to be more willing to try anything, but after doing so much, I feel like I need to integrate all the things I've seen and experienced. Now, since I switched to being vegan, just eating plants has me super-connected to trees and more sensitive to animals.
"I'm 65 and I've been vegan just over half my life. You walk much more lightly on the planet. You need a lot less sleep. I get cuts and they heal a lot faster. There's a whole lot less toxins in your body, so your body doesn't have to work so hard to detoxify itself and you have more energy for other things." 
---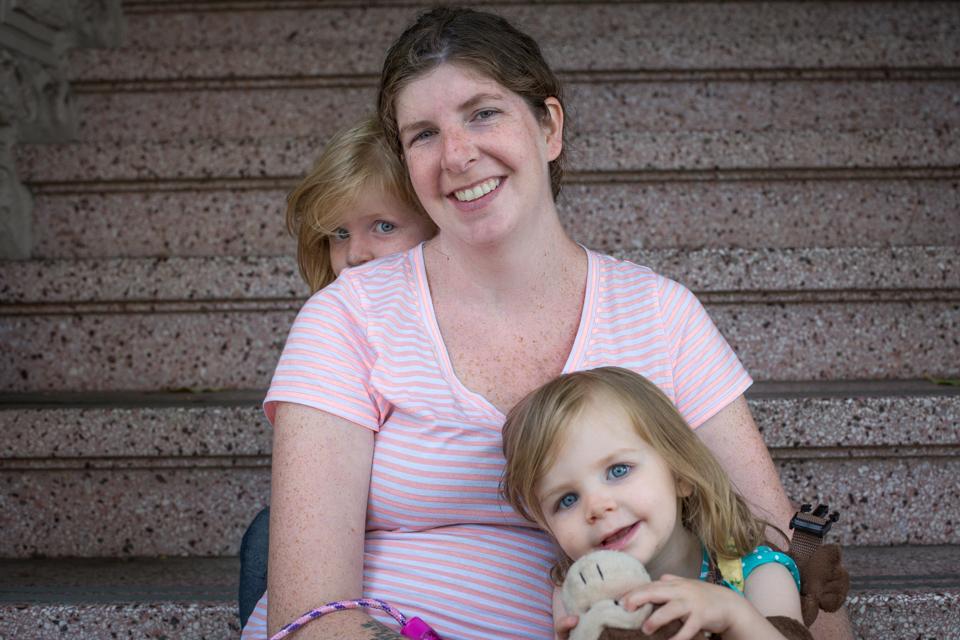 What's one of your favorite things about being a mom?
"Just sharing the little pieces of joy that light up their day. And especially in San Francisco, the sense of community we have. We're from Atlanta, and everyone has their own yard and their own space and it takes so much effort to see people. Here, we all meet at the park and really get to know each other."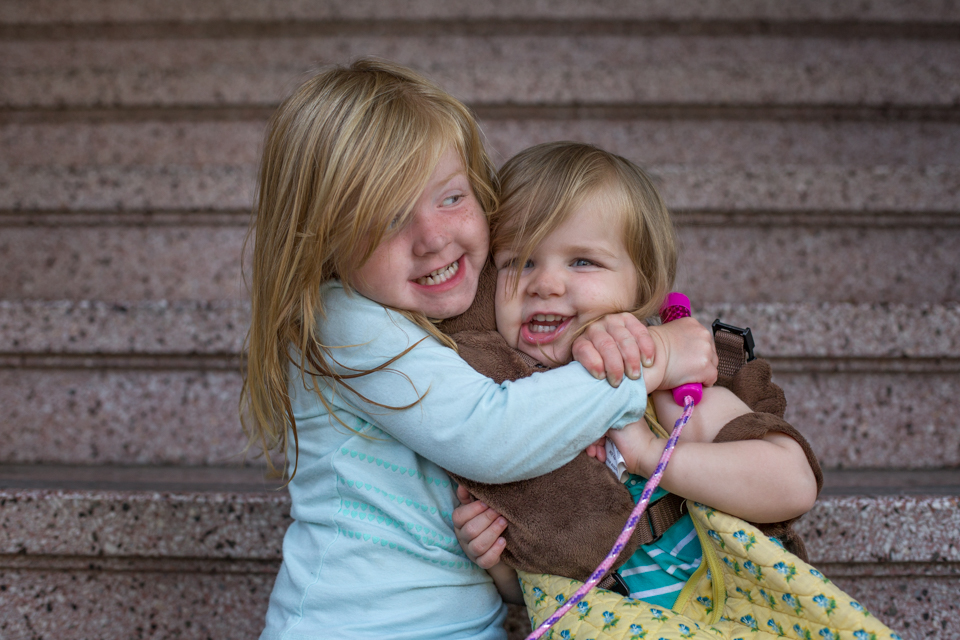 What do you love about your sister? 
"Hugging her!"