On a recent Friday morning, two of the Tenderloin Leadership Community's youthful participants, Monica Hinojosa and Carolina Moscoso, met at the Indochinese Housing Development Corporation in preparation for their bi-monthly meeting. Both have long histories in the neighborhood, and while they have pressing issues to discuss, it's clear they're also relishing the opportunity to meet with like-minded people in their age group.

Carolina experienced homelessness in her last year of of high school and first year of college. Unstable housing situations have always been a factor in her life, but she's been able to find her own path: she recently graduated from Mills College, and now lives in permanent housing in the Tenderloin.
"This group is meant to help us to grow and build our leadership skills," she says. "It's created a safe space for us to meet every other week. We talk to each other and inform each other about what's going on. This group values our voices and allows us to express ourselves."
The Tenderloin Leadership Community began last July, when the Homeless Children's Network expanded its work with underserved youth populations to the neighborhood. Through a grant funded by the Mayor's Office of Housing, TLC engages and recruits transitional-age Tenderloin youth with a history of homelessness or utilizing services in the community. Carolina and Monica are two of its members. 
"It's a lot about serving homeless or previously homeless young people, [ages] 16 to 23, and providing youth leadership skills," says Andrea Davis of HCN, who facilitates the project for 15 hours each week. "Right now, they are doing a lot of volunteerism in the community. They have served breakfast at Glide; they've done a 5k run for the Homeless Children's Network. We did gardening at TNDC. Anything that relates to understanding the services in the Tenderloin and the history in the Tenderloin."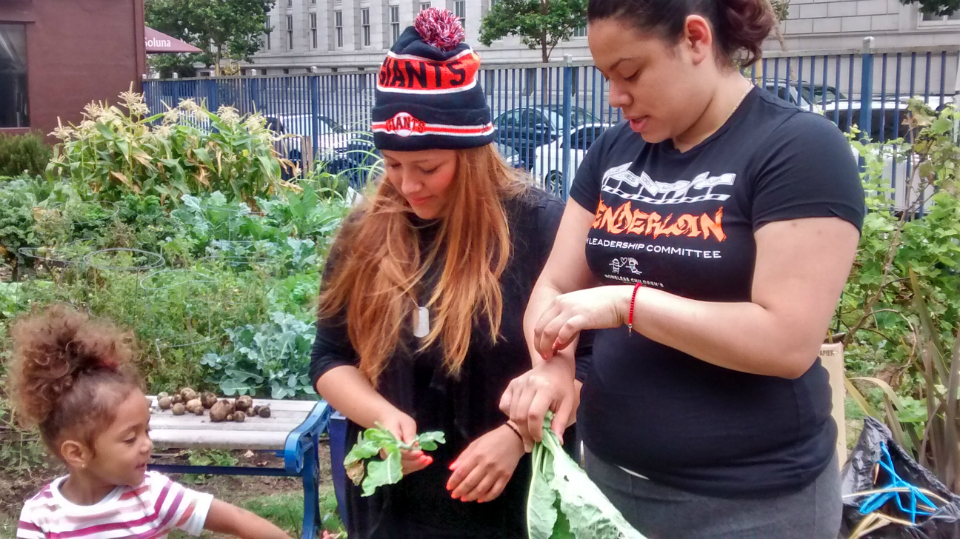 TLC youth volunteering at the Tenderloin People's Garden. (Photo: Andrea Davis/HCN)
"[Youth from the Tenderloin Leadership Committee] have witnessed a lot; they have backgrounds that reflect the kind of issues that tend to occur more in impoverished areas, so they are drawing on their own backgrounds and their own use of services in the Tenderloin in what they do," says Davis. "For them, they like each other, and the schedule is as consistent as possible: it's a fixed part of their life."
Both Carolina and Monica speak candidly about the Tenderloin, using their strong connections to the neighborhood to bolster their advocacy work.   

"The way people look at the Tenderloin just doesn't make sense to me," says Monica, who was born and raised in the Tenderloin and has now lived in the neighborhood for 21 years. "I'm not scared to walk through these streets.  So many people look at this neighborhood like it's bad, and it's not."
Carolina agrees. "It's crazy how we see this as home, and yet other people ... I've had cops tell me that I'm brave because I'm walking through my own neighborhood."
To join the group, members are generally required to be transitional age youth (ages 16-24), low-income, or previously homeless as younger people or kids. While homelessness is something that many of the Tenderloin's youth either face or have faced, it still isn't always easy recruiting youth in the community. As it moves into its second year, the organization is hoping to conduct more outreach and recruit more members.
Those who join will be responsible for project-based learning opportunities that  bring light to the issues of homelessness among their age group, like the TLC's latest project, running writing empowerment workshops for women at A Woman's Place in SoMa. "They are working on developing a curriculum, training facilitation skills, and setting up a time with the shelter for them to come in a couple of times a month," says Davis. 
"I think it's important to not only read books and learn the history, but it's important to also talk to the people that live there to really get the whole picture of what the Tenderloin is like," says Carolina. "With the gentrification that the city in general is experiencing, it's a very interesting time for the Tenderloin, especially with the tech companies that are surrounding us. It's important for the community to get together and get creative and think of ways that we can help each other, so we can stay here. "
Young people looking to become involved in the Tenderloin Leadership Community are encouraged to contact Davis at andrea [at] hcnkids [dot] org for more information about participating. Participants currently meet twice monthly at 375 Eddy St., with additional fieldwork hours required.