On the busy stretch of Folsom between Seventh and Eighth sits Triptych, an eccentric neighborhood restaurant and artistic hub of 11 years. With the renewal of its lease approaching, this favored brunch spot hopes to stay put, but like many other members of SoMa's once-burgeoning artistic community, it may be forced out by rising rents.
"There used to be more artists, more architects, photographers, more people representing occupations with a creative nature [in the neighborhood],"says owner David Kittredge. Kittredge has done his part to keep SoMa's artistic legacy alive; after glancing inside, many patrons wonder, 'Is this an art gallery or restaurant?'
The answer? It's both. From the main dining room to the hallway connecting to the outdoor patio, Triptych's interior is infused with art. "It's colors, fabrics, and arts," says Kittredge. "I've given it a cozy, artistic feeling."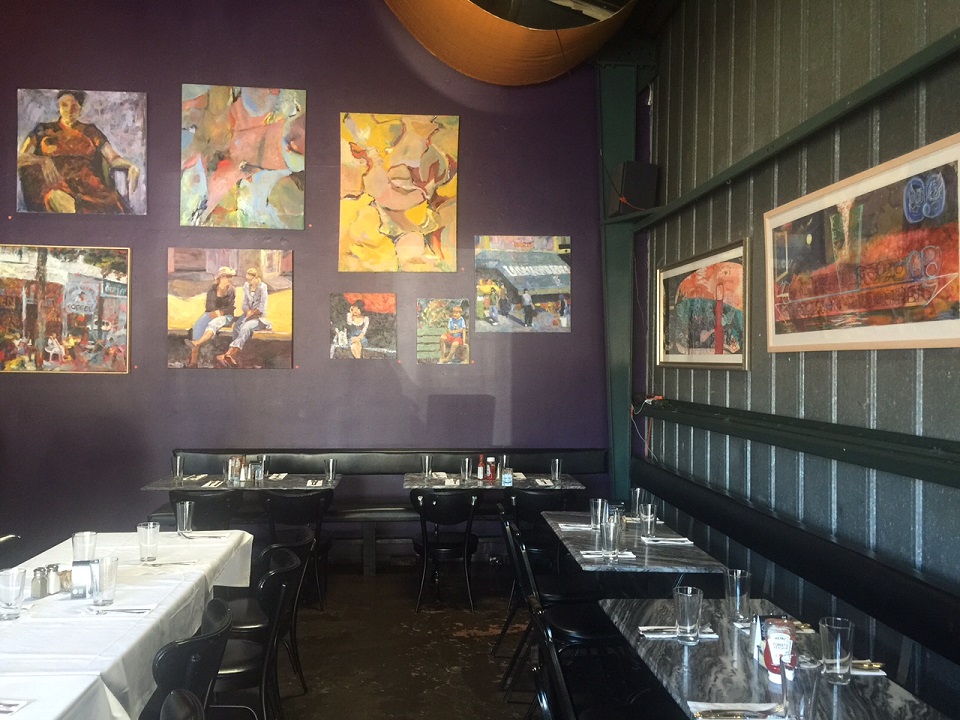 Kittredge, who says he's "been around artists [his] whole life," sources the restaurant's gallery from ArtSpan's SF Open Studios Hub Exhibition program, which enlists local businesses to showcase the work of SF artists. "It's a collective of a lot of different artists, and they use Open Studios as the conduit for working with galleries and getting their work shown," he says, adding that the current exhibition will run from now through November. 
"I love the interaction between the people who admire the work and the artists who might just have this stored in their garage or at home where people can't see it, or appreciate it. My goal is not to sell art; it's the exposure and the interaction," he says.  
The creative approach extends to the waitstaff as well. "I'll look for staff that has a creative background and a restaurant background—but the creative background is actually more important," says Kittredge.
Triptych offers a diverse menu of Southern, Mediterranean, and North African-inspired items. "The general concept is to embrace the diversity and culture of San Francisco," says Kittredge. Some of the restaurant's most popular items are the beignets (also offered gluten-free), polenta cakes, and bottomless mimosas, featuring housemade beet juice.
Triptych takes a health-conscious approach to food, with lots of vegetarian and vegan items. "I like having something decadent on the weekend, but it's going to be natural ingredients," says Kittredge. The restaurant prides itself on its sustainably sourced food and organic/biodynamic wine selection, with offerings from South Africa, Chile, and Argentina.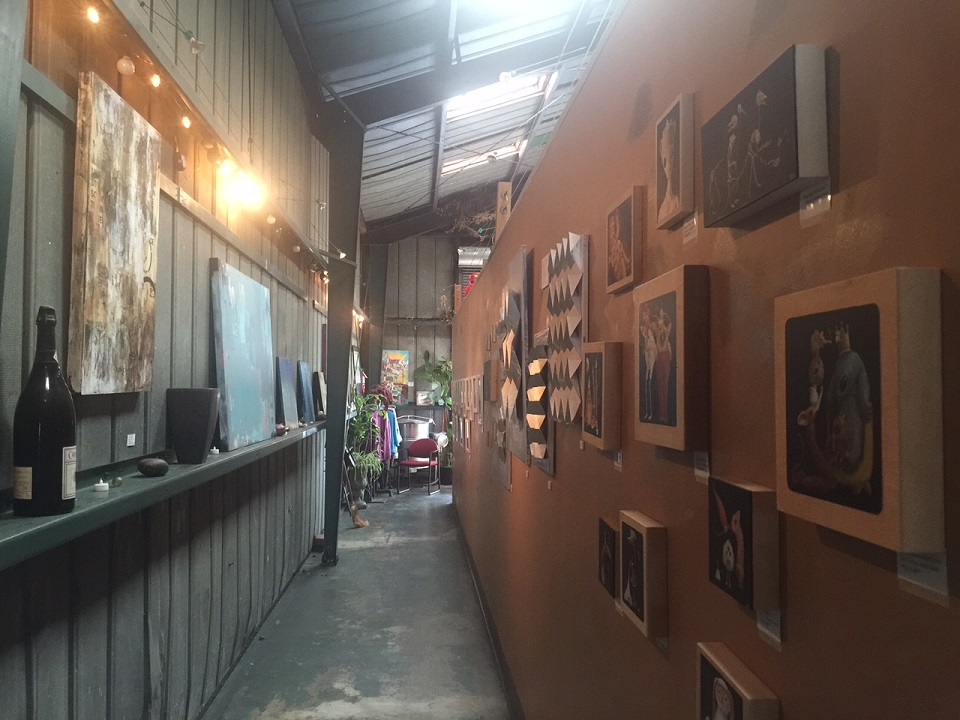 Kittredge, who lived right across the way on Rausch Street when he first moved to SF, has seen a lot of changes in western SoMa over the years. "The rent used to be more affordable for businesses," he says, but he's glad that there are "things that still honor the past of SoMa, which is cool ... its cultural diversity and its fetishes."
With his lease coming up next year, Kittredge is positive but realistic about his prospects for a renewal. "I have my hopes high, but with this area, I don't know what's going to happen. I'll roll with the changes, but it's harder for a small businessperson now in SoMa."
He hopes he can make his case for why Triptych matters to the community. "It's the patio, it's the art, it's the creativity, it's the food."
Triptych is open for brunch/lunch Monday-Friday, 11:30am-3pm and Saturday-Sunday, 9am-3:30pm. Dinner is served Monday-Thursday, 5-10pm, Friday-Saturday, 5-11pm, and Sunday, 5-9:30pm.