Mark Harris wasn't always an artist. He moved to the Bay Area 10 years ago to do corporate work in Palo Alto, but soon thereafter, he realized San Francisco would allow him to reinvent himself—and that's exactly what he did.
These days, Harris' work focuses on police brutality and gentrification, two current hot topics around the city. His art is informed by living in the Tenderloin, where he works with at-risk youth. He also spends a lot of time at his studio in SoMa, on Bryant between Fifth and Sixth streets.
"Mark's artworks confront and engage viewers in dialogue about current political issues, while expressing his emotion and personal identity," said Allison Snopek, programs manager of ArtSpan. "As a longtime San Francisco artist, Mark is well equipped to comment upon the changing economic landscape of our city, and the effect that it has on its artists and residents."
"I always take my camera with me when I am walking to and from my studio, and over the past 5-6 years, I've collected a lot of photographs from all over the city," Mark told us. "I've incorporated a lot of those photos into mixed-media paintings that deal with gentrification."
One of his newest pieces, "Take Me to Your Leader" (pictured below), is part of a series Harris has titled "San Fran-soul-less." "I completed this piece just before last year's election," he said. "All of the photography, with the exception of City Hall, was shot by me. The picture of Ed Lee is my own, captured while walking to and from my studio in SoMa."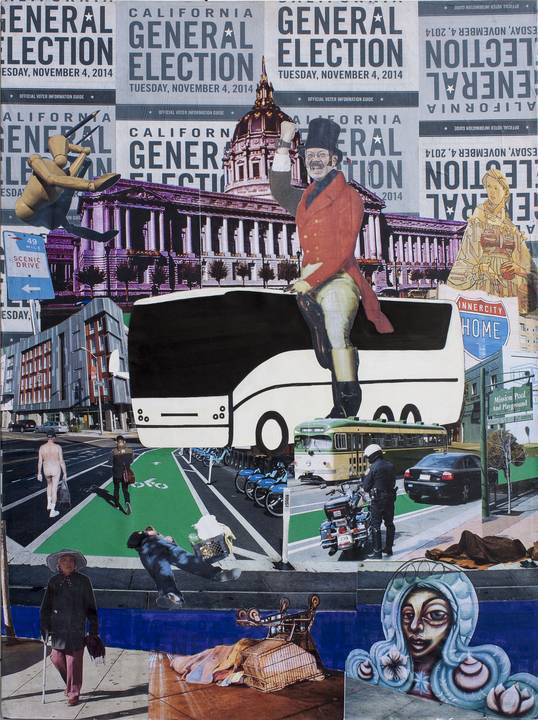 "Take Me to Your Leader." (Image: Courtesy of Mark Harris)
Another of Harris' mixed-media pieces, "Tuned Out," aims to draw attention to the recent spate of police violence, and the racial inequities of the justice system. "Hopefully this work will make people think, and will also create some sort of dialogue about the real situation going on here, and hopefully make some solutions."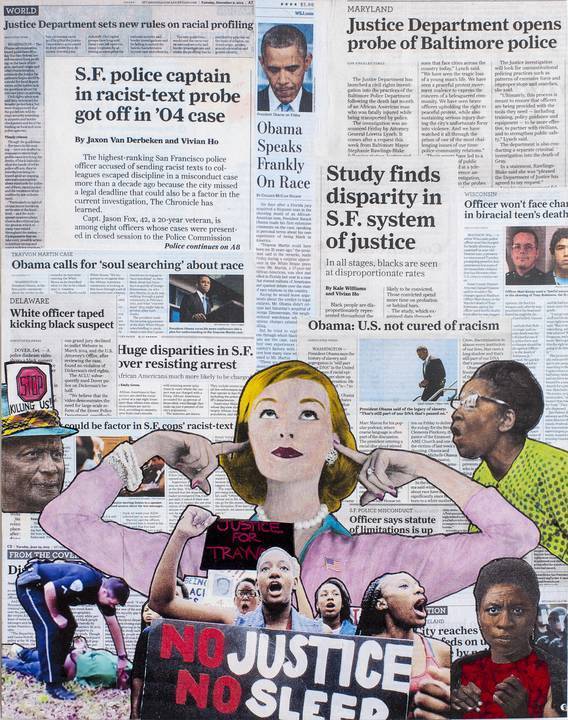 "Tuned Out." (Image: Courtesy of Mark Harris)
Harris' home base, the Tenderloin, has changed a lot in the decade since he first moved there, he said. "I used to see a lot of prostitution around the streets early in the morning, when I was headed to work. I don't see that anymore. You still do see a lot of people who have issues with substance abuse—you see it all times of the day. The neighborhood is getting a little younger and more upscale; restaurants and bars are moving in. It's gotten busier: more people, more horns, people seem more aggressive." 

Harris describes going from the Tenderloin to Hayes Valley, where his girlfriend resides, as "like walking from Redondo Beach into Malibu ... You know, the Tenderloin is changing, but when you come into Hayes Valley, it's really upscale." But despite its higher-end trappings, Hayes Valley is not without its problems, he said. "I see as much, if not more, brazen drug use on the street that [my girlfriend] lives on, which is just mindboggling." 
"It's kind of a microcosm of what's going in the country, you know, the extreme income inequality," he continued. "You have these smells on the streets, but these people coming out of these boutiques with all these bags and getting in their expensive cars. It's hard to articulate and for me, it's easier to sometimes convey this visually, rather than with words."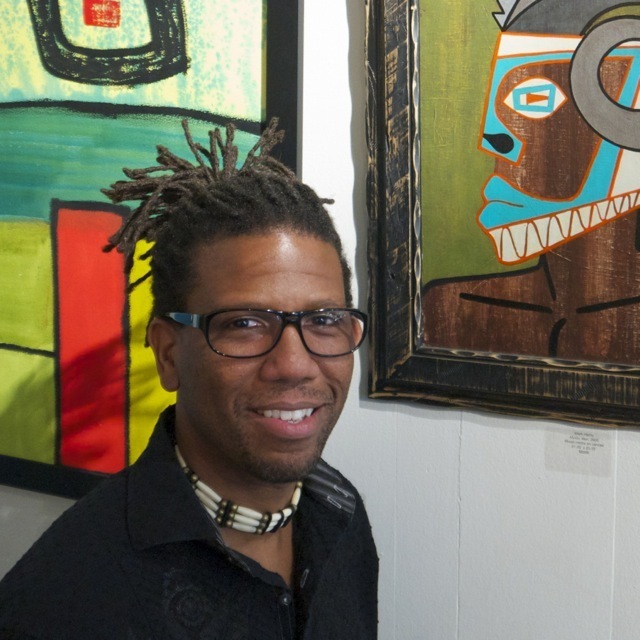 Photo: Courtesy of Kevin B. Jones
This Friday, October 9th, Harris will participate in a live painting demo as part of an ArtSpan-centric edition Friday Nights at the deYoung Museum. Harris, who will be one of three participating painters, credits ArtSpan with much of his success. "ArtSpan has really given me the opportunity to get here as an artist. Without them, I wouldn't have gotten where I am in my career." As a result, "I really like to give back to them if they need artists to do things."

"Not only does Mark participate with live painting and public engagement events like this one, but he is an active member of ArtSpan's SF Open Studios Committee, he helped launch the SFOS Mentorship Program, and he is a teaching artist for our Youth Open Studios program," said Snopek. 
"I do a lot of art education with at-risk youth, particularly with after-school programs at Tenderloin Elementary. I just started teaching at another school, the John Muir School," Harris said. "Basically, wherever I can teach, I do. I really enjoy working with youth because I started drawing when I was seven, and I never really imagined myself as a professional artist."
Harris is hard at work this month preparing for the SoMa edition of ArtSpan's SF Open Studios event, to be held on October 31st. He said he's excited to showcase his evolution as an artist. "The work that I am going to have for SF Studios this year is going to be going to be a different style than anything I've ever done before."