Back in August, local developer Group i began making the rounds of Tenderloin community meetings to float new ideas for the residential and hotel development the firm is planning for the 900 block of Market Street. Now, renderings of the site's potential future have been launched online.
According to their website, Group i envisions revamping a dilapidated stretch of vacant and under-used buildings to create a new "gateway" to Mid-Market. "950-974 Market will not only energize and reactivate the block of Market between 5th and 6th Streets, it will also pay close attention to its neighbors on Turk and Taylor Street to ensure there is a sense of shared experience around the project," the firm says.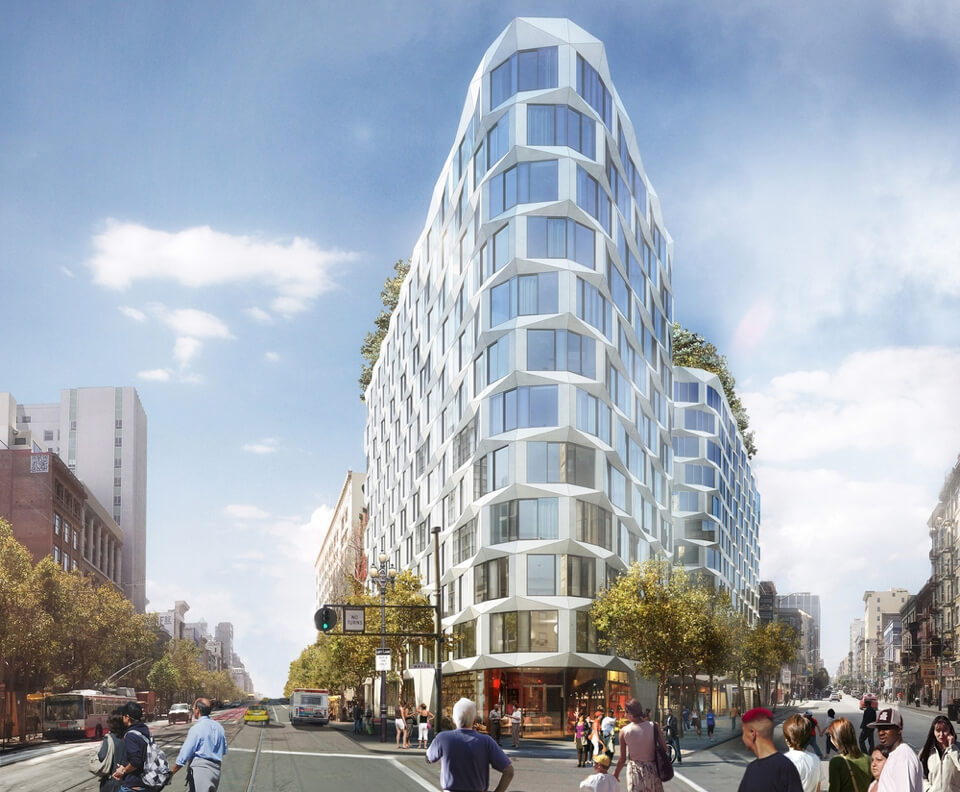 As proposed, the 120-foot-tall project would include a 230-room hotel, a mixed-income residential complex and a dedicated 2,000-square-foot space for nonprofits. While new specifics on the hotel and nonprofit space haven't been disclosed, Group i now states that the residential development will include about 250 "compact" and "moderately-priced" homes aimed at first-time buyers, with the required below-market-rate minimum of 12 percent (30 units).
According to Group i, the design, which was originally conceived by Bjarke Ingels Group (BIG) and refined by Handel Architects, "addresses the challenging proportions of the irregularly-shaped site on the corner of Market and Turk Streets ... the façade is a modern interpretation of the San Francisco bay window, and has evolved to reflect the scale of the adjoining buildings on each frontage."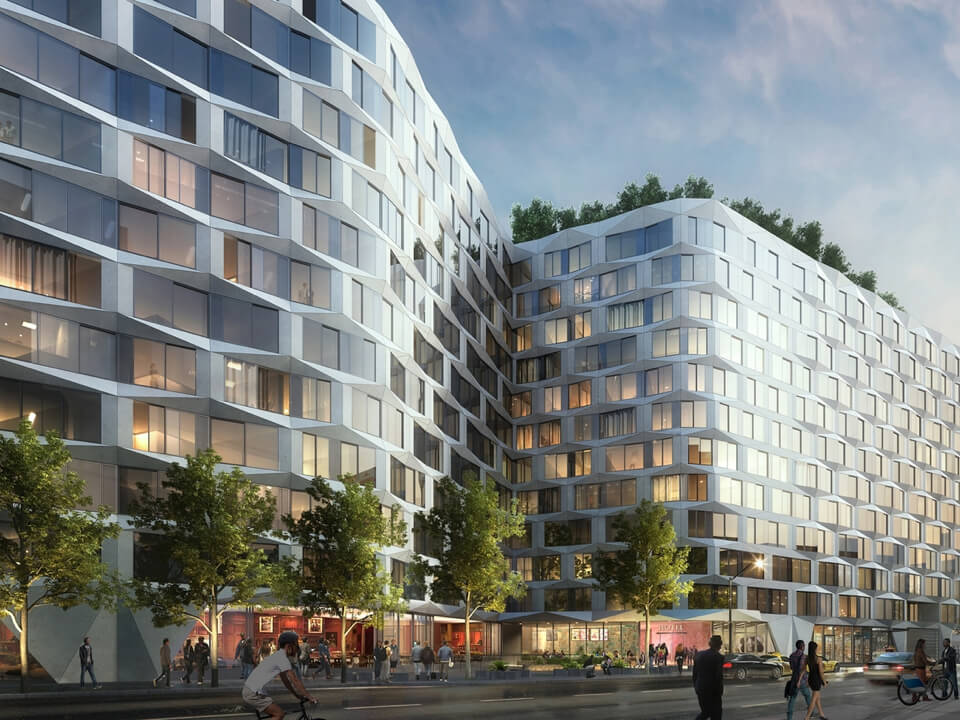 While the project's public open spaces aren't emphasized in the new renderings, Group i's website does note the many improvements it plans to make to Turk Street. The sidewalk will be reconstructed and widened, and a parklet suitable for "flexible outdoor spaces for gatherings, exhibits, and small performances" will be added. And as Group i previously stated, the hotel's main entrance will be located on Turk Street, which will encourage tourists to explore the Tenderloin.
The plans also call for 15,000 square feet of ground-floor retail space at Market and Turk streets. Storefronts will feature floor-to-ceiling windows, "to provide a transparent connection to the street," the developer states. 
As for the project's timeline, Group i expects environmental review to be completed by the end of this year, and hopes to break ground in 2016 and complete construction within two years. We'll share updates as the project continues to move through the planning process.