While the city has been focusing for years on turning Mid-Market and the Tenderloin into the historic theater district it once was, there's now no chance that the Market Street Cinema will join those efforts. Yesterday, the Planning Commission approved plans to demolish the 103-year-old building on Market between Sixth and Seventh streets, and replace it with an eight-story mixed-use building.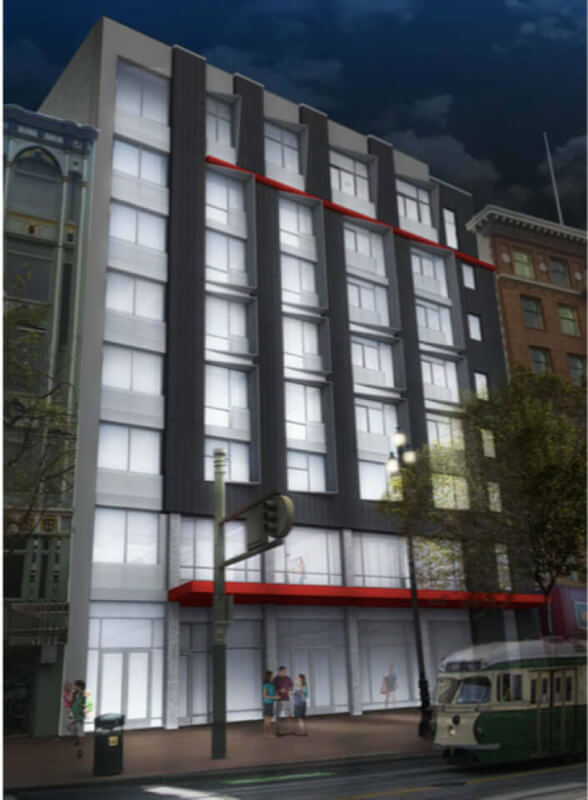 Renderings: Encore Funds
The original 50-foot-tall building was constructed in 1912 as Grauman's Imperial Theater. It changed hands, names and attractions many times throughout the following century, becoming Market Street Cinema in 1972. Over the next 40 years, it transitioned from a movie theater to a porn theater and eventually to a strip club before closing for good in January 2013.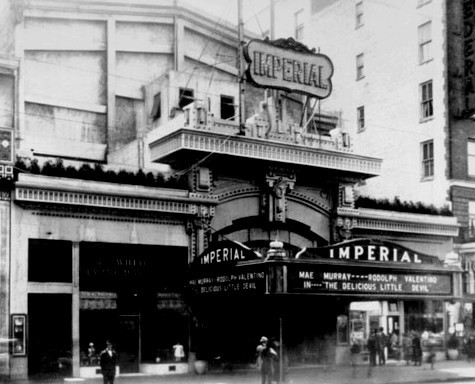 1077 Market St. as the Imperial in the 1930s likely around 1919. (Photo: Cinema Treasures)

While the theater is located within the Market Street Theater and Loft Historic District, which is listed on the National Register of Historic Places, the Planning Department states that the  many redesigns it underwent stripped it of its defining architectural features, making it ineligible for the California Register of Historical Resources.
With the commission's approval, 90 units (11 affordable) will rise in its place. Resident amenities will include an outdoor terrace on the second floor, a roof deck with green space and a dog run, and a few private balconies.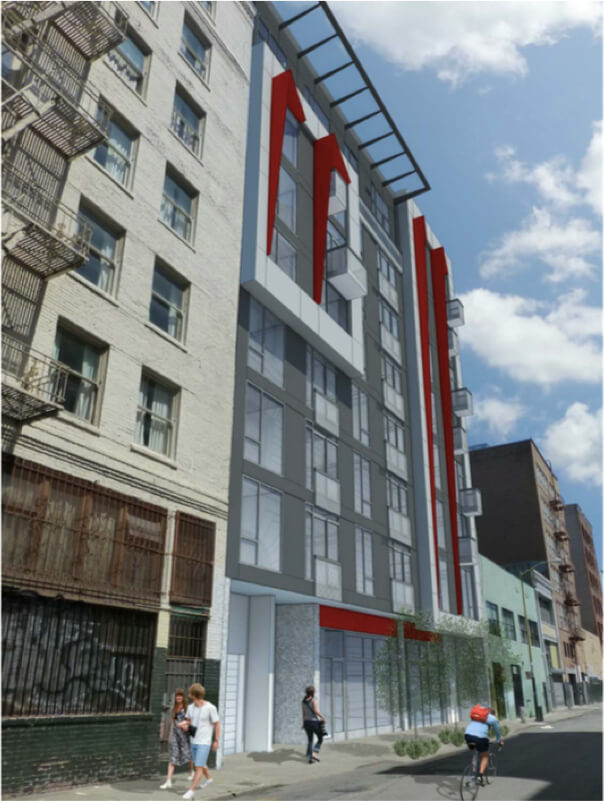 View from Stevenson Street.

There will also be about 8,500 square feet of ground floor retail, with spaces fronting both Market and Stevenson, as well as 24 vehicle parking spaces and 92 bike parking spaces in the basement.
While the decision was unanimous, the Examiner reports that at least one commissioner wasn't thrilled by the idea of demolishing a theater. (The ghosts rumored to be camping in the basement may not be too pleased either.)
The developer estimates that construction will take 20 months and ground could potentially be broken before the end of this year.