Someone reading the front page of the October 22, 1928 edition of the San Francisco Chronicle might have believed the world was getting smaller: aviation pioneer Charles Lindbergh was scouting a route for a two-day, cross-country air-mail service; Goodyear Zeppelin Corp. was considering investing $15 million into a four-day transatlantic route; and the new N line of the San Francisco Municipal Railway was finally in service.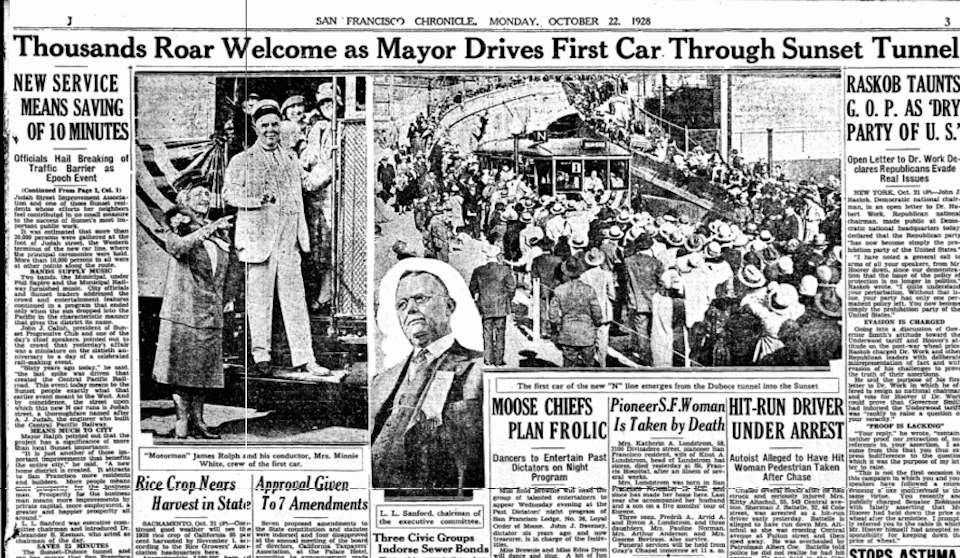 Page 3 of the Chronicle, 10/22/1928.
According to the Chronicle, approximately 10,000 people turned out along the trolley's route, with an estimated crowd of "more than 20,000 persons gathered at the foot of Judah Street." Attendees were treated to performances by the Municipal Band and the Municipal Railway Band, fireworks, dramatic readings, and a procession of politicians who read congratulatory telegrams.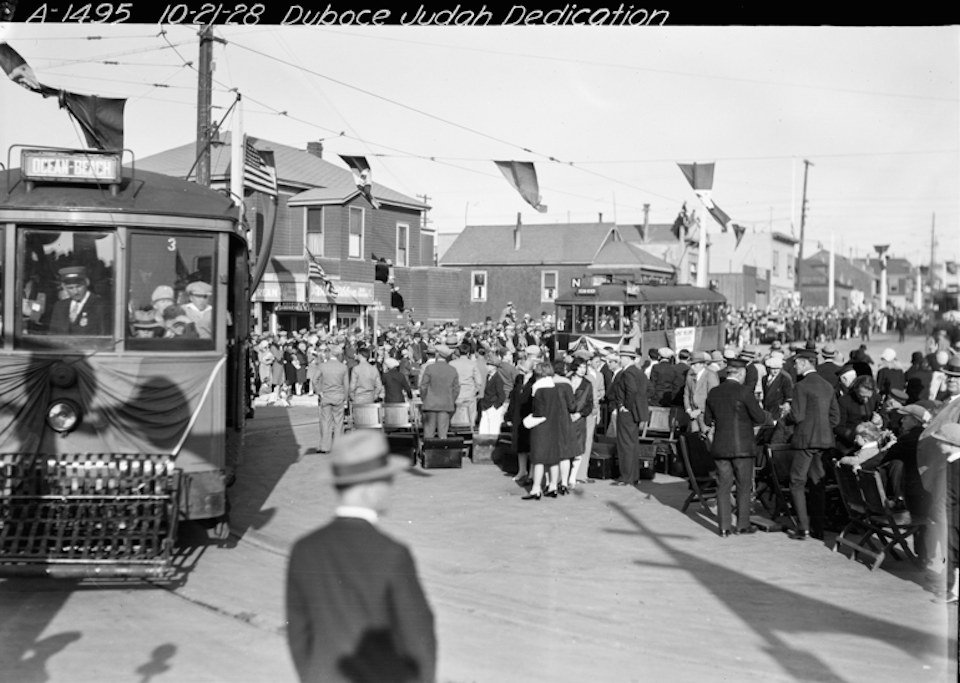 The crowd celebrates at La Playa terminus, 10/21/1928. (SFMTA Photo Archive)
Mayor James Rolph acted as honorary motorman in the lead car, followed by a trolley containing a 60-piece accordion orchestra and 12 "other cars carrying city officials and officers of Sunset organizations," along with schoolchildren and citizens who had enough pull to score an inaugural ride. When the first car emerged from the new Sunset Tunnel at the intersection of Carl and Cole, "an airplane showered the crowd with congratulatory cards."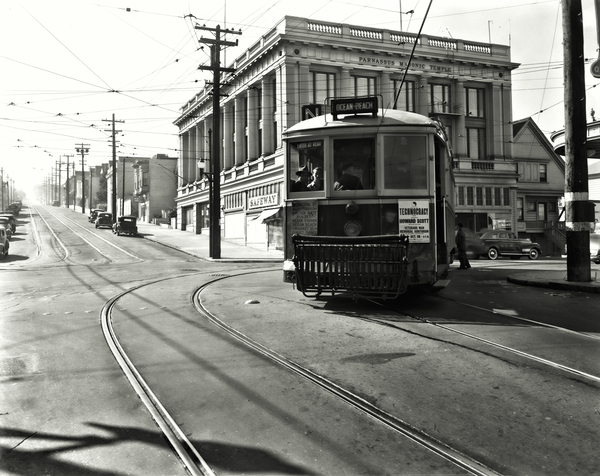 An N-Judah train makes a turn in 1940. (SFMTA Photo Archive)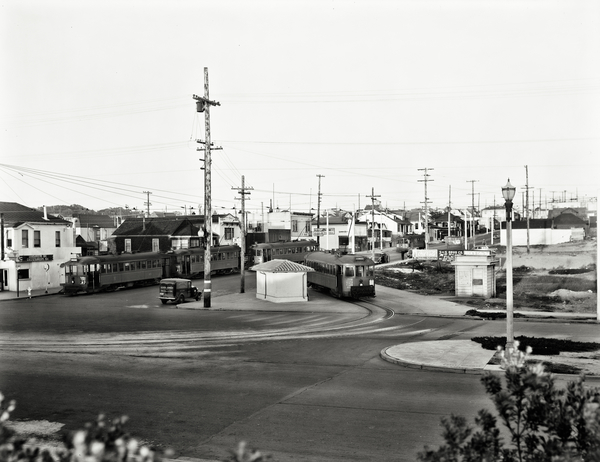 The N line's terminus at Ocean Beach, circa 1940. (SFMTA Photo Archive)
For representatives of groups like the Sunset Improvement Association and the Judah Street Association, that first ride from the Embarcadero to La Playa was a victory lap. Neighborhood associations were powerful advocates for improved transit in the Outside Lands; for a growing population of homeowners, the ability to get downtown easily was a leading quality-of-life issue.
For years, associations lobbied the Municipal Railway and its competitor, United Railroads of San Francisco, to improve service west of Twin Peaks. The needed Sunset Tunnel, built under Buena Vista Park from Duboce to Clayton, was the subject of a lot of controversy (for more, see our story about it), but it was eventually approved in 1925, four years after the tunnel was first proposed.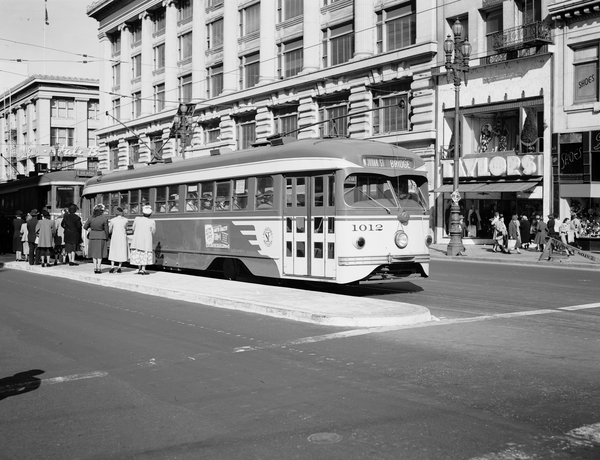 N-Judah streetcar #1012 makes a stop at Market and Fifth in 1949. (SFMTA Photo Archive)
The new line was designed to cut beach-to-bay travel times down to approximately 36 minutes. As with many Muni lines, that's a shorter run than it currently offers: the SFMTA estimates that a weekday rush-hour passenger who boards at Judah & La Playa today will arrive at Embarcadero Station about 43 minutes later.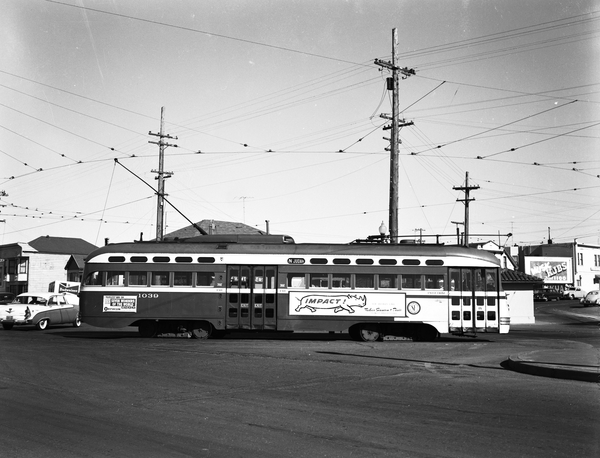 An N-Judah train in 1956. (SFMTA Photo Archive)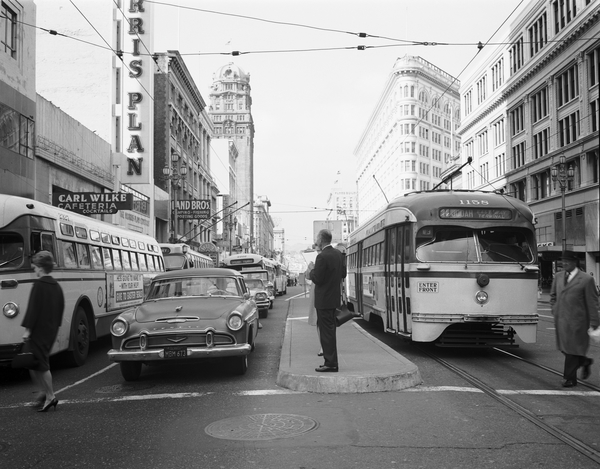 An N-Judah train looking west at Third and Market, 1963. (SFMTA Photo Archive)
In short order, the new N-Judah line became the gateway to the city's west. Realtors began citing a property's proximity to the new line to stir interest, and in just a few years, a new commercial district sprang up along Judah Street. Developer Henry Doelger purchased 14 blocks of land between Judah and Kirkham in 1926, after the Sunset Tunnel was announced; he would go on to build nearly 3,000 homes in the area by 1932.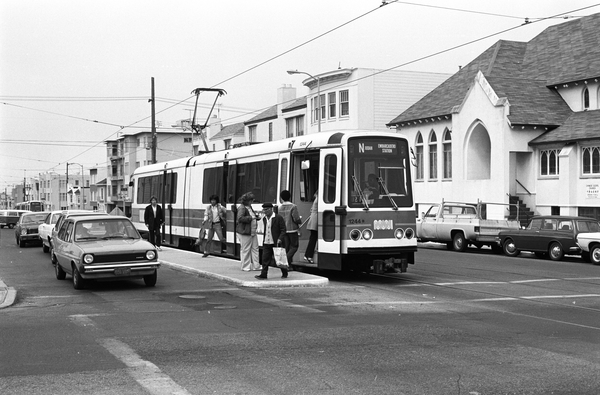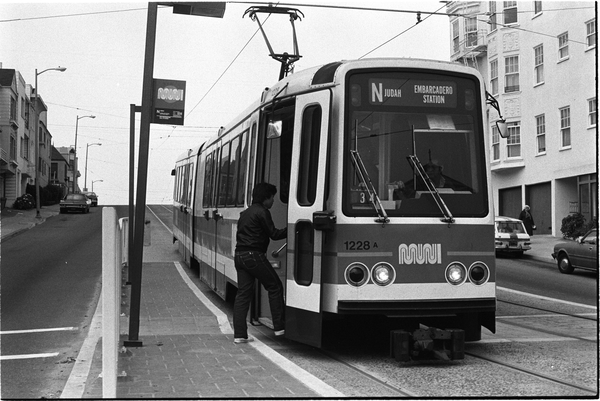 Passengers board the N-Judah in 1981. (SFMTA Photo Archive)
Today, the N-Judah is the SFMTA's most-traveled line, carrying more than 40,000 passengers on an average weekday. About half of all riders climb aboard between the Sunset Tunnel opening at Carl & Cole and the line's terminus at La Playa. To shave travel times, SFMTA is investing in numerous improvement projects near these 21 western stops, including the Nx Judah express bus and streetscaping projects in the Inner Sunset and Outer Sunset.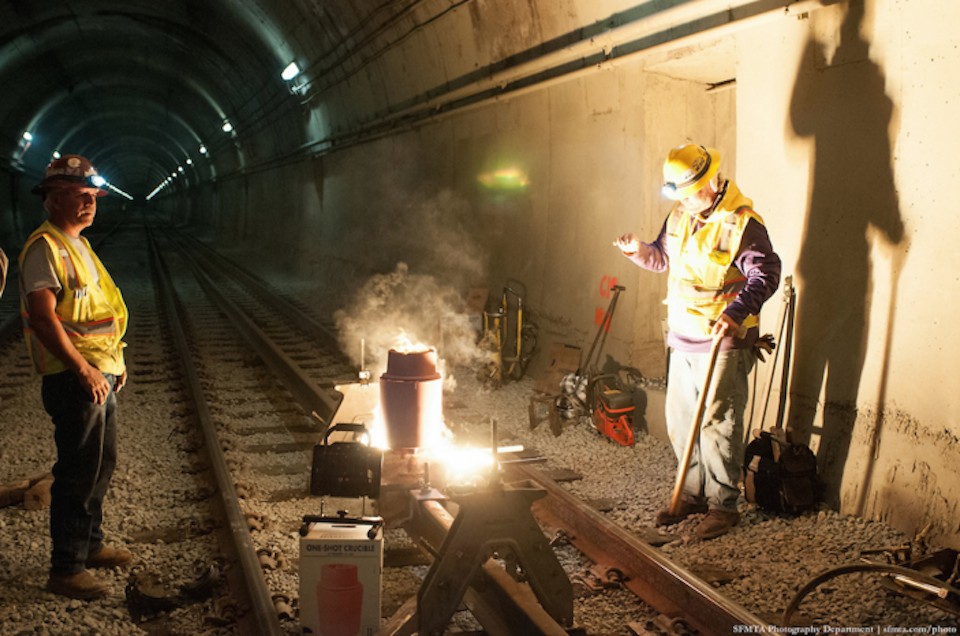 Crews doing Sunset tunnel repair work, May 2015. (SFMTA Photo Archive)
To see more photos from the N-Judah's 1928 opening day, read the SFMTA's celebratory blog post.