After last week's reports of two separate gas leak incidents on the Masonic-Ashbury block of Haight Street, some action is being taken to prevent further mishaps on the block, which had also had three more gas leaks in previous weeks due to construction on the Haight Street infrastructure project. 
On October 9th, District 5 Supervisor London Breed's office asked that work on the project be stopped, and that the contractor (Ghilotti Brothers) and subcontractor (Synergy) be fired. While the contractors have not yet been taken off the job, work has once again been halted. "This should have happened after the second gas leak mishap," Supervisor Breed said, according to an email from her aide, Vallie Brown.
For those keeping score at home, this marks the fifth gas leak on the same block: April 29th, August 27th, September 16th, October 6th, and October 8th (and, for good measure, a sinkhole opened up on the same block on May 7th, and another leak occurred on Baker between Oak and Page on July 29th). As a result, a water-line replacement project that began in August and should have taken two weeks has stretched to several months.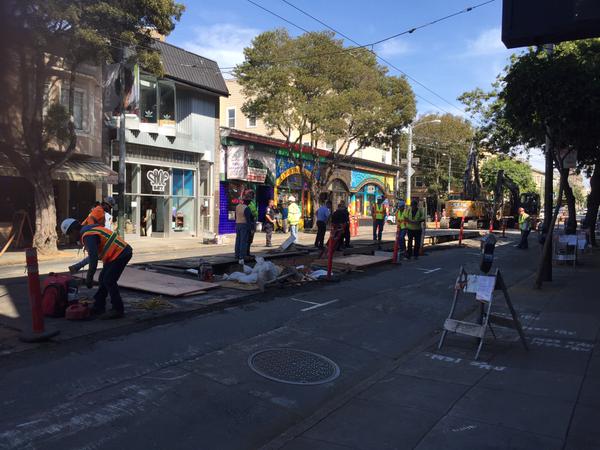 Photo: Andrew Wooster
Each gas line break has been a huge disruption for Haight Street merchants. During the Aug. 27th leak, Haight Street was closed to cars and pedestrian traffic from Masonic to Ashbury for almost four hours. During the September rupture, the Pork Store was forced to close. For the most recent gas leak, not only was street traffic blocked off, but employees were asked to evacuate. 
"There's a clear need to balance safety along with getting the work done," Booksmith owner Christin Evans, who's also a board member of the Haight Ashbury Merchants Association (and this author's employer), told us after Thursday's incident. "We're encouraging merchants to file claims with the city because of lost business due to construction and the gas leaks." HAMA plans to compile the individual claims to present to the Small Business Commission and the mayor's office.
There seems to be no conclusion as to who's responsible. PG&E blames the contractors for not using hand tools while cutting the street, while the contractors blame PG&E for providing inaccurate and outdated plans. That said, if Haight merchants decide to file claims for damages incurred during gas ruptures (via this process), the city of San Francisco will be the one footing the bill.
As of this writing, neither Ghilotti Brothers nor Synergy have been fired from the project, but KQED reports that San Francisco Public Works is talking to its attorneys about what will happen next. We'll keep you apprised as the situation develops.