It's a tale of fashion, culture, intergenerational respect, subway construction, business boosterism, and community cooperation. And it all comes together as beautifully as a Chinese grandmother's colorful outfit.
As anyone who's walked the streets of Chinatown knows, some of the seniors there have a flair for fashion. Writer Valerie Luu and photographer Andria Lo set about chronicling them back in 2014 for a feature in The Bold Italic called Chinatown Sartorialist.
Recently, the Chinatown Community Development Center (CCDC) asked them to reprise their project and partner with them to help Chinatown businesses hit hard by the Central Subway construction along Stockton Street, which started in 2013 and will run through 2017, according to the SFMTA. They asked if Luu and Lo could produce an exhibit at 41 Ross Alley so they could tie in a promotion to "Shop Chinatown"—focused mainly on the clothing boutiques along Stockton Street between Sacramento and Clay streets. The duo agreed.
The 'Chinatown Pretty' show opening is 4pm–9pm December 4th at 41 Ross, with complimentary beer and dim sum, and runs through February 28th, 2016. Anyone who spends at least $10 at one of the 18 participating stores will get a raffle ticket and can enter to win gift certificates totaling up to $500, and all raffle tickets must be deposited at 41 Ross Alley by 3pm December 20th. That way, shoppers can get a look at the art when they drop off their tickets.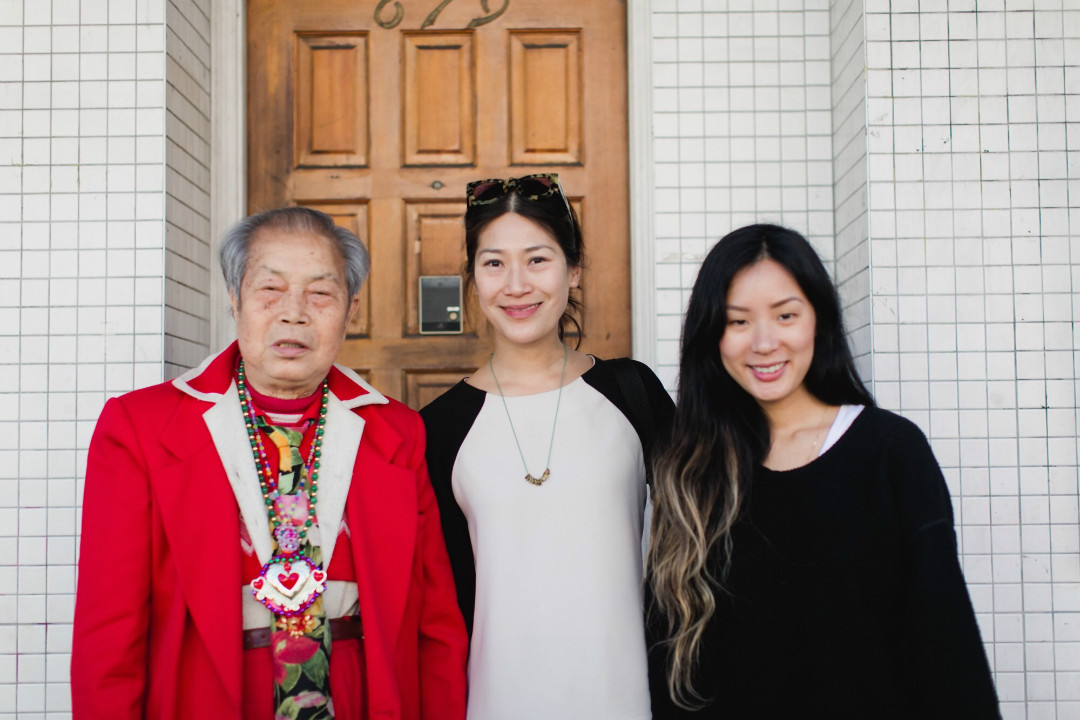 You Tian Wu, Andria Lo and Valerie Luu. (Photo: Tricia Choi)

Shop Chinatown has more details on the exhibit and promotions, including a store directory. Luu and Lo built the Shop Chinatown website and also post profiles on their Chinatown Pretty blog. CCDC got grants from the Mayor's Office of Economic and Workforce Development and SFMTA for the programs.
This is the second time CCDC s done something like this. It launched a Shop Chinatown promotion in 2013 for about a month during the Lunar New Year season and included 80 businesses. This time, CCDC wanted to hone in on the businesses suffering the most.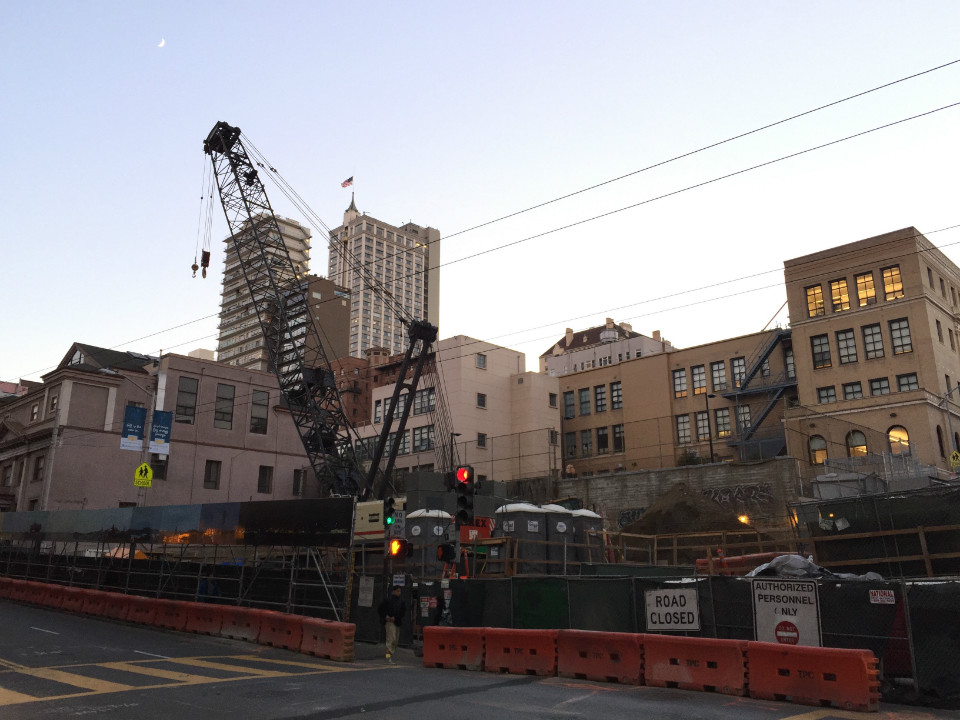 Central Subway Chinatown station construction. (Photo: Geri Koeppel/Hoodline)
People always need to shop for groceries, said Roy Chan, a community planner with CCDC, but business has dropped considerably at the apparel shops during subway construction. "The clothing stores suffered more during difficult times, and this is a way to showcase them and their importance to the community," he said.
"This is a really neat intergenerational project," Chan continued. "It was a way to humanize many of the folks we work with an to the public and share their stories in a really fun way. It just connected with folks." It connects fashion, style, culture and business. And because CCDC is working with the Chinatown Cultural Center to activate Ross Alley, they thought it would be a good home base for the campaign.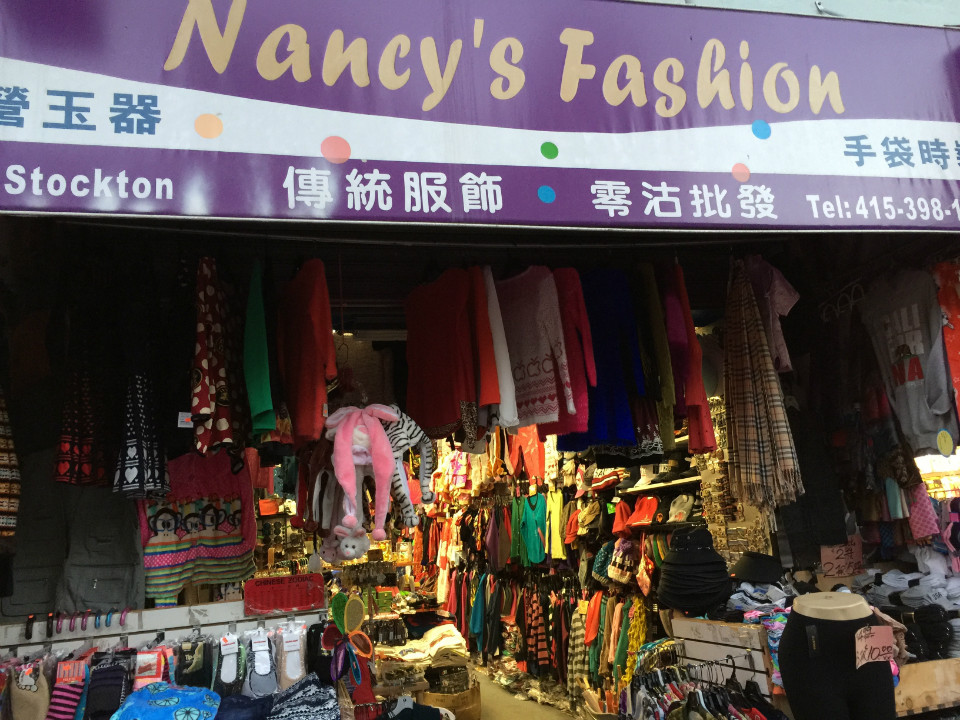 Nancy's Fashion at 1012 Stockton St. is one of 18 stores featured with Shop Chinatown. (Photo: Geri Koeppel/Hoodline)
Luu—who also co-owns popular Vietnamese pop-up Rice Paper Scissors—explained how they choose their subjects: "When we turn a corner and see someone whose outfit makes our hearts explode. It's someone who brings joy. It's very colorful, its unexpected. Even though they say they don't try, it's like 'no, you put some thought into this.'" 

Lo added: "We tend to be drawn to folks over 70, and a lot of times their fashion is from a different era, but also they look like they have a story. We're scouting for visuals first, but really it's a chance to talk to them."
Many of the clothes Luu and Lo love are handmade and many are vintage, they said. They're "tailored to them with fabrics you don't see anymore, patterns you don't see anymore, cuts you don't see anymore," Lo said. "A lot of them do get their stuff from China," or in the Chinatown boutiques. Several said their clothes were gifts from family or friends.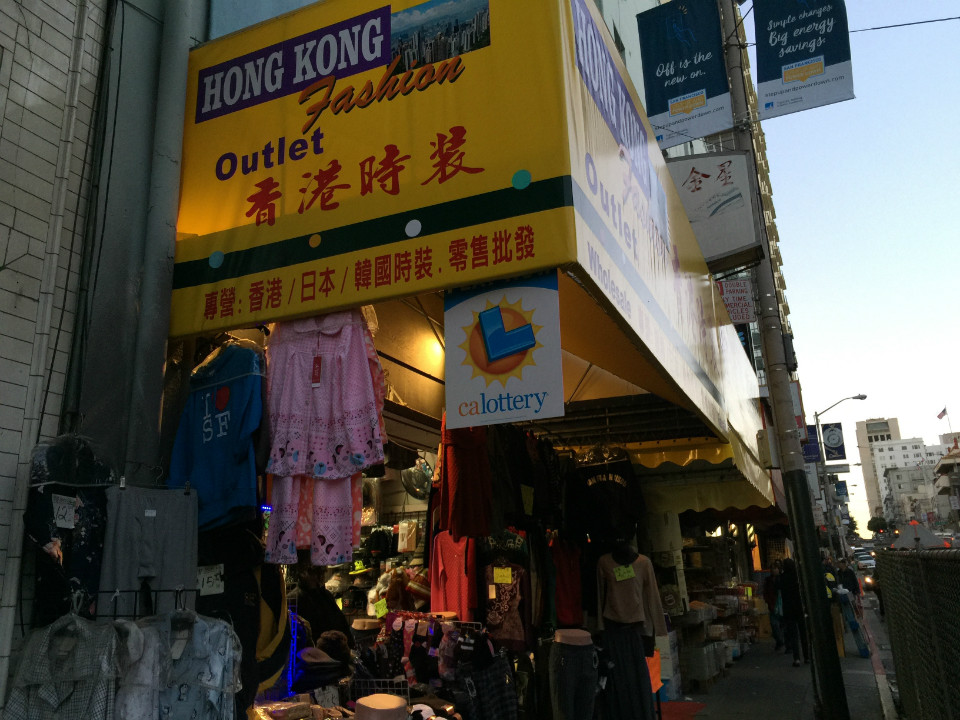 Hong Kong Fashion Outlet (1031 Stockton St.) sells men's and women's clothing. (Photo: Geri Koeppel/Hoodline)
Some of the people Luu and Lo meet used to work in garment factories in the city and made clothes from remnants. Many customize their pieces by sewing hidden pockets in them. A flair for color and pattern is apparent in many of the photos, often with several pieces on a theme. They call it "double-pretty," Luu said: "Chinese women find an element they like—say, flowers—and they wear it multiple times in one outfit. You see four shades of purple in one outfit."
Luu admits to having a more minimalist style, but said they've been inspired by what they see. "A lot of this stuff is on trend for our demographic," she said. In fact, the inspiration for the series was a woman who wore a pair of bright green sneakers with speckled toes she admired; that story, Jade Shoes, is on the Chinatown Pretty blog.
Neither Luu, who is Vietnamese American, nor Lo, who's Chinese American, speak Cantonese, so they take a translator with them on their missions. Still, it's not easy to persuade most of the seniors to agree to let them take their photos and share their stories. "I would say we talk to 30 people in a few hours and maybe one would tell us their story and let us take their picture," Luu said. "It takes a lot of persistence; a lot of finesse. There's a lot of stories we can't publish or photos we can't take, but it's been amazing meeting these people."