Last month, we asked readers to nominate local people, businesses and organizations that are doing good in their communities to be featured here on Hoodline. This week, we're running a series based entirely on those reader suggestions. Here's one such story.
---
For more than 60 years, The Arc San Francisco has dedicated resources to helping residents with developmental disabilities across the city thrive at work and at home. "The Arc provides support for housing, education, employment, wellness and recreation, all on a shoestring budget," said reader Bruce, who nominated The Arc as a community do-gooder. 
Meredith Manning, director of communications, explains that it all started in the early 1950s when a small group of parents, lacking support services for children with developmental disabilities, came together to advocate at the state capital on behalf of their families. With their success passing legislation, funds for community support services came available and The Arc evolved from a "radical" group of parents to a lifelong learning center South of Market.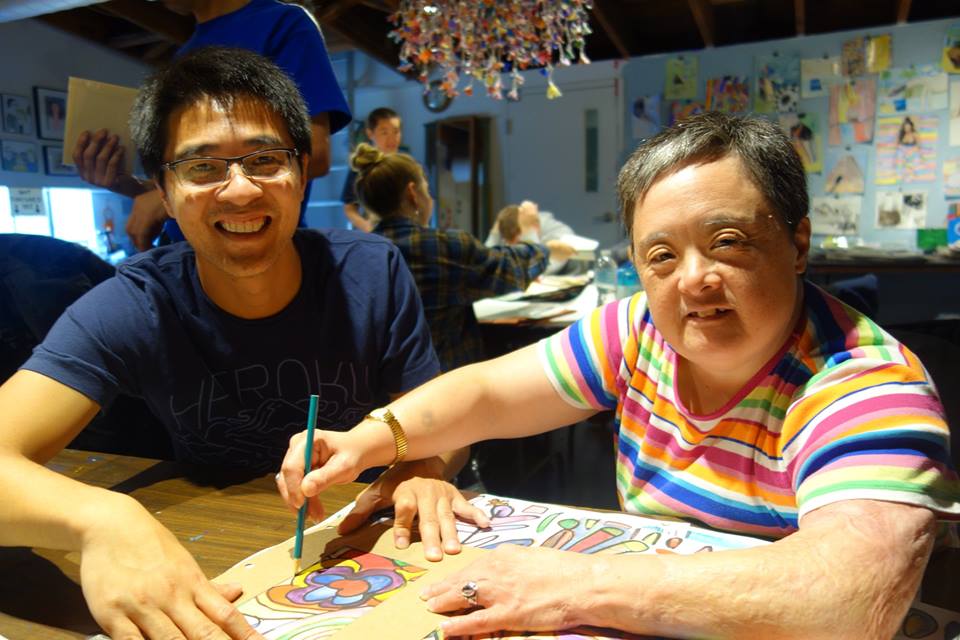 A volunteer (left) and Arc client (right) enjoying an art class this fall.

After many years in a small space near Eighth and Harrison and a transition to focus on adults in the community, The Arc purchased 1500 Howard St., its San Francisco headquarters. There, about 760 clients access health and wellness services, post-secondary education and  a supportive employment program.
"It's kind of like a post-secondary campus environment," Manning said of The Arc's employment program. Clients work with their staff to identify goals — whether that's entering the workforce for the first time or advancing their careers — explore opportunities in a broad range of industries, and build soft and hard skills they'll need to succeed in any area they choose to pursue.
But the workforce has changed drastically since The Arc first began offering employment services, and Kristen Hickey Pedersen, The Arc's employment director, says that over the past two years they've been taking cues from the tech industry and changing the program's structure and clients' mindsets around employment.
"Historically there were a lot of barriers [for people with developmental disabilities] entering the workforce at any level, so there was such an emphasis on finding a job, an entry-level job, a simple job, and keeping it forever," Pedersen said. "In the last couple of years we've really taken a philosophical shift. We absolutely want our clients to be part of the workforce for 30 years if they come to us right out of high school, but that doesn't necessarily mean they'd be in the same job for that time." 
"What we've seen, which has been really incredible, is just gesturing toward this idea, we had a large portion of our clients jump at the idea of trying something new, working full-time, no longer receiving public benefits," Pedersen added. "We were set up to support people primarily in part-time jobs that supplemented their public benefits. Families fought very hard for their family members to get the support that they need, so the idea of not having that kind of support, like social security, is scary."
Regardless, in just the past two years they've seen a 40 percent increase in the number of clients accepting full-time positions, Penderson said. Their staff is also having conversations with clients about 401k plans and stock options, which wasn't the case years ago.
The video below profiles a few of those clients, including Christopher Guinto, who worked hard in a local supermarket for over a decade. While Guinto was responsible and outgoing, he was also burnt out from his unpredictable hours but afraid to leave the security of his job, Manning said. After conversations with The Arc's employment team about his skill sets and how they could translate opportunities in local tech companies, he took the leap and secured a full-time position with benefits at Salesforce. "He's like a brand-new guy," Manning said, noting that now they're working with him to advance his tech skills and career even further.
The Arc has relationships with about 90 to 100 companies in the city, primarily located in SoMa and the Financial District, spanning a wide range of industries. With the program's transition to helping clients identify what they're good at and how those skills translate to opportunities in professional environments, tech companies large and small have become a natural fit for their candidates, Pedersen said. "They're really nimble, they're bringing in talent in a way that serves the company well ... They're bringing in people that are very good at specific things ... And they're very much about career development and how people are moving up and on." 
Pedersen and her team are well-aware that every hire must make business sense. What makes the program successful for both employers and clients, she said, is its tailored approach to selecting candidates and hands-on job coaching program — that's free to the employer — once clients are hired. "It's like having another member of the team to make sure that someone is successful," Pedersen said. The Arc's coaches facilitate the onboarding process, including walking their new hire through the initial paperwork, internal systems, job expectations and handling any accommodations needed. On the employer's side, the job coach can provide one-on-one or department-wide sensitivity trainings and detailed overviews of individuals' particular learning styles. The coach then returns for weekly meetings, as frequently as necessary.
"What we've been seeing a lot more of lately, is that if someone is doing really well, been in their job for 18 months and now their employer would like to promote them or give them more responsibility, we pick up our job coaching again to support the learning around those new responsibilities and help our client get comfortable with their new role," she added. "Our mantra is sort of 'intervening the least amount possible to have the most success.' We want our clients to be independent and we want them to be successful and they are absolutely capable of that and show us that every day."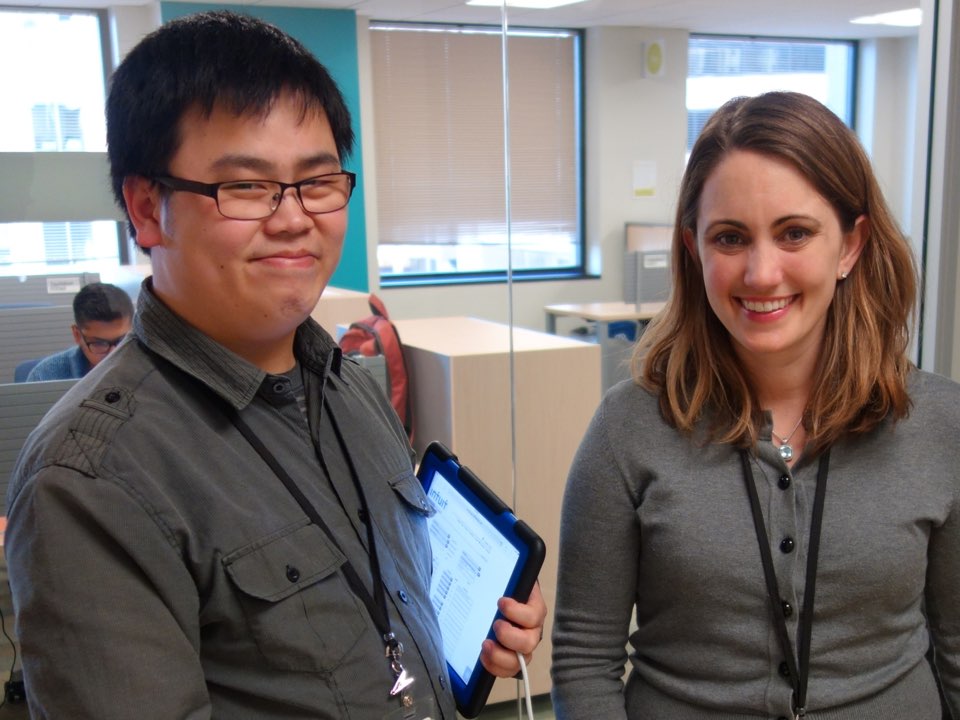 Guo Ren (left), a client of The Arc, with his supervisor at Intuit.

Given that The Arc focuses heavily on supporting diverse young adults straight out of high school, the organization also has an internship program. Over the course of one academic year, interns try a few different roles in a variety of departments of the participating company while taking a few courses at CCSF.
"We need to have these opportunities for individuals to build context because just like any population that's now growing in the workforce, if you only see people you know bagging groceries and bussing tables, that's where your heads goes. You think, 'Oh, that's the kind of job I should have,'" Pedersen explained.
So far, 96 percent of The Arc's interns have moved on to competitive entry-level positions with 25 hours or more. And on average, their starting hourly wages are more than $3 higher than the national average and continuing to rise, Pedersen said.
While The Arc owns its building and is only increasing in popularity among residents with developmental disabilities and employers, it's not immune to the budget concerns haunting many San Francisco-based nonprofits around the city. Roughly 75 percent of The Arc's budget comes from the state of California. However, that funding has not increased in 16 years — while the cost of labor and living have, Penderson said. Raising money from private donors is just as important as continuing to rally politicians in Sacramento.
Anyone interested in supporting The Arc of San Francisco can do so in a variety of ways. First and foremost, consider hiring a job or internship candidate through The Arc, Manning said. Monetary donations are always appreciated as well as volunteers. Additionally, special to the holiday season is The Arc's annual gift card drive. Donations made here through Dec. 17th will be used to purchase gift cards to retailers like Target, Safeway, Walgreens and Ross that will be gifted to The Arc's 760 clients the week before Christmas.
Thanks to Bruce F. for nominating Arc.