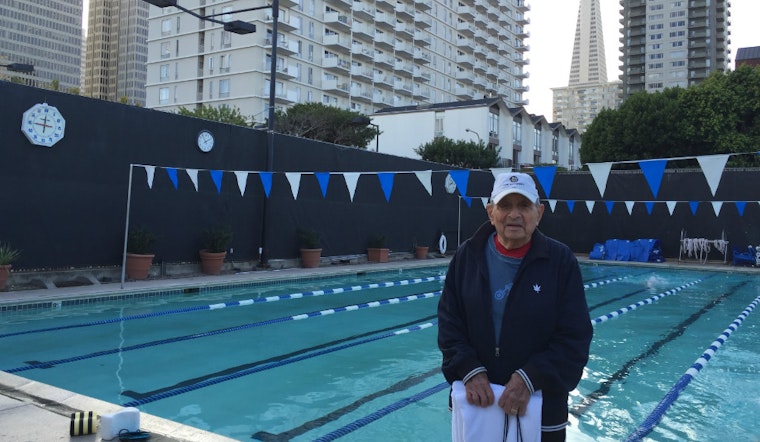 Published on November 26, 2015
Last month, we asked readers to nominate local people, businesses and organizations that are doing good in their communities for recognition here on Hoodline. This week, we're running a series highlighting those local do-gooders, based entirely on reader suggestions. Here's one such story. 

---
The Bay Club at the Gateway—or "the club," as many of its members know it—is much more than a fitness center.

Lee Radner, 90, speaks for many when he says, "I probably wouldn't be sitting here if I didn't have it. You don't know what that swim does for me when I go. I can't describe it. I feel like a new person. It's my social life right now." 
It's also been a boon for his wife of 68 years, Rogene, who, until recently, used the pool daily. Radner said he believes the club has helped stave off illness as long as it has for her, and it's why she's still by his side each day as he cares for her. Though anyone who's met Radner will agree he can be gruff, grumpy and disagreeable, he's admired by many for being loyal to the people and things he loves, including Rogene and the downtown recreation center across from his apartment complex.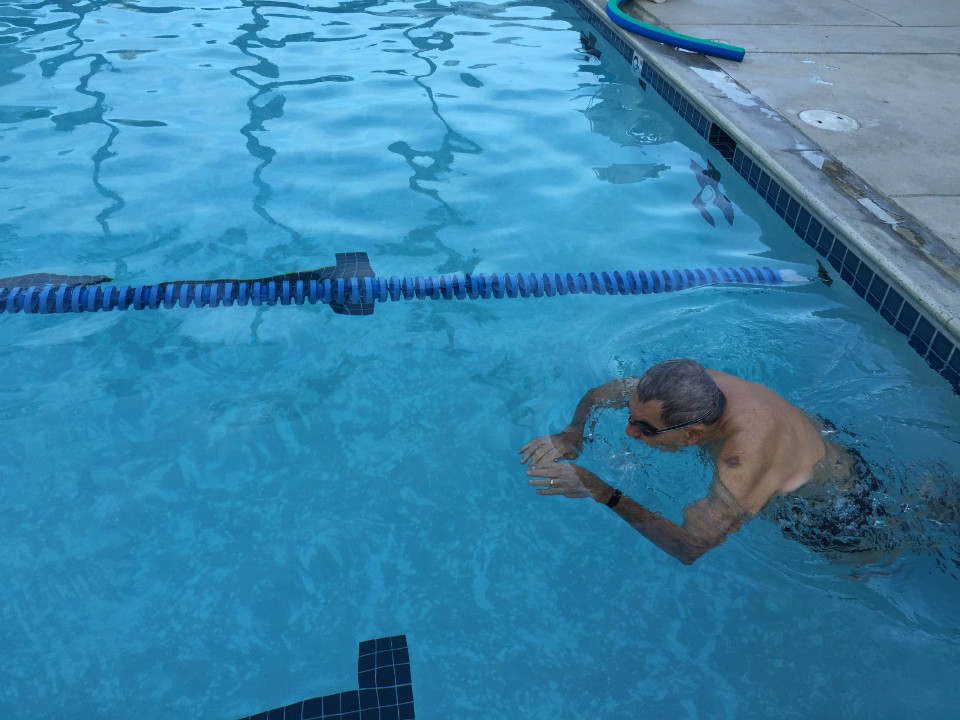 For the past 11 years, Radner has made protecting the Bay Club his mission. He became the chair of Friends of Golden Gateway (FOGG) in 2004, and has led the effort to prevent the club from being razed. Developers have long had their eyes on this prized piece of property at the Embarcadero and Washington Street, hoping to buy it and build condos on it, along with Seawall Lot 351, an adjacent Port of San Francisco parcel that's currently a parking lot.
Each summer, Radner also leads the charge to round up donations from the community to send local low-income children to summer camp at the Bay Club. Radner has previously told us that just as he feels an obligation to the community to protect the recreation center, he's moved to welcome a wide variety of people to experience it. These crusades are what led several neighbors to nominate him as a "do-gooder" in the community.
Gateway neighbor and friend Bill Benkavitch, one of several who nominated Radner, wrote this:
As the FOGG Chair, he has been a tireless force, working to preserve our community's open recreational space—now called Bay Club at The Gateway. His work with Aaron [Peskin] in 2003 and 2004 resulted in the defeat of Developer #3 to build luxury condos on the Club site. He has been a strong leader in our continuing efforts to stop Simon Snellgrove, Developer #4. We have had SF election victories in 2013 with Props B and C, when the SF voters defeated the 'spot zoning'. Lee put everything he could into this success ... Also, the Kids Camp Scholarship Program that Lee has established at the Bay Club Gateway is a resounding success. He continues to be an inspirational leader, working with Aaron for his reelection. I ask that you consider Lee as the best choice for spotlighting someone who's done right by the neighbors.
In a nutshell: Propositions B and C, which voters defeated in November of 2013,  would have allowed 8 Washington to be built. KQED summed it up nicely: "Prop. B would have allowed the 8 Washington development to go forward even though the project exceeded the neighborhood's current height limit; the measure lost, with 62 percent voting no and 38 percent voting yes. Prop. C would have affirmed a Board of Supervisors decision to increase the height limit for the project; that proposal was defeated, with 66 percent voting no."
Later, in June of 2014, the anti-8 Washington forces scored another victory on another Proposition B, winning 59 to 41 percent. That one requires the city's voters to approve any development on Port parcels that exceed height limits. The State Lands Commission quickly sued to invalidate it, and it was tied up in the courts for a while, but after it was denied an appeal, it eventually "threw in the towel," Radner said. [Update, 11/27: The State Lands Commission's lawsuit to overturn Prop B has not been thrown out, and is up for its next procedural hearing before the judge on Dec. 16th. But a lawsuit to overturn the State Lands Commission's EIR decision in the 8 Washington land swap case won at the trial court and just won again at the Court of Appeal, with State Lands choosing not to appeal to the CA Supreme Court.]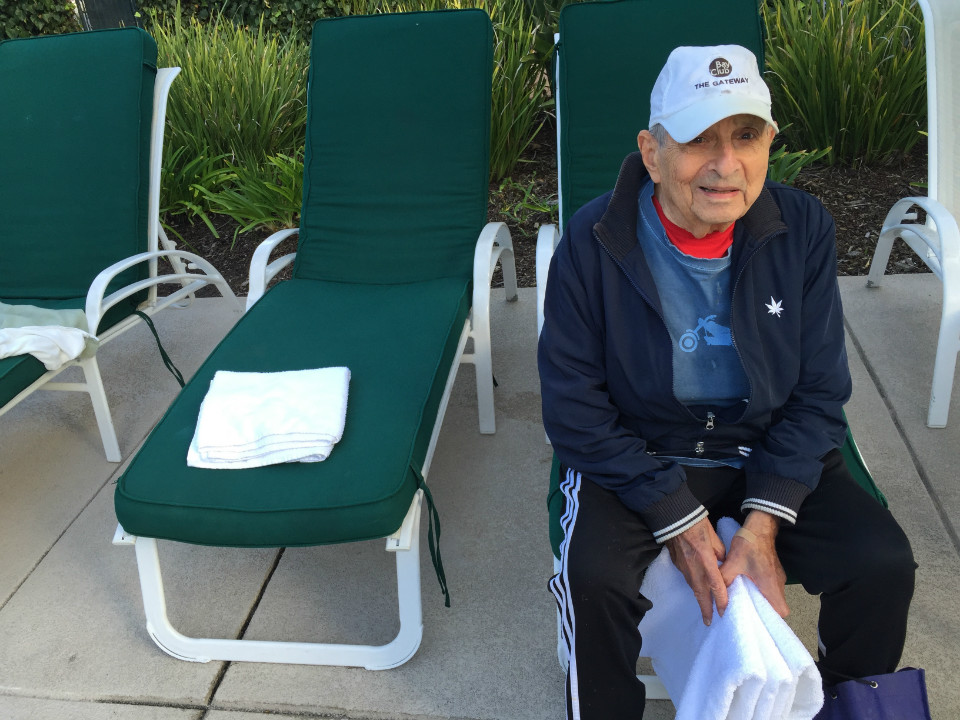 Though pro-development forces like to paint the Gateway Apartments as a chic tower for millionaires, it was actually built for middle-income families, using federal HUD funding. And the vast majority of tenants' views wouldn't be disrupted if anything was developed on the 8 Washington site. [Disclosure: Reporter Geri Koeppel lives in the Gateway.] The Gateway is rent-controlled, so many older residents who've lived there for decades enjoy affordable units. The use of the club keeps them active, and it's not unusual to see octogenarians playing tennis or swimming, as well as families with young children.
As a result, few things get Radner more riled up than TV ads and media reports calling the Bay Club "a private club," an assertion made many times during the 2014 campaign prior to the second Prop B ballot measure asking for voter approval of height limits.
"It's ridiculous," he said. "They have this idea that we're an Olympic Club; a Bohemian Club; a Pacific Club. [Those clubs] want to know how much money you've got in the bank, how old you are, what your business is, and they used to ask what your sexual orientation was."
The Bay Club, though posh, is as much a private club as 24 Hour Fitness or Crunch. Anyone can join for a registration fee of a couple or few hundred dollars; monthly fees start at about $145. The price includes unlimited use of two pools, a hot tub, a steam room, showers, and a gym. It also includes most exercise classes, many of which are held in a semi-enclosed second-floor pavilion, allowing exercisers to get fresh air. The club has nine tennis courts, with access available for an extra fee.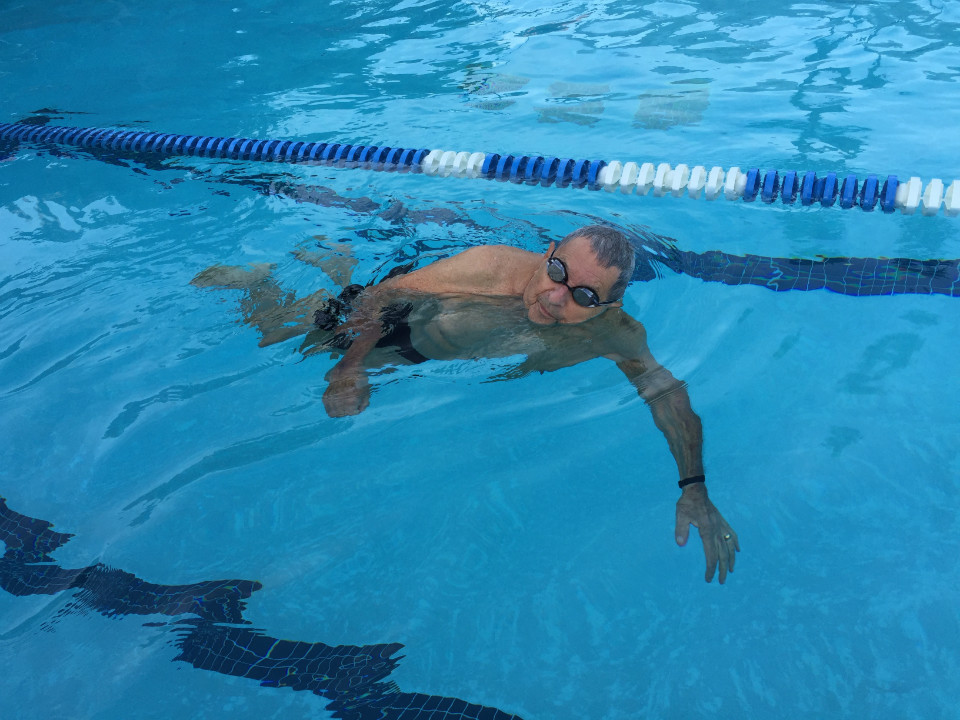 Radner says that the camaraderie at the club makes it special. Neighbors become friends; regular social events build bonds. "I go down there and I schmooze with guys and gals and talk to them," Radner said. "You know what they call me down there? 'The Mayor.' So I get a little recognition, and I feel at home there." 
Although Pacific Waterfront Partners said it would build a recreation center open to the neighborhood, complete with pools, if it built the 8 Washington condos, few believed the promise. And the tennis courts would have to go.
Instead of luxury condos, Radner wants to keep the Bay Club as is, building a new activity center on the Port-owned parking lot. "We proposed a full-on bicycle center, similar to the one at Millennium Park in Chicago," he said. In his vision, the center would sell merchandise, provide education and repairs (such as bike repairs or re-stringing tennis rackets) and include an indoor/outdoor cafe. 
"We're not NIMBYs," he said. "We wanted something the community, the people of the city and the tourists would be interested in."
In order to save the club, Radner has spent countless hours attending meetings and hearings. He's testified a multitude of times in front of the Port Commission and the Planning Commission. He's talked to supervisors; he's circulated petitions; he's sent emails.

He says he couldn't have done it all without help. "It takes a village to do it; it wasn't just me," he said. "Good attorneys, a corps of loyal volunteers, a real message. I wouldn't be anywhere without Sue Hestor and Louise Renee, Susan Brandt-Hawley, Bob Iverson, Bill Benkavitch, Irene Glassgold—they've always been there when you needed them."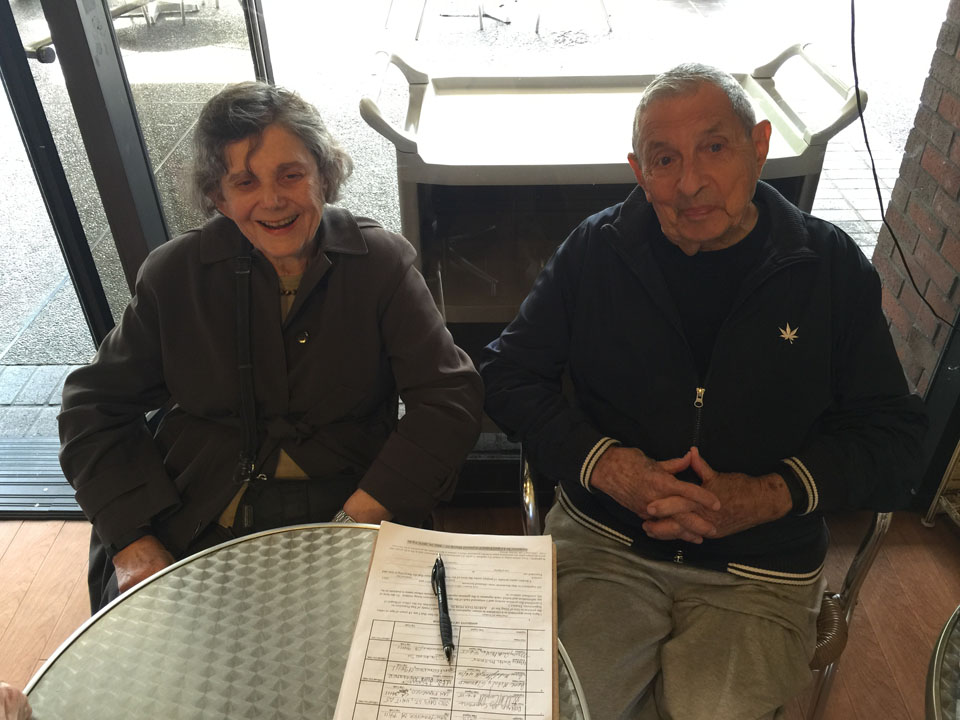 Irene Glassgold and Lee Radner in April,with petitions to get Aaron Peskin on the ballot. (Photo: Geri Koeppel/Hoodline)

Given the full life he's had thus far, Radner could be excused for wanting to just relax, but it's apparently not in his blood. After growing up in Chicago, he served in the Marine Corps from 1943–46 as part of the Fifth Marine Division. He fought in Iwo Jima, and assisted with the post-war occupancy. After the war ended, he attended college briefly, but dropped out. "I did not feel it was for me. I had other things I wanted to do." 
One of those things was marrying Rogene, whom he met on a blind date at a Memorial Day picnic in 1946. They married the following year, and now have three daughters, three granddaughters, a grandson, two great-grandsons and a great-granddaughter. Rogene, a graphic artist, art teacher, and clothing and jewelry designer, holds degrees from the Art Institute of Chicago and the University of Hawaii.
Lee and Rogene moved to San Francisco after their second daughter was born and developed problems with asthma. He found work with an import-export firm, which eventually led them to move again, this time to Guam, where he was the firm's assistant advertising manager for the Far East. Later on, he ran the radio and TV station in Guam for a year.
While he was living in Guam, Hawaii was declared to be the fiftieth state. Radner, through his political connections, flew to Hawaii and presented the first United States flag with 50 stars to the lieutenant governor.
Island life agreed with the Radners, and the family eventually moved to Hawaii, where Radner worked for a radio station and then became the assistant public relations director for the Hawaii Islanders AAA baseball team. After the team moved to Salt Lake City, he got a job working with a morning radio personality, Harold Lewis, who called himself J. Akuhead Pupule (crazy fish head). "I did his writing and a lot of off-air interviews," Radner said.
Throughout, he dabbled in politics, working on Bill Richardson's 1962 campaign for lieutenant governor of Hawaii, which he won. Radner then became the public relations director for the state's House of Representatives under Elmer Cravalho, who later served as Maui's mayor from 1969–79. "I learned more about politics under Elmer; he was unbelievable," Radner said.
Following that, Radner, who'd worked in fundraising, was asked to help with the development of a new ecumenical liberal arts college, Hawaii Loa College. After serving as director of development for 12 years, he was asked to be the school's president, but turned the job down. Instead, the family moved to Maui, where he worked with a developer on the Wharf Cinema Center in Lahaina.
One day, Radner got a call from Cravalho, who said he was going to run for mayor again in 1990. "We ran against Linda Lingle, a Maui board member at the time," he said. "We lost." Lingle later served two terms as governor of Hawaii, from 2002–10.
"It was at that point that I said to Rogene, 'I think it's time we leave,'" Radner said. "We used to come [to San Francisco] two or three times a year just to go to the theater or go to a museum or a concert. We missed that."
The couple recalled seeing the four high-rise towers of the Gateway going up in the mid-1960s and had always wanted to live there, so when Lee retired in 1996, they signed the lease—and signed on as members of the fitness club the very same day.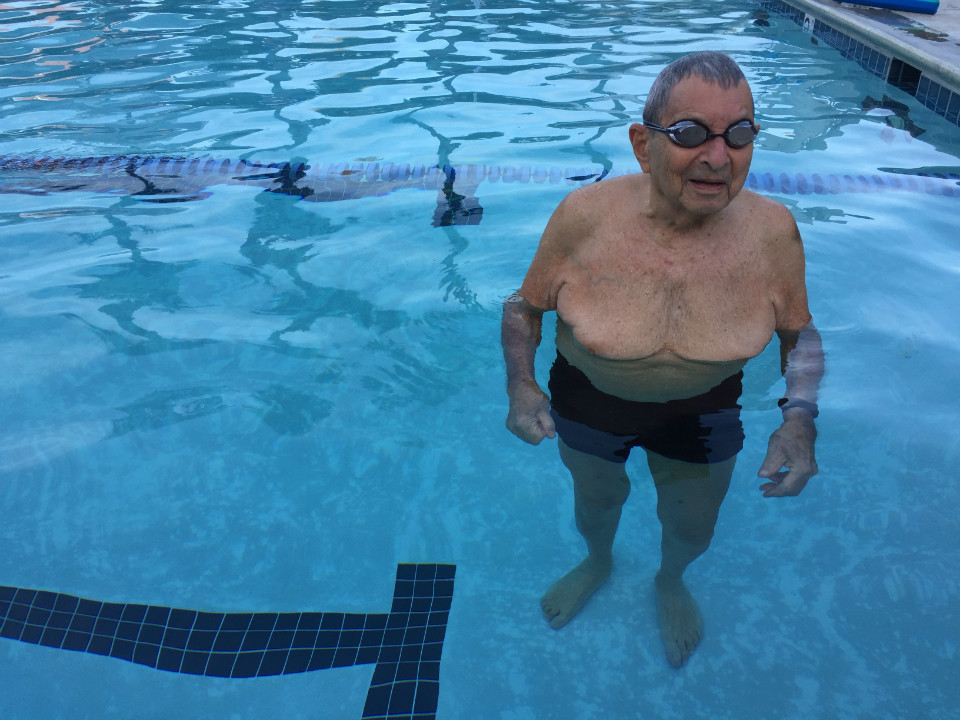 As for the club's future, Radner said it's a prime piece of land and any developer could come in with another proposal. But he's hopeful that the battles he's helped wage will dissuade them, and optimistic that the Bay Club has designs on making itself at home on the Embarcadero and Washington for the foreseeable future.
"As far as we know the club is where it is and will be there for years to come," he said. "Hopefully, eventually, the club will own the land and they will make many improvements."