Artist Eugene White hails from southwestern Arkansas, but has worked quietly in his studio and gallery along the 21-Hayes line for over 50 years. Lately, he's had some overdue attention as one of the few remaining Black artists to live and work in San Francisco: he's featured in an installation at the newly redesigned Buchanan Mall, where he's honored with a portrait and a listening station delivering his untold story.
"I wasn't trying to be known. I wasn't trying to be in the newspaper. I was trying to gain wisdom," says 82-year-old White of his long career, bemused though clearly delighted by the honor. His iconoclastic approach to life and art is precisely what's attracted younger members of the remaining local African American community here to celebrate an elder: White is a survivor and a example of someone who carved his own career path, while doing good and giving back.
"When I got to know more about myself, I saw things differently, and that's reflected in my painting," says White. Working on large canvases, White's work depicts the humanity and strength of people—Black people—charged with surviving America in both urban and rural environments. 
Born in 1933 into a farming family in rural Arkansas, White's father worked the land as a sharecropper, though that was not young Eugene's calling; he left what he calls the cotton fields for the tomato fields of Ohio. He eventually landed in Detroit, where he found work doing design sketches for Cadillac.
In 1963, he arrived in San Francisco like so many other hopefuls who historically came here to pursue careers in the creative arts. Like his more widely known contemporaries (artists like Charles White and Emory Douglas), White began to specialize in almost exclusively painting Black folks, a revolutionary act in itself during the Civil Rights and Black Liberation eras.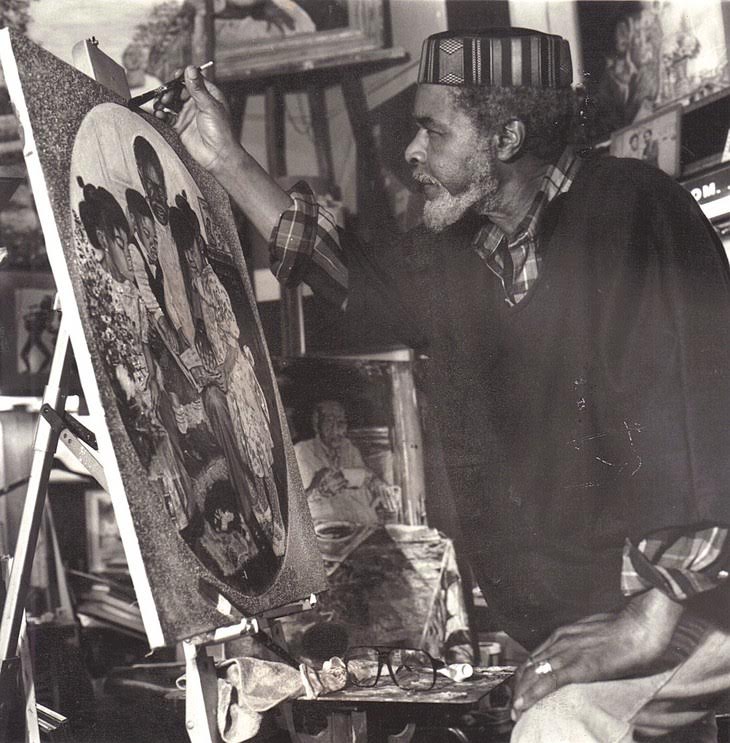 White at work in his studio. (Photo courtesy of the artist)
"I was the first Black-owned gallery in San Francisco, and I think I am the last," says White. And while White left the South and never looked back, his Southern roots blanket his mixed media on canvas paintings and drawings on paper. "You can't separate where I come from, from who I am," he says. The paintings tell a story of coming to consciousness, of the Black experience, and of the changing cityscape and population of San Francisco.

"Each painting in the gallery is focused on the past—though the past could be this week," he explains, noting the struggle to breathe while Black remains headline news. White has amassed canvas after canvas, prints and drawings depicting Black lives, from historic figures like Frederick Douglass and Harriet Tubman, and watershed moments like the inauguration of President Barack Obama, to simple pictures of everyday people.
Yet despite the ongoing fights for equality, White's work is unflinchingly positive, resilient and prideful, qualities with which he most identifies. "Not only is he a fantastic artist, he has a rich history here," says Tamara Walker of Citizen Film, part of the team who led the Buchanan Mall revitalization project and selected White for inclusion."He has so much information and he can sum it up not only in words but in the art. He cares about the community and the next generation."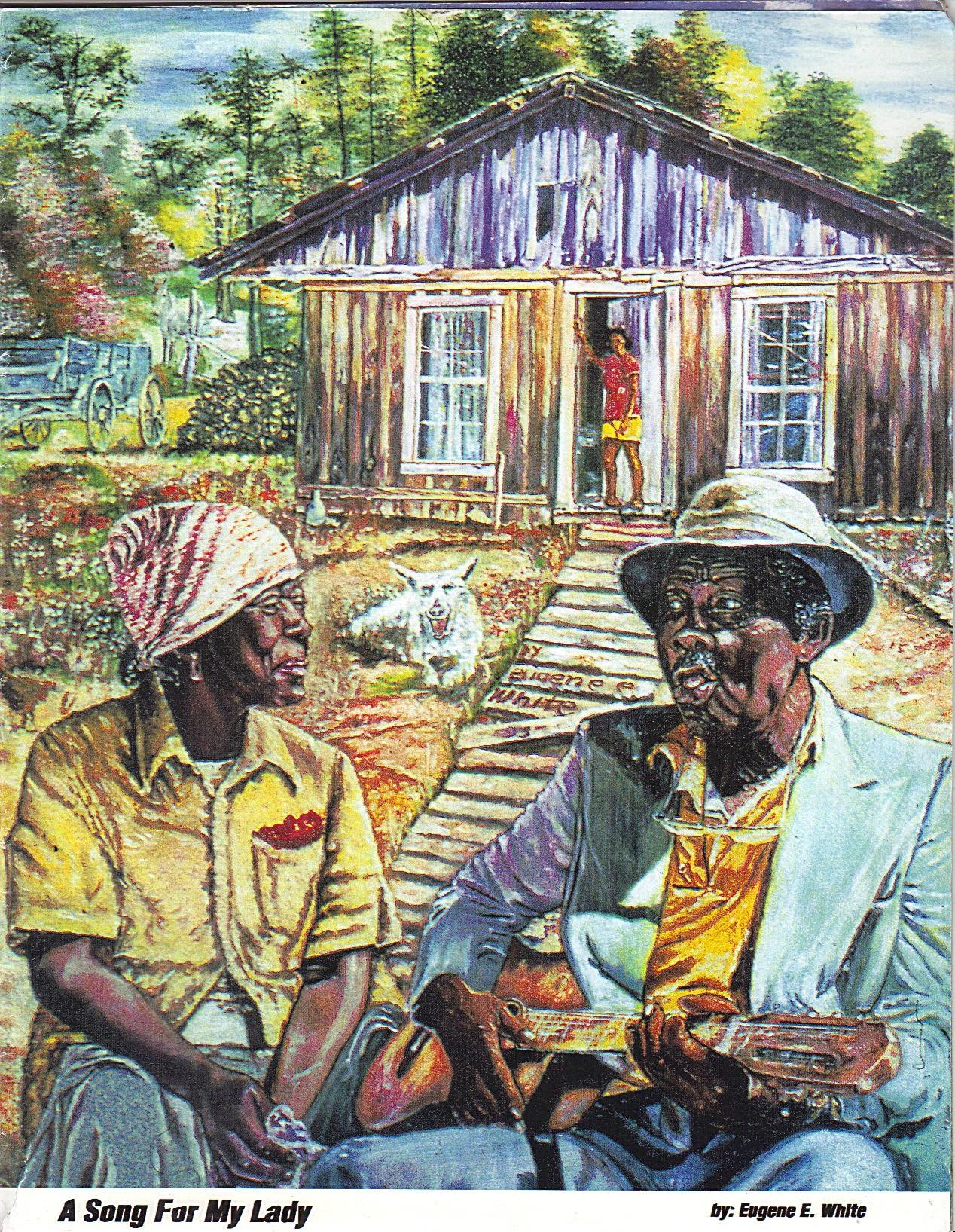 Opting out of traditional art markets in favor of retaining possession of his work, White's art has taken him on sojourns from the capitals of Europe to different regions in Africa, including FESTAC, the Nigerian arts and culture festival, and as a guest at universities and colleges across the U.S. (he recently completed a portrait for historic Black college Bennett in North Carolina and is presently working on three commissioned works).
Though a 1988 fire destroyed 75 of his originals, others remain housed in private collections and select institutions, and his gallery remains open by appointment. His wife Lynnette, his daughter and his six grandchildren are "quiet but compelling sources" of creative inspiration, he says, and his goal remains the same as it ever was: to help others better know themselves.

White's public work here can be viewed at the Ella Hill Hutch Center and at Ingleside Presbyterian Church; his prints of Dr. Martin Luther King, Jr. and Malcolm X are in the collection of the Oakland Museum of California.
In 2013, White was recognized by the City of San Francisco for his contributions to cultural and civic life—just one of many honors he's received at the state, national and local level, and yet, he remains something of a hidden treasure in our midst.
"I was born in a certain part in the country and it reflects on who I am today," he said. Among the undeniable truths that have served him as a Black artist over six decades of living and working in San Francisco, White says, "my objective is to say, 'If I did this, you can do it too.'"
For more information or to visit the gallery by appointment, contact White at (415) 221-5174, or by email at eugene_lynnette [at] sbcglobal [dot] net.