Last month, we asked readers to nominate local people, businesses and organizations that are doing good in their communities to be featured here on Hoodline. This week, we're running a series based entirely on those reader suggestions. Here's one such story.
---
Kevin Bayuk moved here from Southern California  in 1996 to be a part of the dot-com boom. But, he became a leader in the permaculture movement. 
Today, he's known for the Hayes Valley Farm and numerous other permaculture projects around the city, the Bay Area and the world.  
We sat down with him recently in the Haight, where he's lived for the past 13 years, to get the details. 
From Tech To Farming
After years of raising capital for software startups, he grew "depressed at the state of the world" and visited a farm in Sonoma County that changed his life. 
It practiced permaculture — a loose set of design principles that rely on patterns and features found in natural ecosystems to help humans grow their own food, build their own living environments, and exist more sustainably.
The permaculture designers he met on the farm changed his thinking. Instead of a world full of problems and crises, he grew to see it as an enormous set of opportunities, and what he thought were big problems—hunger, homelessness, etc.—as problems that were easy to solve, even "embarrassingly simple." 

Tree collards in a plant community at Commonweal Gardens. Via RDI.

He realized he could change his habits and behaviors to be part of this solution and then help teach other people how to do that as well. 
Deeply moved and inspired, he came back to the city, sold his home and his car, and started learning how to grow food and do the things that he witnessed. 
He learned so much about permaculture that he started teaching with his teachers, and in 2006 produced a permaculture certificate training at the SF Botanical Garden. He also had a hand in founding the Urban Permaculture Institute and the SF Permaculture Guild.   
During those early years he had a big hand in the beginnings of the now-thriving Regenerative Design Institute at Commonweal Gardens in Bolinas. He also did a study of all of the privately-owned vacant lots in the city—who owns them, where are they, if they were productive, and what could happen with them—and published it on his blog. 
The Chronicle picked it up, and the owner of a 5,000 square foot double lot at 18 and Rhode Island in Potrero Hill contacted Bayuk. "Okay, show me what you can do," he said.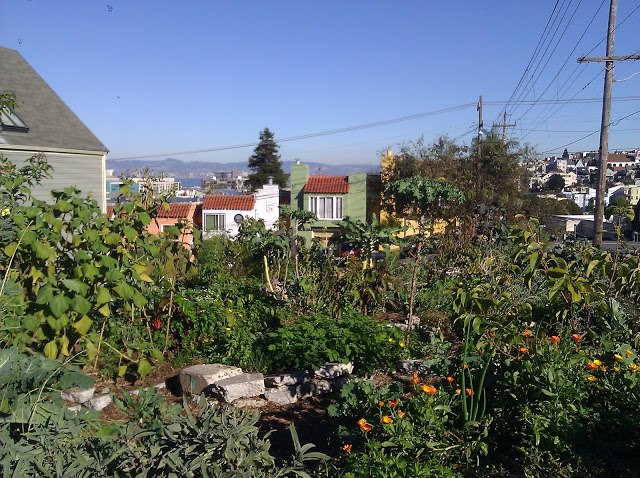 The 18th and Rhode Island Garden in 2012. Photo via its official Facebook page.

One of Bayuk's classes came up with a permaculture design, and using waste resources, such as cardboard from the Whole Foods a few blocks away, and wood chips, they transformed it into a perennial polyculture garden, which grows anywhere from 1,000 to 2,000 pounds of food per year with very low maintenance and very little water. The garden houses over 70 different fruit trees, vegetables, and nuts, and all the food is given away for free and distributed through a few sources primarily in the Mission. 
"It was amazing, because especially today, he could sell that lot, with not a structure on it, for probably two million dollars," Bayuk says. 
The Hayes Valley Farm
In 2009, Bayuk was able to leverage the success of that farm to work with the Mayor's Office and the Office of Workforce Development on the former site of the central city on- and off-ramp in Hayes Valley, which had been vacant for years. 
Then-mayor Gavin Newsom also signed a directive on healthy and sustainable food, which Bayuk helped create. The idea was that if San Francisco has vacant land, it should be used to grow food. What resulted from the efforts of Bayuk and other permaculture activists, like Jay Rosenberg, was Hayes Valley Farm.  
The large, central city block full of old freeway segments and dirt became a permaculture blueprint — a large-scale community garden, with organizers hosting people eager to learn about food security, food justice, ecology, safe seeds, and climate activism.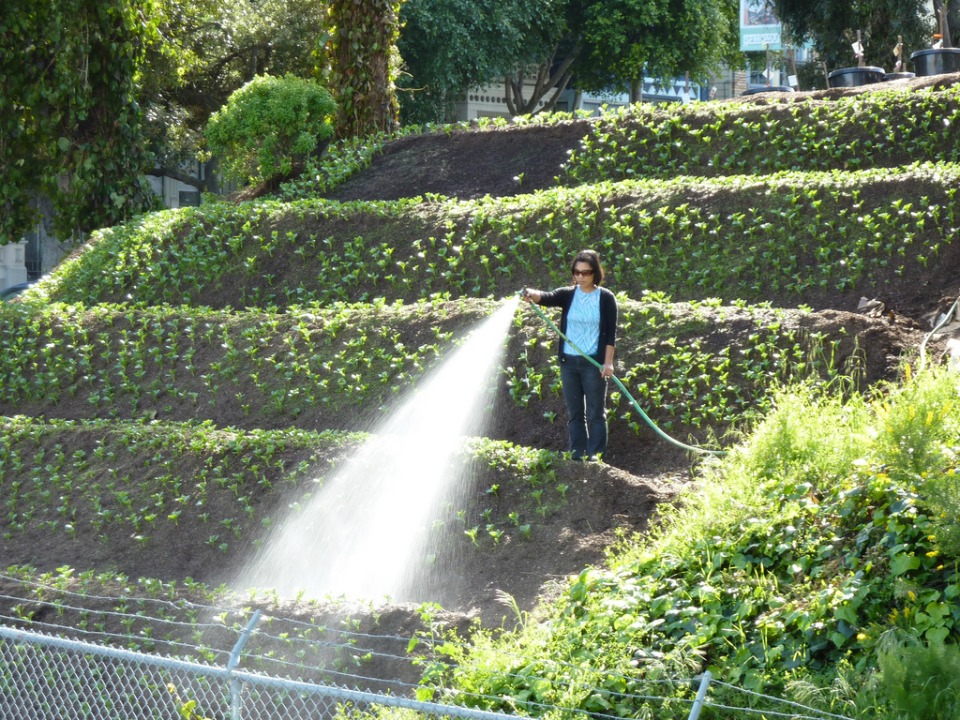 A fava bean retaining wall planted on sheet mulch at the Hayes Valley Farm in 2010. Photo by Chris Martin/Flickr.

Hundreds of school children came through. They grew thousands of pounds of food that was distributed through Project Open Hand. On some weeks throughout the year, there were more than 1,000 participating volunteers. The project, Bayuk says, has been copied around the world. 
Through the Hayes Valley Farm, they were able to continue teaching permaculture courses, and now, they've had over 600 people take the permaculture training, some of whom have started projects in Haiti, Philippines, India, and beyond. Over 50% of the people who have taken the training have received scholarships or are doing a work-trade reciprocity, as it's important that no one is turned away for lack of funds. 
What's Next
In addition to this work, Bayuk teaches extensively as well as runs a consultancy called LIFT Economy that grows social enterprises. "It helps provide technical support and capital to people who want to start businesses that are good for people and good for the planet but they don't have a lot of experience in running a company to create a sustainable livelihood around doing something that's good for people," Bayuk explains. 
He's also contributing to a book on climate change about a project called Project Draw Down, which is due out in 2017. 
More than anything, Bayuk likes being an educator. "I enjoy watching people develop an increased sense of ecoliteracy, knowledge about themselves, the world, the source of how they meet their needs," he says. "Leadership for me is only authentic when it's from the bottom up. I'm only a leader inasmuch as someone wants to be led," he says. 
About the role permaculture has in San Francisco, he has a lot to say. "It's like we've institutionalized certain sustainability and green ideas, which is wonderful, and the reputation is somewhat deserved. But the reality on the ground that the economy and tech is still the dominant force that determines land use and cost of living and freedom and liberty."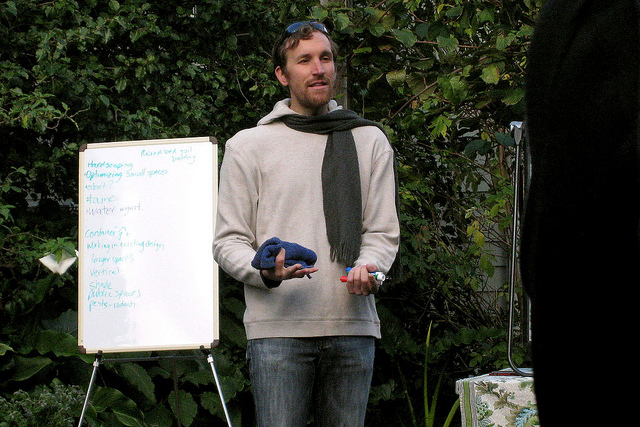 Bayuk teaching ecological garden design. Photo by Garden for the Environment/Flickr.

But, he's clear about one thing: our city is a model for the world. 
"San Francisco has this amazing role to play in the world, on the global stage. When San Francisco does something, it makes it more replicable and adaptive to other places. There's worldwide potential for change," he adds. 
"It's one of the reasons why the role I play is to make models happen in San Francisco—not because it's actually going to affect that many people here—which is a sobering, even cynical, point of view. Hayes Valley Farm was replaced by market-rate condos. But it happened, and when it did, it got copied in Sao Paulo, and Paris, and all these other places."
And there are lots of small changes we as San Francisco city dwellers can make to contribute, Bayuk explains. Many of them we know: locally sourced foods, water conservation, etc. But there are social behaviors we can adapt as well, which few people think about as having a comparable impact, such as joining our neighborhood associations (which Bayuk adds have an inordinate amount of influence that is largely untapped), or even, quite simply, getting to know our neighbors. 
"Getting to know people who live near you is really important, for things like neighborhood resilience, disaster preparedness, and even just peace of mind and happiness," Bayuk says. 
A few years ago, he orchestrated a block party and invited neighbors up and down the block. At that party, two of his neighbors discovered that they had lived across the street from one another, in windows that faced each other, since 1963 and 1964, respectively. But, until that block party, they had never met.
Add that to the list of changes, big and small, that Bayuk is slowly imparting on our city. 
---
Thanks to Morgan Fitzgibbons for the do-gooder recommendation.